Local designers Tim and Thom Navarro—aka TIM+THOM—have been presenting their unique vision of inclusive, representational fashion since first debuting their Black Hearts Ball fashion event in 2014. Initially, the event was aimed partially to fill a void that was created when fashion show producer and nonprofit, MNfashion, announced its hiatus. (It officially shuttered later that year.) Since then, Black Hearts Ball has offered a unique showcase for a diverse mix of emerging talents and established names in Minnesota fashion, particularly after the absence of the long-running Envision showcase, which hosted what would be its final show last spring.
This year's event, held on April 27 at Aria, proved to be bigger and more polished than ever. Now only did the event move to a much larger venue—which promptly sold out—it also expanded its lineup from showing three-look mini collections by as many as seven designers, to presenting both full runway collections and capsule lines from 14 labels. With a move to a more traditional runway structure, the show also shifted its musical format, with singers from the Minnesota Opera performing music from its upcoming opera, Fellow Travelers, during intermission instead of during the runway presentations.
Despite the significantly expanded scope and size of the show, the Navarros took care to maintain the thoughtfulness and quality of work presented in previous years. Guests were greeted as they entered the Aria lobby with a gallery-style presentation by designer Ivan Idland before the show began—something of an apértif of what was to come. Idland, a veteran from the MNfashion and Voltage: Fashion Amplified days, returned to fashion design last summer after a lengthy hiatus, refocusing his attention to menswear. But unlike most menswear these days, his is anything but boring: Idland is a pro at tailoring, and his shorts and pants are perfectly cut—masculine, modern, and classic in style, but rendered in eye-popping patterns. His tops utilize his signature geometric fabric work. From afar, the looks are crisp and simple in silhouette, belying the intricate, meticulous construction upon closer viewing. (Look for Idland's wares for sale at this summer's Twin Cities Pride festival and on view in a first-of-its-kind fashion show in the Pride parade, Prideland, for which he's running an Indiegogo campaign to cover costs.) 
Ivan Idland's collection photographed by Francisco Escobar Mendez
Ivan Idland's collection photographed by Francisco Escobar Mendez
The show proper began with a series of three- and four-piece capsule collections by eight emerging designers. They included a few familiar names: Lucie Biros of OTHERREALM and Lucie Jane Mulligan of EPHEM. Biros was last seen at the 2016 Black Hearts Ball, where she presented a darkly beautiful take on fairy tales, myths, and surrealism with deconstructed silhouettes and textures. This time, she combined vibrant yellows, blues, and oranges (evoking sunset) with shimmery Lurex hooded capes and chainmail-like details. Mulligan made her runway debut at last year's Black Hearts Ball with a menswear line that showed an eye for unique details and trims. This time, she took that attention to detail to a trio of looks that offered a fresh take on modern menswear, including a pair of leather (or leather-look) pants worn under a skirt of the same fabric, inspired by traditional Scottish kilts, and a zippered white look featuring contrasting textures.
OTHERREALM photographed by Chloe Krenz
EPHEM photographed by Chloe Krenz
This year's Black Hearts Ball also introduced several new names in Minnesota fashion. Anyse by Anyse Mellott, who says "hand techniques, like beading or embroidery, are my main go-tos" in her designer bio, incorporated origami folded busts, pastel-dipper skirts, and embroidered, two-dimensional flowers into her mini collection. Mexican-born designer Gabrielle Rosas Medel of Gabrielle Ro combined shimmery fabrics and elegant trim into street-ready looks with a cool-girl edge. 
Gabrielle Ro photographed by Chloe Krenz
Anyse photographed by Chloe Krenz
Anyse photographed by Chloe Krenz
Konnie Yaj of KONNIE also offered a street-ready trio of looks that blended slouchy dark denim and pants with crop tops and leather harnesses in a black and navy palette. Sinéad Odessa Kelly, a 2017 graduate of the University of Minnesota, intrigued with a quintet of looks centered around a charming Alice in Wonderland print. Each look had a pieced-together, bohemian quality, mixing polka dots with stripes and fairytale prints, lace trim, and puff sleeves, and she kept things from getting too sugary-sweet by injecting a bit of a streetwear vibe into the looks.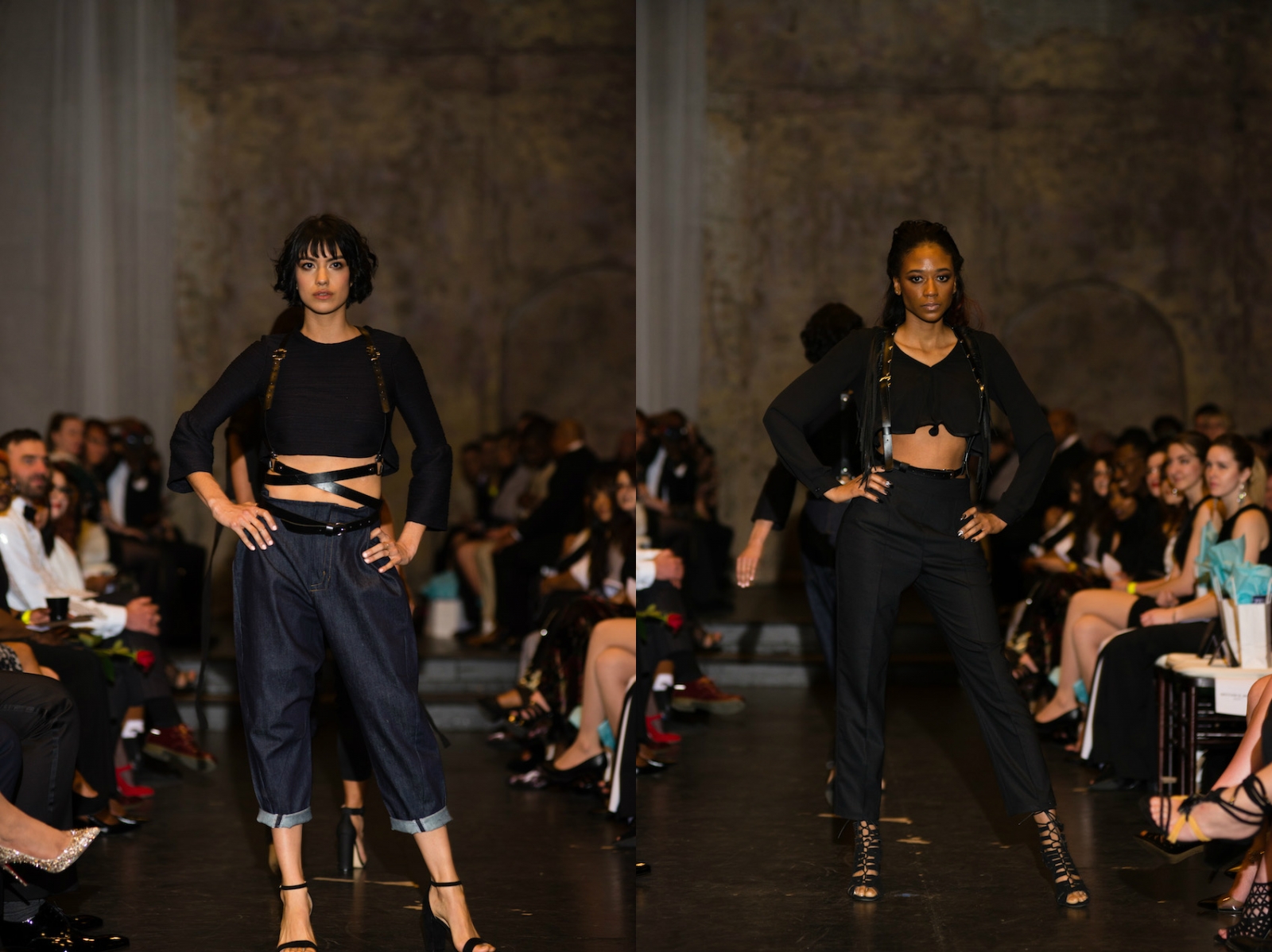 KONNIE photographed by Chloe Krenz
Sinéad Odessa photographed by Chloe Krenz
Sinéad Odessa photographed by Chloe Krenz
Vanessa Sadé of Zenobian Moxis presented a half dozen looks that incorporated color-blocking, patterns, and bold colors, evoking the designer's Liberian background. Victor Farmah of FRIKA has been one to watch since before he graduated from the Art Institute International Minnesota just last year. The Liberian-born designer wowed with a quartet of high-impact, dramatic couture looks that blended exuberantly feminine elements–tulle, embroidery–with tailored, menswear-inspired silhouettes in a sharply citrus palette. With only four looks, this young designer left the crowd begging for more.
Zenobian Moxis photographed by Alex Butterfield
Frika photographed by Alex Butterfield
Frika photographed by Chloe Krenz
Over the past two years, Bris Carbajal of Yessenya has been showcasing her unique perspective on fashion at the Black Hearts Ball with vibrant colors, seamed hems, natural textiles like linen and cotton, and sophisticated, structured silhouettes that evoke the Spanish Riviera. In her new four-piece capsule collection, she expanded on her highly defined aesthetic, incorporating hard-edged details such as grommets, lacing, and horsebit-like straps. 
Yessenya photographed by Alex Butterfield
Yessenya photographed by Alex Butterfield
Cobilee West of CJW Designs combined Edwardian men's suitcoat silhouettes with unconventional fabrics, such as lace, toile patterns, and floral appliques. The women's looks also featured a modern nod to Edwardian style in a tailored jacket featuring a cape-like back and frothy dresses in blue lace and florals atop layers of cream. 
CJW Designs photographed by Alex Butterfield
CJW Designs photographed by Alex Butterfield
CJW Designs photographed by Alex Butterfield
After making her runway debut at Culture Piece Magazine's fall 2017 show, Rammy Mohamed of Ramadhan (a classmate of Farmah at the Art Institute) made a bold return with a full collection of looks that celebrated her heritage. As a child growing up in the Oromia region of East Africa, she was inspired by the traditional beading and sewing work of the women in her village. Today, she often incorporates traditional Oromo design influences and techniques into her modest, contemporary designs, such as beading and embroidery, as well as vibrant colors and metallic, luxe fabrics.
Ramadhan photographed by Alex Butterfield
Ramadhan photographed by Alex Butterfield
Ramadhan photographed by Alex Butterfield
Next up, the Navarros themselves made a surprise appearance on the runway with their first collection under their TIM+THOM label since fall 2015. It was also the first time the brothers showed their own collection at the Black Hearts Ball, pulling double-duty as both show producers and designers. They stuck to their usual black-and-white palette and highly-tailored, angular silhouettes, but this time, they added a sense of feminine fluidity with sheer layers, voluminous sleeves, and soft draping. A standout look featured a cape-like top and billowing skirt in mesh fabric for look that struck a balance between romantic and sporty.
TIM+THOM photographed by Chloe Krenz
TIM+THOM photographed by Chloe Krenz
TIM+THOM photographed by Chloe Krenz
The evening culminated with a collection by Samantha Rei of Project Runway fame, who showed the first half of her full fall/winter 2018 collection, "Vanitas," this past March with an intimate gallery presentation. [Read a review of that show on the Minnesota Monthly style blog.] Inspired by 17th-century Dutch vanitas paintings and themes of birth, death, and rebirth, the collection featured textured brocades, hand-dyed cottons, silk velvet, bead embroidery, and faux fur to create the texture and palette of the Dutch paintings. Standout pieces included a floral velvet cap trimmed in gold and an oversized brooch, pinned at the hip, that featured scarlet beading and oversized pearls to mimic an open wound.
Samantha Rei photographed by Alex Butterfield
Samantha Rei photographed by Alex Butterfield
Samantha Rei photographed by Alex Butterfield
In the ever-evolving landscape of Minnesota fashion, Black Hearts Ball has become arguably the most consistent, quality, and unique local fashion showcases in town. 
To inquire about purchasing any of the looks, follow the link corresponding to each designer's name and contact them directly. Producers: Tim and Thom Navarro. Directors of Photography: Francisco Escobar Mendez and Alex Butterfield. Art Director: Jaisa Blegen. Operations Assistant & Stage Director: Jayne Deis. Director of Beauty: Dre Demry-Sanders. 
Facebook Comments