Amid the sparkling automobiles at Morrie's Luxury Auto in Golden Valley, fresh fashions for fall stole the spotlight for one night during FGI's Fall: Into Luxury fashion show last week. The showcase featured looks from local designer Mona Nunez, and Twin Cities luxury retailers Mona Williams, June, and Bumbershute—plus some menswear from North Loop favorite Martin Patrick 3. Looks were masterfully accented with Stephanie Lake Design and Milana Stile accessories and jewelry by stylist Richard Anderson. Hosted by local producer and stylist Sarah Edwards and style maven Vanessa McDuffie, the Minneapolis-St. Paul chapter of Fashion Group International's second annual Fall Into Luxury show reflected the high-end styles that live in Minnesota fashion. It featured a mix of color, texture, and richness—with nods to current fall trends such as velvet, brocade, fur, and suede.
June:
Bright jewel tones were the colors of choice by designer resale shop June, with a backdrop of black and ivory staple pieces. Rich shades of ruby, purple and blue paired with pastel brights to create 70s inspired looks with the simplicity and elegance of modern day fashion. Combat boots and nude fishnets also made statements, adding a grunge element with metallic clasps, buttons, and fasteners. The looks were finished with grand yet whimsical statement necklaces by Stephanie Lake Design.
Mona Williams:
Elegantly pairing elements of the '90s—leather chokers, combat boots, and shorter hems—with the Victorian, rock 'n' roll-inspired finishing touches of the '70s—high necks, long sleeves, and fringe accents, this segment showcased Mona Williams' mix of designer resale goods alongside pieces from the fall collection by Copenhagen fashion label Baum und Pferdgarten. The elegant patterns in gold, orange, green, and brown were masterfully made modern by pairing them with slim silhouettes, clean, polished statement necklaces, and hints of lace.
Bumbershute:
Bumbershute played extensively with textures this season, mixing brightly beaded dresses with simple, more subdued jackets, and suede bottoms with thick fringe. The neutral color palette of creamy browns, soft blacks, and fresh whites allowed the standout jewelry by local designer Milana Stile to pop. Large rings, necklaces, and bracelets managed to delicately but boldly complete these luxe looks.
Martin Patrick 3:
This year's men's looks combined a variety to textures and subtle patterns, mixing fur with suede, velvet, and woolen coats perfect for winter. Forest green and chocolate shades of suede elegantly paired with long knit scarves, leather gloves, and beautifully crafted work boots. The shorter hems and more fitted styles gave a nod to the '70s-inspired women's looks present throughout the rest of the show. It was easy to tell that this collection had the cold months ahead in mind, yet these luxury staple pieces sacrificed nothing in the way of style.
Looks by Martin Patrick 3 and Bumbershute – photo by Jay Larson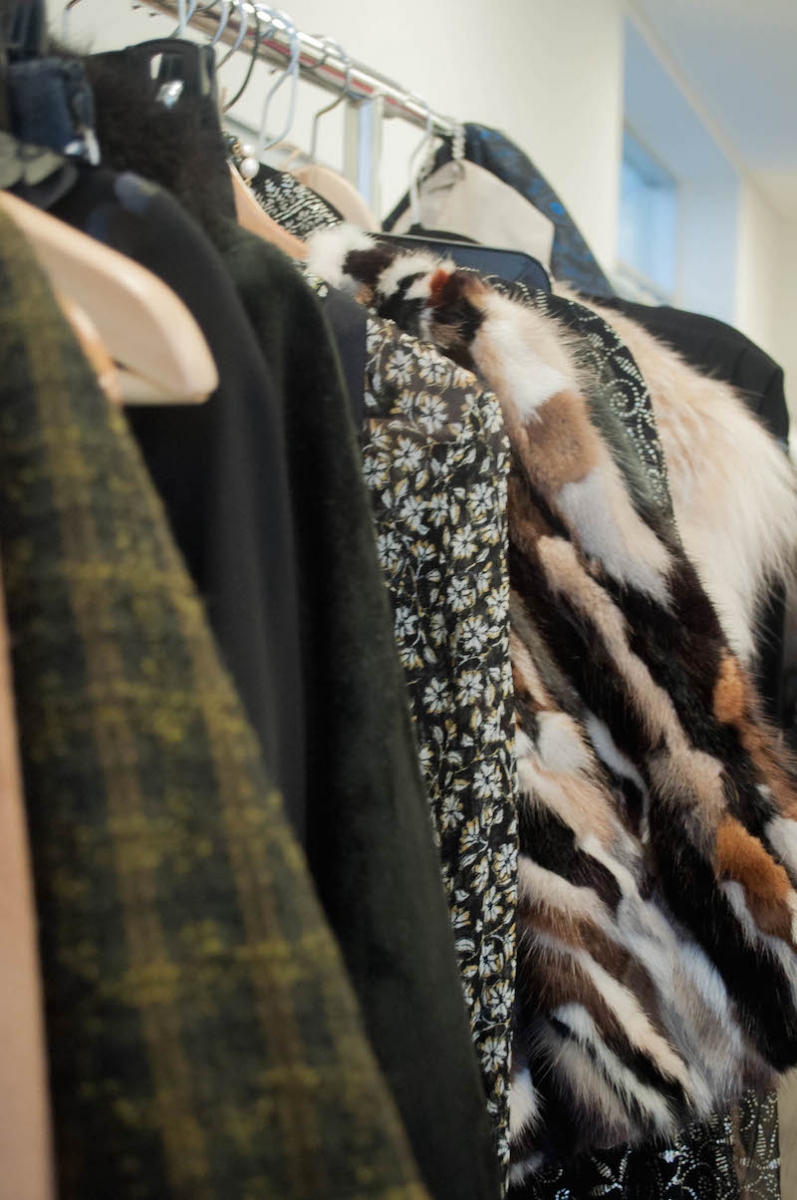 Looks from Mona Williams
Facebook Comments