Since its founding in 1998, the Center for Hmong Arts & Talent (CHAT) has promoted the artistic talents of the Twin Cities' Hmong population. One of its longest-running programs is the Fresh Traditions fashion show, a one-of-a-kind event that offers its all-Hmong roster of designers from Minnesota and beyond the opportunity to showcase their unique visions while challenging them to create contemporary garments inspired by the fabrics and colors used in traditional Hmong clothing. The 10th annual show, which took place recently at St. Paul event center A'Bulae, featured a wide-ranging array of handmade fashions from ten local and national lines. While many of the garments on display were impressive within the context of local Hmong fashion, others raised the bar of innovation, inspiration, and quality for Twin Cities fashion and beyond. 
After ten years of producing shows, the Fresh Traditions team has the production of the show down to a well-oiled machine. From the staging and lighting to the polished presentation, not a detail was left unnoticed. One of the most impressive elements was the gorgeous, full-color lookbook created for the show—from the quality of printing to the fashions to the styling to the photography. The cover image in particular, featuring a look designed by Fresh Traditions alum Xee Vang and shot by Peter Phung (seen below), is positively gasp-worthy. (View the full lookbook.) As in every year, each designer was challenged to create a look within their collection that incorporated traditional Hmong fabrics.
Indianapolis-based designer Keng Xiong of Sew Hmong began the show on a strong foot with her collection, "A Warrior's Journey." Inspired by the work of fashion designer Alexander McQueen and her Hmong heritage, the collection represented strong female "warriors" going through everyday battles without losing their femininity. The looks incorporated geometric shapes, handcrafted beadwork, sequins, and Hmong-Chinese–inspired embroidery. An embroidered white gown and a vibrant pink skirt paired with a quilted bodice were highlights of the collection.
cam xiong
cam xiong
kody thao
XiongSeams by Milwaukee-based Hmong designer Kia Xiong presented her newest collection, "Diaspora"—and indeed, the line represented the Hmong-American diaspora, combining modern silhouettes with traditional Southeast Asian elements. A pageant gown designer by trade, Xiong's designs merged the femininity of today's Hmong pageant gowns with the vibrant colors, patterns, and tribal silver neckpieces of traditional Hmong clothing.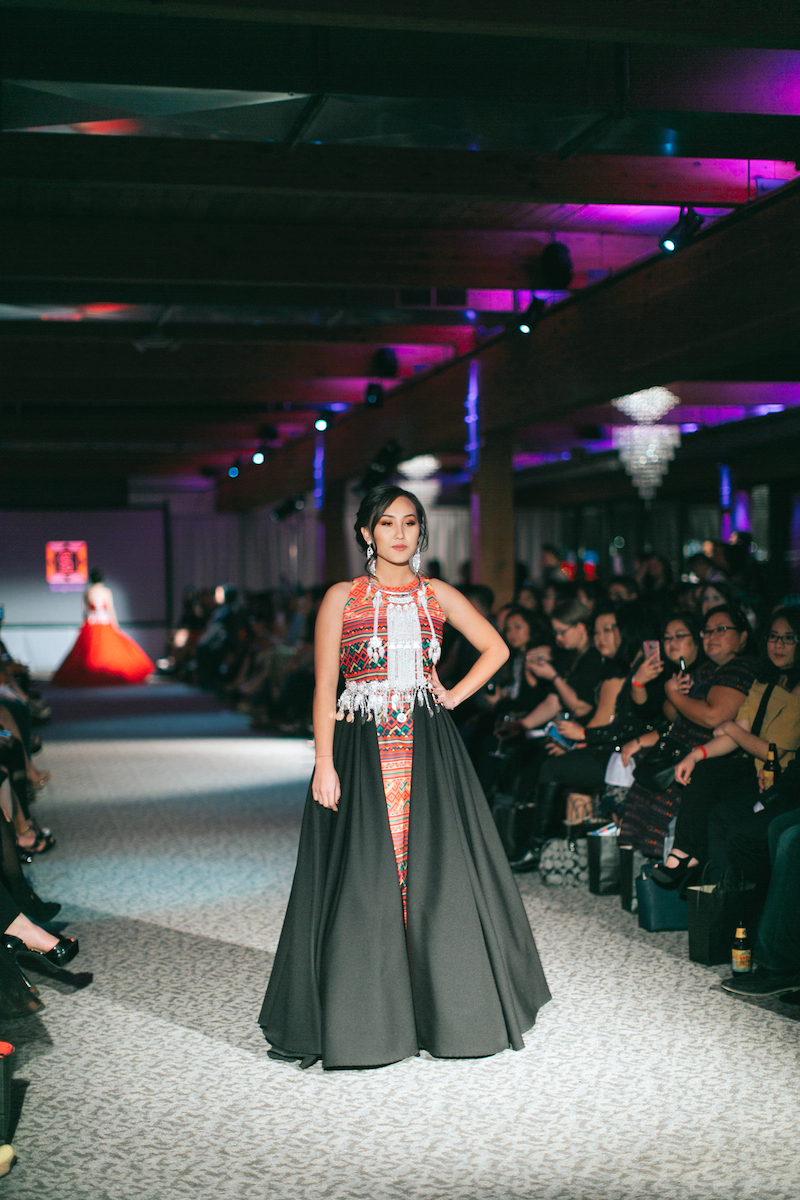 cam xiong
kody thao
kody thao
Lylena Hmong Couture by Lylena Yang is a fashion line based in Sacramento, California. Her collection featured intricate embroidery and applique work drawing from the vibrant colors of traditiona Hmong garb. Rendered in heavy, luxe satin, the line was impeccably constructed—no easy feat when dealing with such a fussy fabric. A look that dramatically paired a black velvet hooded cloak with a red satin party dress was one of the evening's most memorable looks.
cam xiong
cam xiong
gaozouapa vang
Sellia Vachon's collection for Seelia Vachon Designs, "Dark Dragons," drew on the mythical creature that is a fixture of Chinese lore. At times, the collection veered too far into Ren Fest–like costume for taste, and I felt that the horn-like headpieces distracted rather than highlighted the fashions on display. She was at her best when she infused her looks with a lighter touch of the dragon inspiration, such as a white dress with a beautifully sculpted bustier, a geometric, patterned skirt, and a stunning, floor-length skirt painstakingly covered in pleated, traditional Hmong fabrics.
cam xiong
cam xiong
cam xiong
Seams Vintage by local designer Nonmala Xiong is something of a misnomer—it's a collection of new garments that are vintage-inspired. Her collection, "Pattern Play," was demure and ladylike in its 1950s-era silhouettes while incorporating unusual pleating and applieque work to bring the looks into the 21st century.
cam xiong
cam xiong
X
cam xiong
Madfor by local designer Khou Chang took inspiration from the vibrant colors of traditional Hmong fashions and brought them into the '80s with her line, "Synth," which blended minimalist silhouettes in white with sheer, architectural layers accented by bright stripes of neon, and edgy cutouts with a streetwear edge.
kody thao
kody thao
cam xiong
Os.Couture by Oskar Ly, a well-known designer in the local Hmong fashion community, proved why she is one of the most innovative designers in Twin Cities fashion with her playful, effusive, streetwear-inspired collection, "XO." She played with ideas of gender in fashion, dressing female models in looks such as a drop-crotch, flora-print romper with an fluffy red topper, and local drag queen Julia Starr in a stunning floor-legnth skirt, basketweave top, and dramatic floral cape that perhaps offered the best take on the evening's challenge look.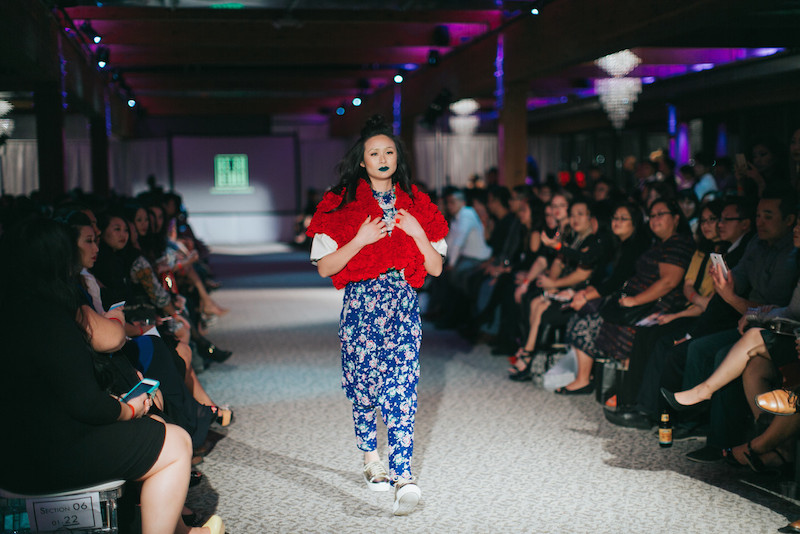 cam xiong
cam xiong
kody thao
kody thao
M.HEURH by Mae See Heurh's collection, "Oriental Bloom," was a crowd favorite of the night, and deservedly so—the local designer, a recent grad of the University of Minnesota Apparel Design program, went full Studio 54 in a collection of bell-bottom jumpsuits, flowing gowns with deep necklines, and neon faux-fur coats. The jackets were standout pieces, and her appliqued bustier and trousers were lovely. My only quibble is that the black satin in the first look may have not been the best choice for a jumpsuit—the shininess of the fabric was especially unflattering when rendered in jumpsuit form, especially under the bright lights of the runway. The bold, fringed earrings paired with the looks were the icing on this decadent cake of a collection.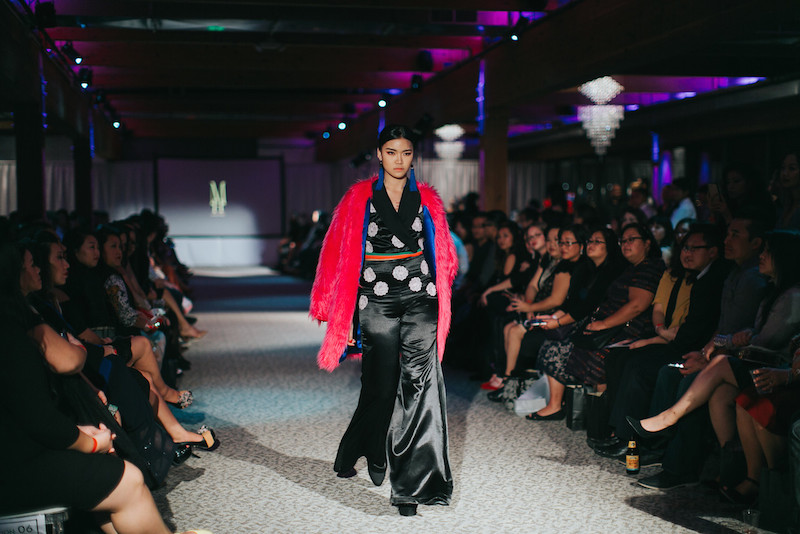 cam xiong
kody thao
cam xiong
kody thao
kody thao
kody thao
Allkind, a collaboration line between Khamphian and Christina Vang, showcased its first collection, "Still Waters," which highlighted the juxtaposition between traditional batik patterns and Art Deco. The fringe evoked a bohemian vibe, while the styling of the pieces gave the collection a fresh, street-smart style.
kody thao
kody thao
kody thao
Wameng Moua