Designer and couturier Joy Teiken has been one of the most consistent forces in the Twin Cities fashion industry since founding her line Joynoelle in 2003. Nearly every year since then, she's showcased her upcoming fall ready-to-wear and bridal collections in a series of solo fashion shows, typically held at raw warehouse spaces—all the better to showcase her pretty-with-an-edge aesthetic.
Last week at the new Stutz on Loring event space, she showcased her latest collection, "Pretty in Paleo," which took inspiration from the Jurassic period. The tough, textured skin of dinosaurs and lizards, and feathers (of the ancient, bird-like dinosaurs known as archaeopteryx) were clearly points of inspiration for the 34-look collection, while the silhouettes of many of the looks seemed inspired by the spiny forms of antique beasts and rigid, glacier-carved landscapes.
Teiken's latest collection was a logical step in the designer's evolution as she continues to move away from the sweeter styles of her earlier collections toward a darker, moodier vibe. The first look to hit the runway, an elegant, architectural black gown, set the mood as it turned to reveal a train laced with leather buckles. Other highlights included a sheath with a plunging neckline and pointy shoulders; a fringed pencil skirt; a romantic, organza peplum top paired with a black leather buckle mini-skirt; and crinkle-textured black silk bell-bottom pants.
Rendered in an earthy palette of black, shades of green, deep red, ivory, and brown, the line struck a balance between classically refined and darkly edgy–particularly through the use of Victorian and Edwardian silhouettes—capitalizing on the designer's abilities to create unusual textiles and blend contrasting textures. Punctuating the dino-chic theme were rock 'n' roll-chic, fuzzy-curled faux-hawks styled by Bespoke Hair Artisans, worn by models from Vision Management Group.
My one critique is the repetition of crop-top silhouettes, deep-V necklines, and short-short skirts—seemingly designed FMO (for-models-only), some of these pieces seemed like they way be a difficult sell for Teiken's customer base.
Minor quibbles aside, the show once again proved that the designer is continuing to evolve and stay fresh while showcasing the elegant-edgy style for which she's celebrated. And Teiken is not content merely to put on an aesthetically beautiful show—all proceeds from the show were donated to Kill Kancer, a cancer-prevention organization created by Mary Beth Mueller in honor of her late husband, Soul Asylum founding bassist Karl Mueller, who died of esophageal cancer in 2005.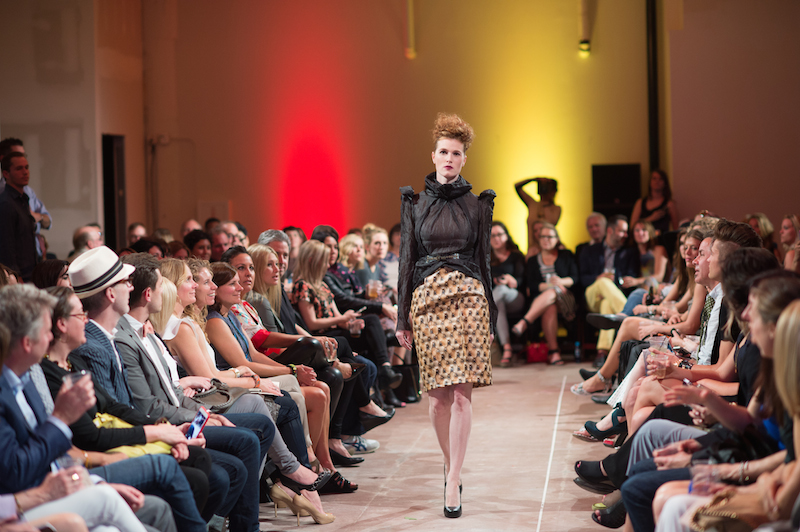 All photos by AJoy Photography & Jackson Faith Photography, courtesy Kill Kancer
Facebook Comments