Fashion and politics have always been intertwined. But over the past year, this relationship has been more apparent than ever, with political statements on and off the runway ranging from statement tees (Christian Siriano's "People Are People" and Prabal Gurung's "The Future Is Female" from fall/winter 2017 New York Fashion Week) to last year's CFDA partnership with Planned Parenthood during NYFW, where notable figures such as Anna Wintour were spotted wearing "Fashion Stands With Planned Parenthood" pins.
On a local level, this post-Weinstein-scandal-#MeToo-Time's-Up era set the stage for the 5th annual Ready or Hot: Fashion Meets Passion for Planned Parenthood, a high-energy, high-production runway show and fundraiser held at the International Market Square last weekend. It featured looks from local retailers, including Mona Williams, MartinPatrick3, and Grethen House, modeled by dedicated Twin Cities supporters of Planned Parenthood. Once again produced, styled, and co-hosted by Minneapolis style extraordinaire Grant Whittaker, this year's event featured custom paper fashions by a trio of talented local designers, including Project Runway alum Samantha Rei, Mercedes Bergman, and Ivan Gil, cleverly crafted out of the Planned Parenthood logo. (Sadly, unlike previous years, no condom dresses hit the runway this time around.)
The show began on an intersectional beat with an inspiring speech by guest speaker and 2018 Ready or Hot ambassador, Sudanese-born model Nyakim Gatwech, who came to prominence last year when her story of her interaction with an Uber driver who asked her if she would bleach her skin for $10,000 went viral. Gatwech eloquently and passionately spoke about the importance of self-love and self-acceptance in the the face of discrimination, especially within the fashion industry.
Gatwech's speech set the tone for what was to come. Whittaker introduced the show by saying that the theme of the show was individuality, so he dressed models in looks that reflected their personal style. And as each model walked the runway, their exuberance was palpable—you could tell they truly loved what they were wearing. Minneapolis City Council vice president Andrea Jenkins, the first black trans woman to serve on the council, was the first down the runway, wearing a chic sheath dress in Prince-purple from Dugo at Galleria with aplomb. Other local notables featured in the show included civic activist and former Minneapolis mayoral candidate, Tom Hoch; Nancy Lyons, CEO of Clockwork, the tech and interactive-design consultancy; and burlesque entertainer, Elektra Cute.
The rest of the models were a mix of Planned Parenthood employees and teen council members, mental health professionals, teachers, doctors, dentists, nurses, entrepreneurs, designers, baristas, and a probation officer—an inclusive, diverse array of shapes, sizes, ethnicities, genders, and sexualities. The eclectic group of individuals represented and celebrated the breadth and scope of Planned Parenthood's mission: to provide essential health care to women, men, and teens, regardless of their race, color, or creed.
Dress from Roe Wolfe, clutch from Dugo, bracelet from Ragstock
Look from MartinPatrick3
Shirt from Luxury Garage Sale, pants from Roe Wolfe, earrings from Dugo
Look from Dugo
Shirt from Bluebird Boutique, pants from Local Motion, jacket from Ragstock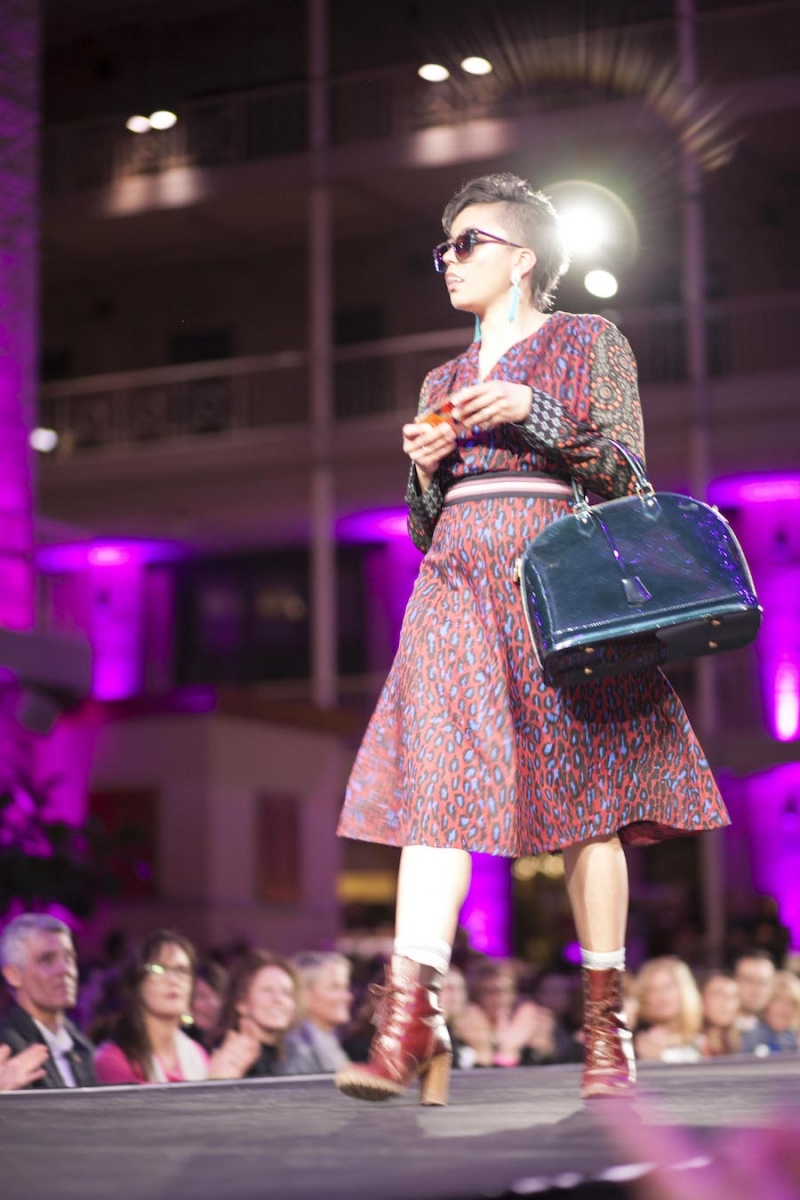 Dress from Grethen House, bag from Queen Anna
Dress from Queen Anna
Look from MartinPatrick3
Shirt from Roe Wolfe, pants from Ragstock
Look from MartinPatrick3
Shirt & pants from Mona Williams, jacket from Roe Wolfe
Shirt from Bumbershute, cardigan from Ragstock, pants from Grethen House
Pants from Grethen House, vest from Bluebird Boutique
Look by local designer AkuaGabby 
Underdress by Dugo, overdress by local designer Joynoelle
Dress from Luxury Garage Sale
Look from MartinPatrick3
Top from Mona Williams, pants from Roe Wolfe
Dress from Dugo
Dress by Mercedes Bergman Designs 
Dress by Samantha Rei
Dress by Ivan Gil
Learn more about how to support Planned Parenthood's mission at plannedparenthood.org.