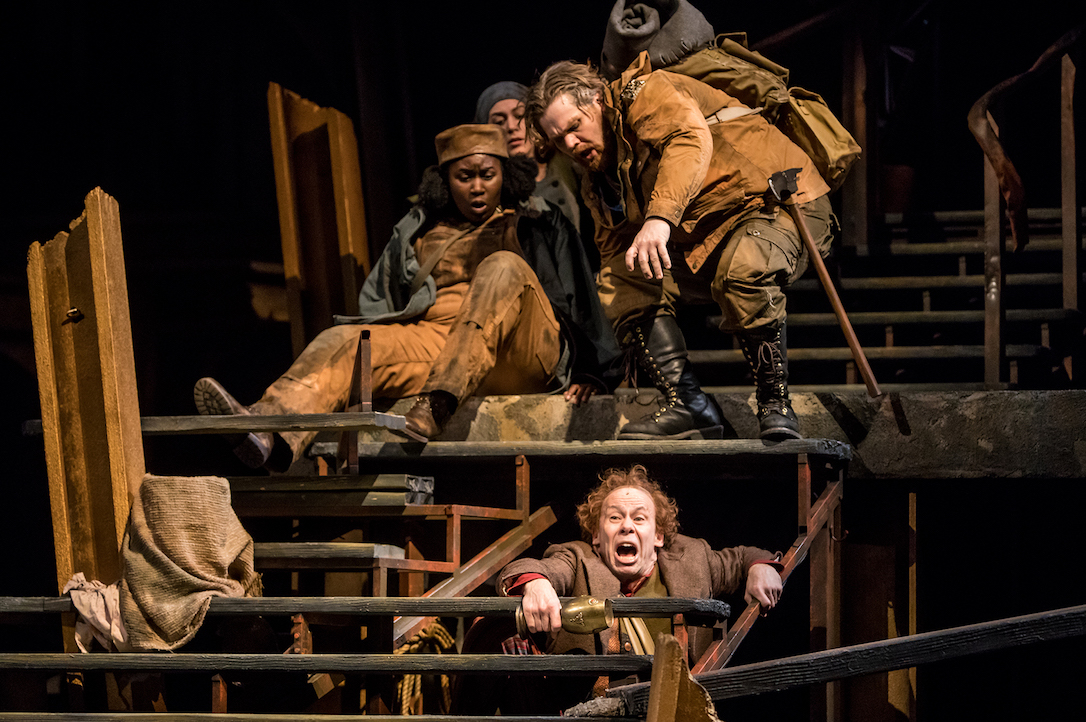 With Hollywood's attempted epic of The Hobbit trilogy, it can be easy to forget that all three movies fit into one little book. Greg Banks, the writer and director of the Children Theatre Company's world premiere commission of The Hobbit, has not forgotten this. His version, being performed on the UnitedHealth Group Stage through April 14, is just right in its theatrical indulgences. For instance, it says yes to a beautiful, distressed, and marvelously conceived set by Joseph Stanley, but it says no to almost all other effects in favor of inviting the audience to imagine with the cast. Because of this, Banks' script truly captures the spirit of storytelling. After all, if you went on such a grand adventure, wouldn't you want to tell people about it?
If you're new to the tale: It all begins when Gandalf the wizard knocks on Bilbo's door in the placid hobbit shire. The standard (or not so standard) good mornings ensue, but once Gandalf leaves, Bilbo is visited by a good deal more unexpected guests. Twelve dwarves led by their king Thorin, to be precise. All have been displaced from their home under the Lonely Mountain for many years, and according to prophecy, now is the time for them to reclaim their kingdom. According to Gandalf, they just need a burglar to complete their crew. To everyone's surprise, he chooses Bilbo.
Instead of a third-person omniscient view, Bilbo (played by an unassuming and expressive Dean Holt) narrates the tale with an animation that effuses from his whole being, pulling us into scenes to have us live those moments with him and skipping over plodding journeying with music and lyrics by Thomas Johnson and Greg Banks. The rest of the cast, comprised of Joy Dolo, H. Adam Harris, Becca Hart, and Reed Sigmund, switch among the characters as needed, donning different accessories as they flip back and forth roles, sometimes within the scene.
That means five people stand in the place of more than 20 characters (not including very populated armies). And it works. Sigmund's Thorin is much more gruff and aged than his high-pitched, frenetic spider—a spider which, by the way, earned quite a few laughs and no instances of arachnophobia. Understanding Harris and Hart's switch from dwarves (the jovial Kili and the down-to-earth Balin) to trolls is easy as well. The character transformations get subtler and faster-paced near the end, which could make it a bit trickier for younger audiences. However, one slightly meta quip from Dolo—"I'm the elven queen if you couldn't tell"—makes you feel pretty forgiving since you're officially in on the joke.
Once in a while the play feels like it could be amplified, like Dolo's portrayal Gandalf (even as she smartly steers clear of Ian McKellan's iconic version). Her casual, hip Gandalf stood up well in the first scene, when the play picked up, whether because of the diminished part in the script or her performance, she got overshadowed by the action and the high emotions of those around her. Still, nothing is over-acted, and the humor never feels lazy. It's a production that all ages really can enjoy, and Johnson's sublime two-person score of piano, percussion, and reeds enters and recedes effortlessly throughout the play.
With all of the imaginative elements in the play, Banks has mixed in the ordinary with the extraordinary. This isn't a flashy, over-the-top production coming to razzle and dazzle. This is a friendly neighbor inviting you over for tea and telling you about his great adventure with the implicit promise that you, too, could find yourself on such a journey. The first step is always letting your courage overcome your fear.
Facebook Comments