Minnesota has a storied heritage of fashion and textiles. The building that is now known as interior design hub International Market Square was the birthplace of Munsingwear, an iconic underwear manufacturer established in 1888 that developed the Original Penguin brand and was known for a patented wool-cotton blend that took the itch out of underwear. Before the turn of the century, Minneapolis was also a hub for department stores—including the grand retailers of Nicollet Mall, Dayton's, Donaldson's, Young-Quinlan, Harold's, and Powers—that made high-end fashion accessible to the upper Midwest for the first time.
That tradition is at the heart of From Underwear to Outerwear, an exhibition of wearables collected from Hennepin County dating back to the 1850s. Presented in conjunction with its 80th anniversary, the Hennepin History Museum has delved into its archives to display a broad range of fashions worn by Hennepin County residents ranging from custom ball gowns worn by famous local names such as the Daytons and the Pillsburys, to everyday garb worn by regular folks.
The exhibition came together somewhat by chance, explains Hennepin History Museum executive director, Cedar Phillips. "We have been in the process of doing a complete roof-to-basement inventory of our entire collection over the past year," she says. "As we were photographing and cataloguing it, we were seeing things that hadn't seen the light of day for many years. With our 80th anniversary coming up, we realized that it was a good opportunity to highlight one of the strengths of our collection, our wearables. We have an incredible variety of pieces."
The Hennepin History Museum was founded in 1938 as the Hennepin County Historical Society, although it has roots going back to the 1858 founding of the Territorial Pioneers Association. In 1958, the organization moved into its current home, a 44-room historic George Christian Mansion, giving the museum room to expand its education and exhibition programming. While the museum has previously displayed its collection of wearables, Phillips says this is the first time it's showcased fashion of this depth and breadth.
1940s velvet, fur, and jeweled Aquatennial crown by JB Hudson
The items on display include some truly breathtaking pieces: a beautiful 1870s wedding gown made of heavy velvets and ostrich feathers; the decadent, bejeweled velvet, fur-trimmed coronation crown designed by JB Hudson Jewelers that was worn by the Aquatennial Queen of the Lakes from the 1940s to the 1960s; a navy Fairview Hospital nursing cape with a bold red lining from the 1940s; a 1920s-era Ojibwe "jingle" dress made from tobacco cans, a blend of traditional Native American styles and the flapper dress, which will be on display for just the first two months of the exhibition due to its delicate nature. "It's a real highlight of our collection because it has very traditional Ojibwe elements, but the jingles look like flapper fringe," says Phillips. "You can see the stylistic impact of Western culture in the piece."
Some of the featured fashions on display had wearers as interesting as the pieces themselves. The show features an opera cape once owned by Dr. Catherine Burns, one of the first female doctors in Minnesota. The cape, which features lace, silk, and incredible beadwork, was believed to have been custom made by a dressmaker later on in her career. "It's beautiful in its own right," says Phillips, "but when you realize it's connected with this woman who had this incredible story in Minnesota, it becomes even more special."
While many items featured in the show came from iconic Minneapolis department stores, including hats from Harold's and a men's bathrobe from Donaldson's, some of the most beautiful pieces were made by dressmakers such as Charlotte Snapp. "She worked out of her apartment on Dupont Avenue making custom dresses for people who could afford-the Pillsburys, the Daytons," says Phillips. "She also went to Hollywood every year to create dresses for movie stars like Jean Harlow."
Other fun items on display include vintage department store boxes, images from Target catalogs from the 1970s that were blown up for the backdrop of the exhibition, and novel items such as a funky 1976 bicentennial dress, a Cargill feedsack that was made into a tunic by a Cargill employee for a costume party at the Calhoun Beach Club in the 1940s, and a hardhat that designer/writer Barbara Flanagan wore to tour Peavey Plaza with the architects when it was built in 1975. Even modern-day Hennepin County is represented in a series of one-of-kind looks on display by local designers (and Project Runway alums) Samantha Rei, Christopher Straub, and Danielle Everine.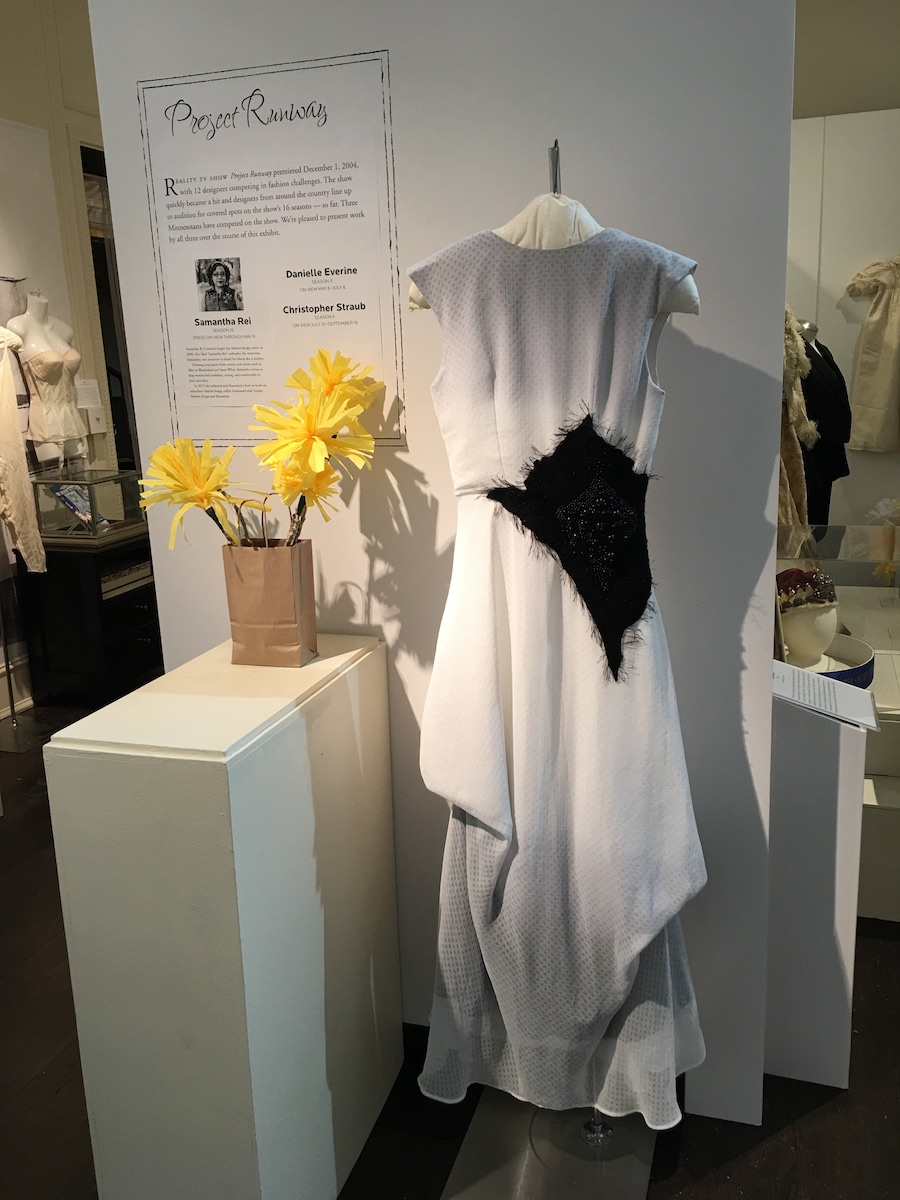 Modern dress by Minneapolis designer Samantha Rei
The show also features utilitarian garb, including a wide variety of Munsingwear (of course). "In the 80 years we've been around, our approach has been to ask people, What kinds of old things do you have in your closet? Those things usually are things people save, such as christening gowns and wedding dresses, while everyday items don't tend to get saved," she explains. "We plan to address some of these gaps soon."
While pieces from Hmong, African-American, and Native American cultures are represented in the museum's collection, Phillips is quick to note that the museum plans to address some of the gaps in representing other ethnicities that make up Hennepin County's cultural fabric, particularly newer immigrant groups. "I think museums have been evolving how they collect in recent years, and we're looking at addressing what stories we haven't been telling," she says.
For Phillips and her exhibitions team who put the show together, the show is intended to not only highlight the range of clothing of Hennepin County, from the practical to high-end, but to also showcase the cultural side of dress. "We wanted to show the diversity of experiences in Hennepin County and get people thinking about what they wear and why," she says. "It's a chance to remind people of whether you're going to work in the morning or for a grand night out, everything you put on sends a message."
Opening reception: Friday, March 24 from 6–8 p.m. Exhibition runs March 24–September 16 @ Hennepin History Museum, 2303 3rd Ave. S., Minneapolis, hennepinhistory.org. Admission $5 adults, $3 seniors/students, free children 6 and under
Selections at From Underwear to Outerwear 
Special occasion looks at From Outerwear to Underwear
Fairview Hospital 1940s nursing cape
Custom silk, lace, and embroidered cape owned by Dr. Catherine Burns