As a farm educator with a education in horticultural science, Susan Storck isn't your traditional jewelry designer. But if you look closely at the pieces she creates under the brand Sudify, you'll see horticulture at their center—literally and figuratively. The self-described "plant freak who is also an artist" combines clear epoxy resin with real flora and fauna for her wearable designs.
While she founded her line in 2015, the Minneapolis-based designer recently gained attention for her work on display as part of Light Grey Art Lab's "Winterland" exhibition, which is currently on display at the Whittier gallery. The intricate pieces features tiny botanical scenes made of lichen, ferns, moss, and tiny dried flowers within striking geometric shapes. Some of her designs are made completely from organic material encased in epoxy resin, such as a pair of ginkgo biloba leaves she collected in Minnesota. Earlier this week, the designer released a new collection of angular designs in an eye-popping palette of hot pink, white, and black.
I caught up with the designer about how she decided to combine horticulture with jewelry, what inspires her designs, and the unique process that goes into making her pieces.
Floral Acrylic Triangle Necklace, $46 @ sudify.net
Tell me about Sudify's origin story. Why did you decide to start incorporating plants into the designs?
My work celebrates the beauty of the natural world. I have always loved autumn in Minnesota, probably because of the beautiful foliage. In autumn of 2015 I was on a mission to preserve sumac leaves in a durable way, and discovered epoxy resin. Once I had these durable leaves I realized the best way to display them way to wear them as jewelry. This is was the inspiration of Sudify jewelry. The name "Sudify" stems from my nickname, Suda. I created a definition for the brand: Sudify [soo-duh-fahy] verb (used with object), sudified, sudifying. 1. to preserve the form or qualities of objects found in nature via resin: to sudify a leaf. Once I became comfortable using resin with leaves it inspired me to try other natural objects. I have always found lichens extremely beautiful and like to display them, as a gemstone would be, in my jewelry. I also use ferns, flower petals, moss, seeds, twigs, fungi, basically anything I can collect while hiking around Minnesota. All of the pieces I create are wearable pieces of art made from nature.
What is it about plant life that inspires your jewelry designs?
I find plants fascinating, beautiful, and have created a life where I am always surrounded by them. I studied horticulture in college and have worked on farms ever since. I have over 100 houseplants—I don't know if I should be proud or admit to a problem!—and constantly am hiking around the beautiful natural areas surrounding the Twin Cities. The beautiful lines, colors, and unique textures found in natural objects are an inspiration in my jewelry. I find them so inspiring my main goal is to highlight their unique beauty by showcasing them in a wearable fashion. I also think being in nature and around plants is very grounding and calming. I hope that my jewelry also can elicit that natural response to being in nature.
Fern Drop Earrings, $42 @ sudify.net
What is the process that goes into making your jewelry?
I collect natural objects throughout the seasons in Minnesota. I hike with a backpack as well as a phonebook in the backseat of my car so I can collect and preserve objects as I go! My work can be a bit seasonal, lichens in winter, moss and ferns in spring, flowers in summer, and leaves in autumn. Once the natural materials are fully dried and preserved I coat them with a thin layer of epoxy resin. I then pour or paint multiple layers onto the object and embed them either in a frame or have them stand alone. Once the piece is fully embedded in resin, I attach findings to turn them into earrings, rings, or necklaces.
What are the "frames" for the plants made from?
I design and custom cut the frames for my pendants out of cast acrylic (hard plastic) or basswood using a laser cutter.
Why juxtapose bright colors and angular shapes alongside the organic, natural forms of the plant life?
I love the contrast between soft organic lines and geometric shapes, I find them very complimentary. I want my pieces to pop and draw your eye in and then notice the natural beauty embedded within. I am a huge fan of Moorish architecture and feel like that influence sneaks into my frame designs.
Where did you get the idea to offer bridal packages?
A friend's wedding! She wanted to save her bouquet for sentimental reasons, but was leaving for her honeymoon the next day so I was tasked with preserving it. I pressed the flower petals and created "flower confetti" inside pendants for her. The bridal packages have been a great way for brides to preserve their wedding flowers and also make a great gift for the bridal party! They also take up much less space than a dried bouquet and you can wear it out and about.
Sudify jewelry can be found in the Twin Cities at Gallery 360, Homespun Decor and Gifts, Corazon, at Light Grey Art Lab as part of "Winterland," on display through Feb. 21, and online at sudify.net. Get free shipping with code FEBFREE through February. Sudify will also be featured in Valentine's Day pop-ups (Friday, Feb. 9 from 4–8 p.m. @ HWY North at Groundswell Coffee in St. Paul & Sunday, Feb. 11 from 11 a.m.–4 p.m. @ Nick Earl Pottery Studio, 16885 Square Lake Trl N., Stillwater) and at Sisyphus Brewing (Tuesday, Feb. 13 from 6–10 p.m.). For custom pieces, email sudify@gmail.com.
Fern Acrylic Geometric Necklaces, $38 each @ sudify.net
Floral Acrylic Geometric Necklace, $42 @ sudify.net
Floral Acrylic Drop Necklaces, $38 each @ sudify.net
Fern Drop Necklace, $42 @ sudify.net
Real Leaf Ginkgo Earrings, $24 @ sudify.net
Hexagonal Moss Ring with Silver Plating, $32 @ sudify.net
Lichen Orb Terrarium Necklace, $48 @ sudify.net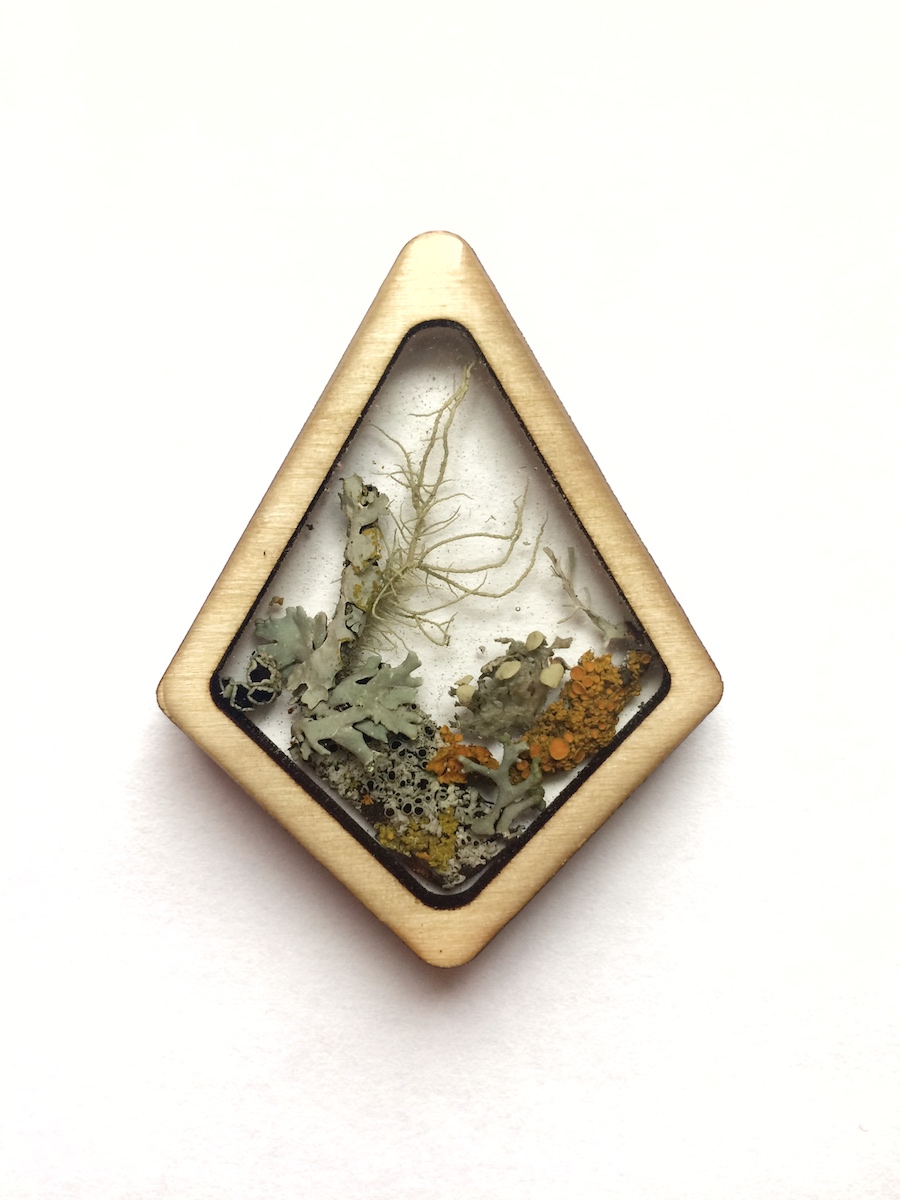 Lichen Terrarium Quad Necklace, $54 @ sudify.net
Triangle Lichen Terrarium Necklace, $48 @ sudify.net