The American Craft Council has been celebrating fine craft traditions since its founding in 1943. Beginning in 2000, it's brought more than 200 of the top U.S. craft artists spanning jewelry, clothing, furniture, home décor, and interior design to the public via the American Craft Council Show, an annual touring exhibition hosted in seven U.S. cities, including St. Paul.
After moving its headquarters from New York to Minneapolis six years ago, the council began making steps toward showcasing craft in a more modern context, first with the 2012 introduction of Make Room, Modern Design Meets Craft—an installation of four rooms, styled with American-made crafts, by four top local interior designs. Last year, it launched Hip Pop, a showcase of the next generation of craft artists, spanning woodworking, ceramics, jewelry, and textiles.
For the 2016 edition of the show, which takes place at the St. Paul RiverCentre on April 8 to 10, the council have added yet another concept, dubbed the Style Slam. Led by Minneapolis style expert Grant Whittaker, the Style Slam pairs local professional stylists from each of host city with the challenge of creating well-styled looks featuring pieces by the show's artists—such as clothing, jewelry, hats, and scarves—on live models and mannequins, injecting high-fashion into the handmade.
Truth be told, not many people from the local design and fashion communities are attendees of the ACC Show. (In fact, Whittaker admitted this year's show will the first he's attended.) Pam Diamond, the council's director of marketing and communication, says that is a big part of the inspiration behind the Style Slam. "You hear, 'Oh, the American Craft Council Show, what's that?' And until you step in the door and see what's there, it changes everything. And that's been our mission since we moved to Minneapolis in 2010—we wanted to make these handmade pieces relevant again to people. We have continued to create programs that put craft in context with the way people really live. People don't fill their house with all handcrafted stuff, and people don't wear all handcrafted, but they want to mix pieces in with their everyday wardrobe."
A model posing in a Make Room installation at the American Craft Council in Baltimore in February
Twin Cities stylists Davee Ek, Christina Fortier, Jose Ayala, and Tressie Schneider will be on hand to show ACC Show attendees how artisan statement piece found at the show can become part of a stylish wardrobe. The Style Slam will also include ACC member makeovers, trendspotting segments, and style commentary. 
"Our artists make beautiful, handcrafted pieces, but when you see a lot of similar items in one booth, it can be hard to place in context," explains Diamond. "The stylists can shed a light on how to put those things together in a way that's really fashionable and brings them to life. I've never seen a boxy jacket look more beautiful than when it was glammed up by a stylist. All of a sudden, it comes together with a great pair of boots and jeans and the right hat and accessories."
The first Style Slam was held at the Baltimore edition of the ACC Show in February, in which Diamond recalls a makeover done for one of the ACC members. "One woman bought all three pieces she her stylist picked for her," she says. "They were just beaming when they came out, just to see how a professional eye can make a huge difference."
A model posing in a Make Room installation at the American Craft Council in Baltimore in February
It's also a fun experience for the stylists. "All of a sudden I'm running down the aisle with a $10,000 necklace and a $45,000 crocodile bag," Whittaker says of his experience at the Baltimore show. "All of this amazing product is there."
The Style Slam also ties into the interior design installation, Make Room: Modern Design Meets Craft, which features rooms designed by Liz Gardner, Jennifer Jorgensen of J. Jorgensen, Carter Averbeck of Omforme Vintage Modern Design, and Drew Beson of Drew Beson Art, inspired by the cheekily named theme, "4 Directions." (Rooms represent North, South, East, and West.) Each stylist will meet with each designer and collaborate on a fashion look that corresponds to their room. "To see a model in that space is so impactful," says Whittaker.    
"It's much more interactive," says Diamond of the Style Slam. "It creates a lot of movement around the space. It's very engaging, because people can come up and ask the stylists questions and interact with craft goods in a new way."
Preview party: 6-9 p.m. Thu., April 7, $75; show runs 10 a.m.- p.m. Fri., April 8, 10 a.m.-6 p.m. Sat., April 9, 11 a.m-5 p.m. Sun., April 10, $11-12 admission, St. Paul RiverCentre, 175 W. Kellogg Blvd., shows.craftcouncil.org
Models posing in a Make Room installation at the American Craft Council in Baltimore in February
St. Paul Style Slam stylists Davee Ek, Christina Fortier, and Jose Ayala posing with Grant Whittaker in his Twin Cities studio
A selection of Minnesota designers showcasing clothing and accessories at this weekend's American Craft Council Show in St. Paul:
Hats by Ruby3 by Anna Lee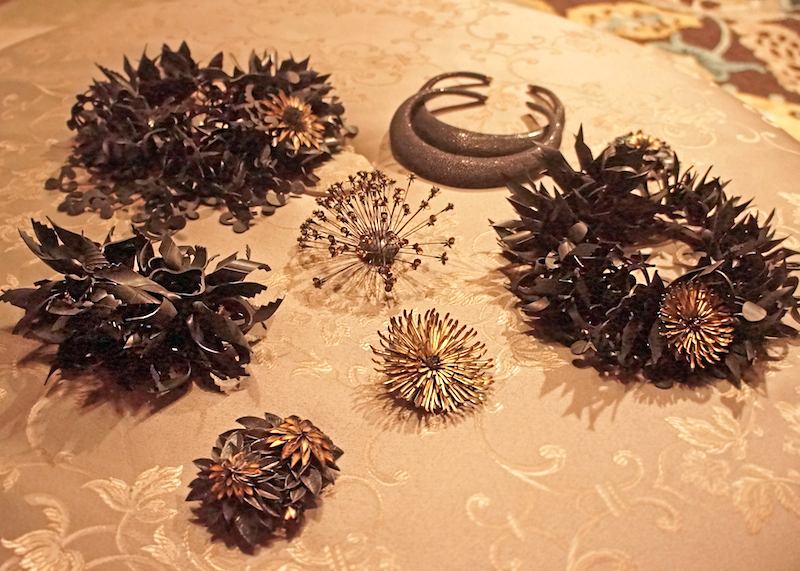 Jewelry by Judith Kinghorn
Jacket by Susan Bradley
Earrings by jewelry designer Karin Jacobson
A knapsack by bag maker Luke Borkenhagen for his brand, Cedar & Stone
Earrings by Lauren Neal of Neal Jewelry
Bracelets by Nick Lundeen