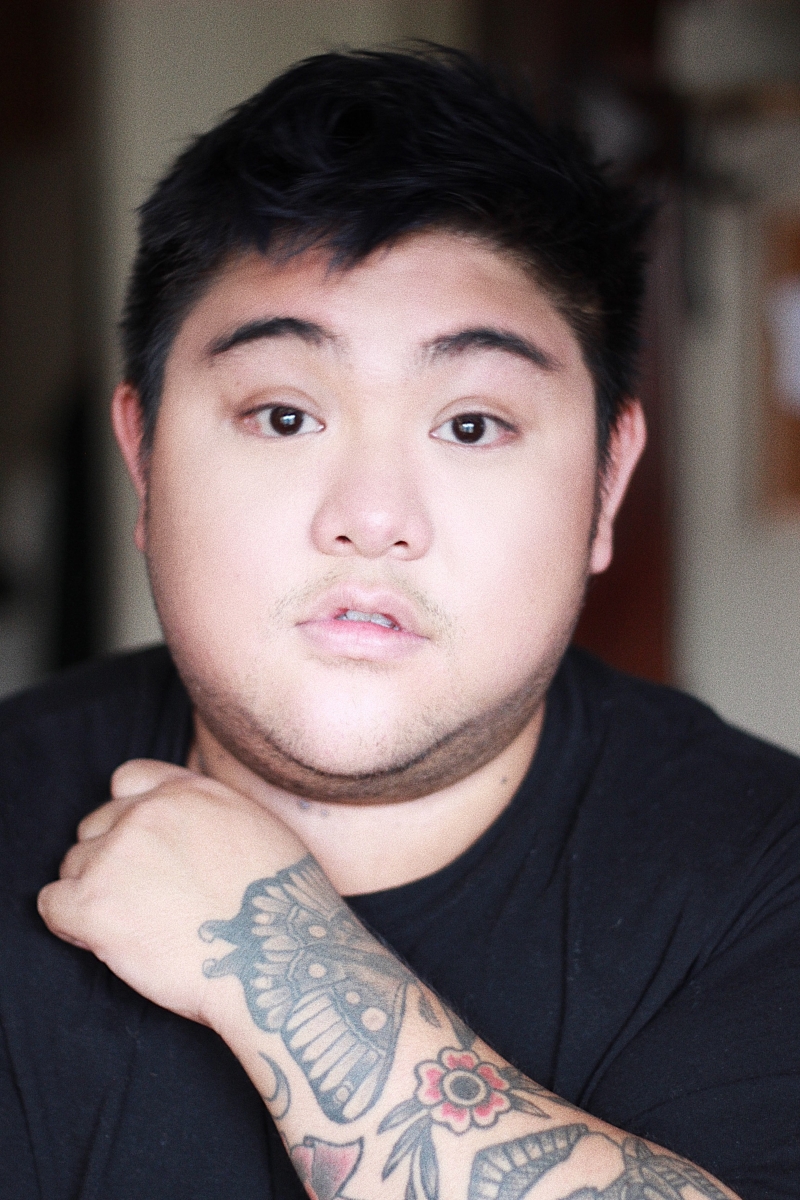 Hieu Minh Nguyen's 2018 poetry collection, Not Here, was recently named one of the best works of poetry in 2018 by the New York Public Library.
Photo courtesy the Poetry Foundation
---
It wasn't high school, really, that set East St. Paul native Hieu Minh Nguyen up for national acclaim as a poet. More like a high school epiphany.
A kid born in the early '90s, Nguyen loved the escape of TV and movies, so he joined the theater community for students of color at Central High School. Members performed what they wrote onstage, and Nguyen wanted to ham it up.
But the laughs could feel cheap. "People are listening to you, and you're saying things that you don't really care about," he remembers thinking. He thought of the women in his family, of his mother in particular, forced to immigrate from Vietnam. "Everybody has a story, but not everybody gets listened to. So, what are you gonna do?" He poses the question to his past self. "Are you gonna say something worth saying?"
His first book of poetry, This Way to the Sugar, came out years later, in 2014—a finalist for the Lambda Literary Award and the Minnesota Book Award. In the confessional style he is known for, Nguyen pries into personal sticking points, from body image and internet-age sex to growing up gay in an unsympathetic home. His second book, Not Here, continues unpacking memories of abuse and loss, confronting cultural barriers in sex and love, and staging painful, compromising mother-son dynamics. Unreleased new work so far draws on the Twin Cities, assisted by a prestigious Ruth Lilly and Dorothy Sargent Rosenberg Poetry Fellowship, one of five given annually by the Poetry Foundation.
"[It is] just one of those books you can't stop reading," poet Victoria Chang gushed of Not Here. The New York Public Library recently named it one of the best poetic works of 2018, at a time when more and more people are reading poetry, according to the National Endowment for the Arts. "Nguyen's irrepressible warmth is fueled by honesty, longing, and curiosity," raved National Book Award-winning poet Terrance Hayes.
Hard to imagine—given so many other accolades touting Nguyen's precocious mastery—that he barely graduated high school.
Back then, teachers hounded him on his cell phone while he skipped class. He devoured Def Poetry Jam DVDs from the library. He loved poet Patricia Smith. He started writing slam—that firebrand genre of spoken word where writers dig into the hardest parts of their past.
Although Nguyen, who now lives in Minneapolis, quit his haberdashery day job about four years ago to work full time as a poet, he still writes at night. He has ever since forgoing undergrad to slog through "soul-sucking customer-service jobs" during the day.
For example: On a mid-October day, he went to bed at 8 a.m., rose at 11, and got to Hen House Eatery downtown for an interview at 1. "During human hours, there are errands to run and responsibilities to do. But at 2 a.m., it all goes away."
He wears a mustard-yellow beanie, a gray Champs T-shirt, and black-framed glasses, reasoning over an avocado tuna melt. Nguyen sometimes detours, visibly, into his thoughts. Returning, he is charming and a little diffident. His curiosity shows in debate. About halfway through the interview, we discuss whether art should ever lead audiences into despair. "Maybe there's a way where you are in the dark, but you aren't alone in the dark," he suggests. "You are there with the work. You are there with the poem, right?"
His spark might surprise those who know where his poems tend to live. Nguyen does lead readers into darkness—writes about trauma, about abuse at the hands of should-be mentors, about dehumanizing interactions.
In "Mercy," from Not Here, the speaker describes repugnant racism encountered mid-hookup. "Once, while lying in his bed/a man asked me to quiet/his dog by speaking to it/in Vietnamese…" Then, there's that spark: "I really should get a sense of humor," he writes, "but that requires enduring/the labor of forgetting."
Surprising and fantastical metaphors compel multiple reads. Referring to the "white boy time machine," who recurs in Not Here, the speaker finds racial tension in the strange way relationships conjure up his ancestors, their scars opening into his present: "the machine/has a machine family/who assumes i've rigged their boy/to do what i want/by feeding him/a coin/fashioned with a string/a yo-yo organ/is what the doctors called it/when my grandmother's heart fell out of place."
This month, Nguyen proved his high school teachers right, in a sense. They saw something in him, enough to call while he ditched. Now, Nguyen has earned a Master of Fine Arts from North Carolina's Warren Wilson College.
"At first, I just needed to be onstage, right?" he recalls.
It's maybe reassuring for a Twin Cities reader that, in what can be seen as poetry's lofty sphere, Nguyen embraces where he came from—a St. Paul neighborhood of limited chances, where he sought escape through acting, then writing.
"There's so many people in my life and in my family who don't get listened to, who have a lot to say—a lot more important things to say than me. But no one will listen to them."
Not Here opens on a quote by poet Jason Shinder: "Let me keep on describing things to be sure they happened." By the end, the reflective power of writing seems to have guided the speaker to a higher place from which to view his rich relationship with his mother.
"It's not my job to speak for them, but it's weird, like—" Nguyen detours for a moment. "I wonder why people are listening to me, you know?"
Courtesy Hieu Minh Nguyen
---
Slam in the Cities
By coincidence, that impactful Central High School theater community counted acclaimed St. Paul poet Danez Smith among its members at the same time as Nguyen. Now, both have won Ruth Lilly and Dorothy Sargent Rosenberg Fellowships (Smith in 2014), both have been published by BuzzFeed, both represent Twin Cities poetry, and both are good friends.
"Sad," Smith says by phone, describing Nguyen's poetry deadpan before breaking into a laugh. "Dark. But I think it's really brave. Probing the darker feelings, and even the darker humors, of love and relationships and family."
Also like Smith, Nguyen coinhabits the wide-armed slam community at the same time as the cloistered publishing world. (Not Here came out of Minneapolis' Coffee House Press.)
It's clear where Nguyen's loyalty is stronger. "I think it's the job of these circles that position themselves as part of academia, or these elite circles, to open up and make space for these young people, who are often better than them," he laughs. "Like, no lie. Some of these young people are some of the best writers I've ever met in my life."
For Nguyen, slam took hold through Be Heard MN. The youth poetry series is part of Twin Cities nonprofit TruArtSpeaks, teaching social justice through spoken word. At 17, Nguyen made the team competing at the Brave New Voices festival in D.C., after not passing the qualifying rounds the year before.
"I discovered that there's this whole world of poetry out there," he says. "It wasn't just kids in Minneapolis; it was a festival of young people from all over the world."
One of Nguyen's coaches, Minneapolis hip-hop artist and two-time National Poetry Slam champ Kyle "Guante" Tran Myhre, helped Nguyen matriculate into the adult slam scene.
"I don't think I was ever much of a 'coach' in the sense of imparting any deep poetic lessons; Hieu's always been a better writer than me," Tran Myhre said in an email. "His work is so well-crafted and thoughtful on a line-by-line level, while I still hear the kind of tension-and-release, setup-punchline, structural tactics that make the best performance poetry so memorable."
Examples of Nguyen's prowess span YouTube. At a public reading hosted by St. Paul's Button Poetry in 2017, Nguyen, wearing a black T-shirt and a black cap, is almost swallowed by the darkness onstage. His spotlighted face shines out: "All my life, I've watched my mother contemplate an exit."
He looks into the audience as he might the eyes of a friend. "If joy is what tethers us to this life, then most days, my mother & I float above the pavement, tied together by the fraying threads of her nightgown." The best slam works on a relatable wavelength, and we understand the flickering eye roll at the end when he says, "I feel most like her son when I am lonely—a child again, dragged by her to a party I enjoyed, then stopped enjoying."
But Nguyen knows how to blend spoken word—raw, direct—with complex imagery, the kind we typically tolerate only if it's sitting on the page: "In our future, there are two cabs idling in the driveway, which is a cowardly way of saying, I cannot kill myself until my mother dies."
This poem, "Notes on Staying," closes Not Here, and, performed, it ends with Nguyen storming offstage after a pithy burst: "…since there was no key, I guess I'll swallow the door."
COURTESY BUTTON POETRY/YOUTUBE
---
In new work, Nguyen has been examining where he got started.
"When I graduated high school, I had a desire, like every kid has, to leave where they come from," he says. Poetry granted the means to travel, to visit the country's bigger cities, but no matter where he went, he could tie it to Twin Cities landscapes.
Not Here parses that dilemma—whether to leave or stay.
As in the poem "Monica West Is Moving to Omaha, Nebraska," on a local drag queen's departure: "If sanctuary is not a place, but the people we love all under the same impossible & temporary light, how can we convince anyone to stay?" In "Punish," on forsaking memories: "I'm trying to understand that memory/is not a technology, a full charge/will get you nowhere, if you're stuck/tracing the perimeters of your dull nostalgia/for an exit."
But traveling has taught Nguyen value in sticking around—here, at least. "I know how to navigate the Twin Cities. I know how to navigate the white people in the Twin Cities. They're not surprising to me, you know? I grew up with them."
Plus, the Twin Cities stew in their own purgatorial dilemma. "It wants to be everything," he explains. "It wants to be a big metropolis. It also wants to be residential and historic, right? It's surrounded by farmland, so there's that influence on it, too. And then there's a huge immigrant population here. So that's also clashing with how white the Midwest is, too, right? There are all these identities that—I wouldn't say clash, but try to navigate around each other."
Truth Telling
We pause, to eat our sandwiches—and a confession about Nguyen's avocado tuna melt:
After he came into Hen House Eatery from the cold afternoon and greeted me, Nguyen asked what I had ordered at this diner before. I recalled a sandwich with avocado, spotted "avocado" on the menu, claimed it, realized I was wrong, but, instead of admitting this, deflected, offhandedly calling the sandwich "bourgie."
"I think tuna could be potentially bourgie," Nguyen says, game for semantics. "But I don't know if tuna melt is bourgie."
He orders it anyway, and it feels like an in-joke not 10 minutes into our meeting. He's so personable, and his poetry so forthcoming, it's easy to imagine how readers might feel comfortable accosting Nguyen with nosy questions.
"There's this thing that happens where people who know my work get curious for more and more information about my life," he says.
When The New York Times reviewed Not Here in June, it read almost as if the critic knew Nguyen personally, stating, "Nguyen kept the abuse, along with his same-sex desires, his crushes on boys, secret into adulthood, in part to protect his mother."
It was both an honor and a jolt. "Seeing someone tell me back my life on that platform was wild." He adds, in what feels lifted from his work, "I was uncomfortable in the way I'm uncomfortable looking into a mirror. You know, when you realize that your face looks like that?"
Commended for openness, Nguyen speaks candidly of the impulse to misdirect. Before he came out around age 19, he addressed love poems to girls. "Using poetry as a way to mask who I was allowed me to discover how cathartic it is to tell the truth, or how heavy it is to be lying all the time."
But when time comes to return to the cold—for Nguyen to resume navigating the Cities—he makes this distinction clear: between Nguyen, the affable, bright Minneapolis resident, and Nguyen, the composite that strangers create, made of vulnerable poems.
"The thing about writing poems is, like, I'm going to give you everything I want to give you," he says. "You're gonna take this, and I'm not gonna give you any more. What I am offering you is enough."
Facebook Comments