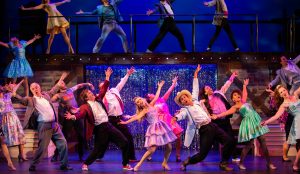 Pull on your converse and cowboy boots and get ready to cut foot loose! Now showing until August 18, Footloose kicks off the Artistry's 2019-2020 season with colorful numbers and surprisingly sincere depth. While the story might be an archetypal tale of rebellion and young love, this musical version of the beloved '80s movie refreshes the dated plot while keeping the nostalgia alive.
When Ren McCormack's (Ethan Davenport) father walks out on his family with no explanation, Ren and his mother are forced to move from Chicago to the gossipy, conservative, and very rural small town of Bomont, smack dab in the middle of nowhere. To make matters worse, dancing—Ren's emotional outlet—is illegal in Bomont, thanks to the town preacher who just happens to be the father of Ariel Moore (Angela Steele), the girl Ren likes. Instead of staying silent, though, Ren turns the town upside down with his movement to prove that dancing's not a crime.
While the musical adaptation holds onto the fun and charming tone from the original Kevin Bacon movie, it has done away with the overly dramatic, angsty, swinging-through-a-warehouse scenes and replaced them with serious explorations of grief from both Ren and his obstinate adversary, Rev. Moore (Paul Coates), who is coping with the loss of his son. Similar to other modern remakes, this adaptation also highlights girl power through Ariel as she fearlessly rebels against her conservative father and realizes that she deserves a man who will accept her for who she really is.
Davenport and Steele are both exceptional with their vibrant chemistry, witty banter, and undeniably spirited dancing. Still, Ren and Ariel's corresponding best friends, Willard (Reese Britts) and Rusty (Erin Nicole Farsté) steal the show as they stumble through their own relationship and provide quirky comic repartee, charm, and relatable awkwardness.
The live, rock-style orchestra puts new life into Footloose's well-loved soundtrack. Unique to the '80s, the synth keyboard and electric guitar sounds percolate through each song. The soundtrack itself has some new musical additions that serve as effective plot development and world building, such as Ren's cry of "I Can't Stand Still" and Willard's quirky "Mama Says." The musical transitions are creative too; during intermission, Oliva Newton-John's "Physical" shifts smoothly from the loudspeakers to the live orchestra as the show starts up again.
Director Benjamin McGovern infuses this creativity into the stage itself, from the effervescent costumes by Ed Gleeman to the symbolic wrestling match between Ren and the Reverend choreographed by Heidi Spesard-Noble, complete with dancing kids dressed in tiny gym shorts and traditional choir singers on the risers.
The vibrant dance sequences and upbeat music make Footloose feel like an endless party. You'll be tapping your feet from the first rendition of "Footloose" through the stage adaptations of the movie's songs, including "Let's Hear it for the Boy," "I'm Free," and "Holding Out for a Hero." And if you're like Ren and just can't stand still, be patient and you'll get a chance to dance along with the cast.
Footloose
July 19-August 18
The Artistry
1800 W. Old Shakopee Road, Bloomington
952-563-8575
Facebook Comments