When shadow puppets first appear on the dismal wall of Theatre Coup d'Etat's set for The Pillowman (through July 20), they pull you into the brutal fairy tales that the play's main character has written. In those minutes, instead of being witnesses to his interrogation for murder, you become the final audience to his disturbing, macabre storytelling legacy. Compare that with the hilarious toddler puppets you'll see causing innocent chaos in the Jungle's upcoming, unfiltered parenting comedy The Stinkers (July 17-Aug. 18), and you might start to get an inkling of the vast range of puppetry.
This month is about as jam-packed with puppets as you can get in the Twin Cities, which is saying a lot as the Puppeteers of America association moved to Minneapolis in 2013 in part because of our rich puppetry culture. Besides the two plays above, the 65th annual National Puppet Festival, put on by the Puppeteers of America, is taking place at the University of Minnesota's West Bank from July 16-21, and the second annual Sweet Songs and Flying Objects festival by Open Eye Figure Theatre has already started with an end date of July 28. The point? It's the perfect time to throw out your limited notion of puppetry and see it for what it really is: a theater and art form brings back magic into the world.
For All Ages—Yes, That Means Adults, Too
Puppetry can truly be by anyone, for anyone. As In the Heart of the Beast Puppet and Mask Theatre executive director Corrie Zoll says, it can accommodate all levels of artistry, and as Open Eye co-founder and executive artistic director Susan Haas can attest, the simple shift of speaking through a puppet can transform the deepest of introverts into amazing entertainers. While the audience must suspend their disbelief and allow the puppet to come to life, in doing so, the puppet's defiance of the laws of nature can often reveal our laws of humanity. 
Besides whatever whimsical daydreams this can set the scene for, Kathleen Conroy, the National Puppetry Festival director, says that puppets can also help us face some of the most difficult, complex issues. "People can relate to [puppets] in a different way because they're not trying to look for themselves in the puppet; they're taking the puppet for face value as what it is," Conroy says. "It's a different level of empathy, I think, because there is that distance."
You'll see that with plays like The Alluvial. Slotted for the fourth weekend of Open Eye Figure Theatre's Sweet Songs and Flying Objects festival, the play was created by Andrew Young as a reflection on what it can be like to grow up as a minority. To help make tangible those unspoken thoughts, Young uses shadow puppetry to convey questions of belonging, the insidiousness of depression, and what the show's description phrases as "the shifting nature of memory." 
As you look at the month's performance options, check for any age recommendations. For instance, Sweet Songs and Flying Objects is generally aimed at adults. Its other two shows during the final weekend of the festival are Les Anges Au Planford (or The Daily Scream), created by artists from France and portraying a newspaper come to life (July 20), and Migraciones (or Migrations), a collaboration between Sofia Padilla from Mexico City and Davey T. Steinman from Pittsburgh about the journeys and dreams of refugees (July 25-28). The National Puppetry Festival has many shows appropriate for all ages plus a couple decidedly adults-only, and The Pillowman and The Stinkers are recommended for a mature crowd. 
Birds of a Feather
Of the 20-plus performances at the National Puppetry Festival, the selection committee tried to stay with the theme Birds of a Feather, a celebration of what unifies us and what makes us different. Some standouts include Sea Songs, which follows a boy's discovery of the marine life around him, made of beautifully animated and crafted foam creatures (July 18); Caws & Effect, which is a re-creation of the world from a crows' viewpoint using original song, projections, masks, and more (July 19); and Paper Cities, an examination of what a city is and how it changes over time using multimedia puppet theater (July 20). Plus, if you're a fan of Mystery Science Theater 3000, make sure to swing by the live recording of Under the Puppet podcast with Grant Baciocco and special guest Trace Beaulieu.
Local companies are in the line up as well. Check out Cellula, an acapella-accompanied, lit-up examination of the micro wonders of a cell in macro proportions by Z Puppets Rosenchnoz (July 17). For an outrageously fun premise, i.e., a penguin scientist needing to find her way back home, watch the audience-engaging Penguin in my Pocket by Kurt Hunter Marionettes (July 18). Lastly, Open Eye pulls a double-duty shift, and in addition to Sweet Songs and Flying Objects, it is sending over some of its artists to perform its Driveway Tour's show, The Adventures of Juan Bobo, a story based on Puerto Rican folktales (July 20). The latter takes place on the festival's Community Day, which is filled with free performances and activities geared toward families and children.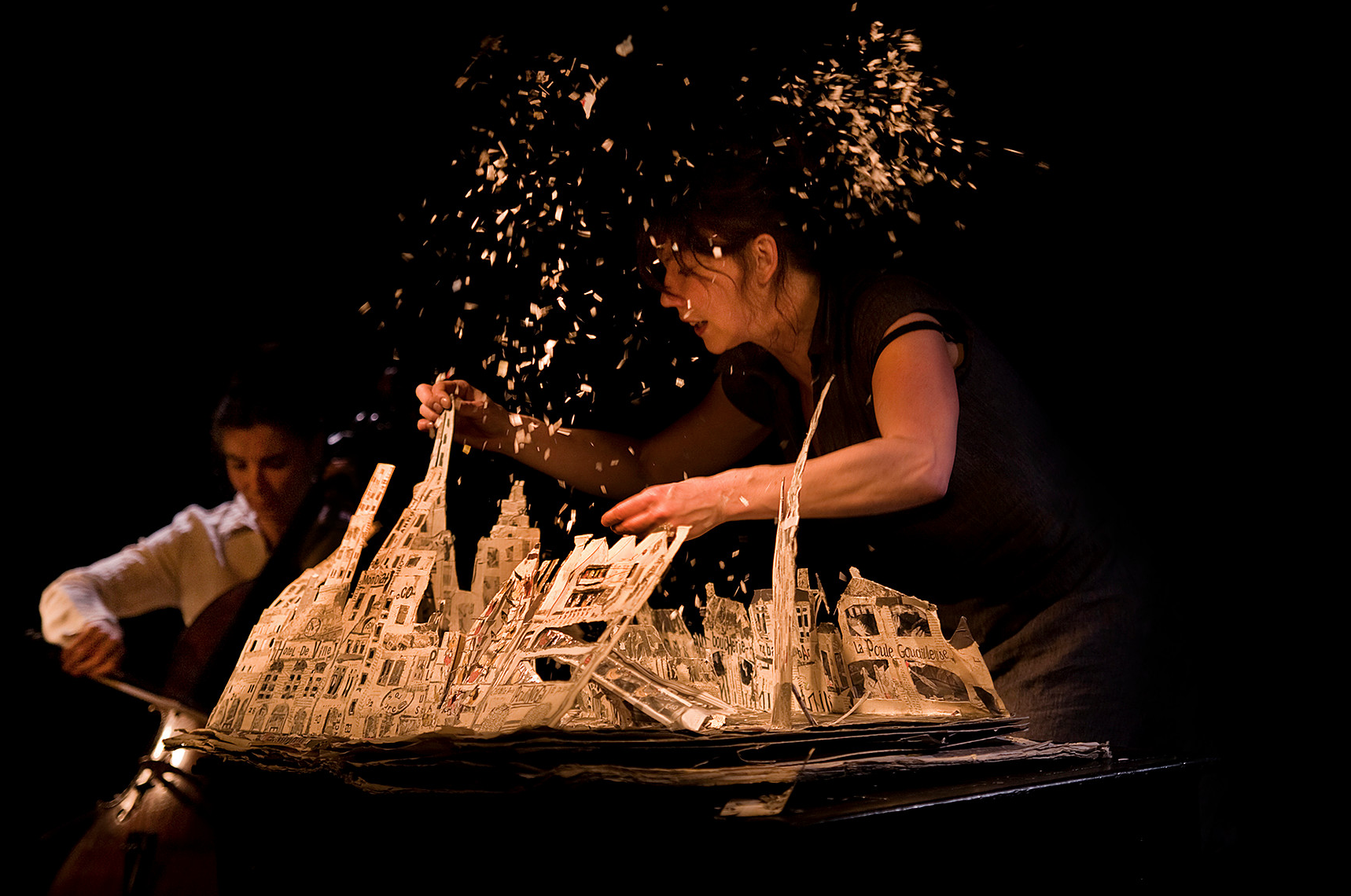 A Universal Art
Despite—or perhaps because of—the huge variation of puppetry, a simple definition is able to capture it in its entirety. "The whole basis of puppetry is to animate the inanimate, giving life to something that doesn't have life," Conroy says. 
That means hand puppets, marionettes, and bunraku, a Japanese form that uses up to three people per puppet to manipulate different parts with rods and internal mechanics. (You might have seen an example at Children Theatre Co.'s The Lorax, and you'll see actors Megan Burns and Reed Sigmund working with a similar style as they play the toddlers in The Stinkers.) It means "The Lonely Goatherd" in The Sound of Music with Julie Andrews and the 1.2-ton King Kong puppet that took 15 people to operate on Broadway. On a local level, it means the MayDay parade by In the Heart of the Beast and the Halloween extravaganza put on by BareBones every year. 
All of these are examples of the art form, but so often they can become discrete items in people's minds instead of diverse testaments to the fact that puppetry is limitless. "There's what the actors or performers or whatever the puppets are doing, and there's the audience watching, and there's this thing in between," Burns says. "No one made that, right? Everyone made that together. Puppets are the perfect manifestation of that. They don't live without the actors, and they don't live without the audience imagining them alive."
Facebook Comments