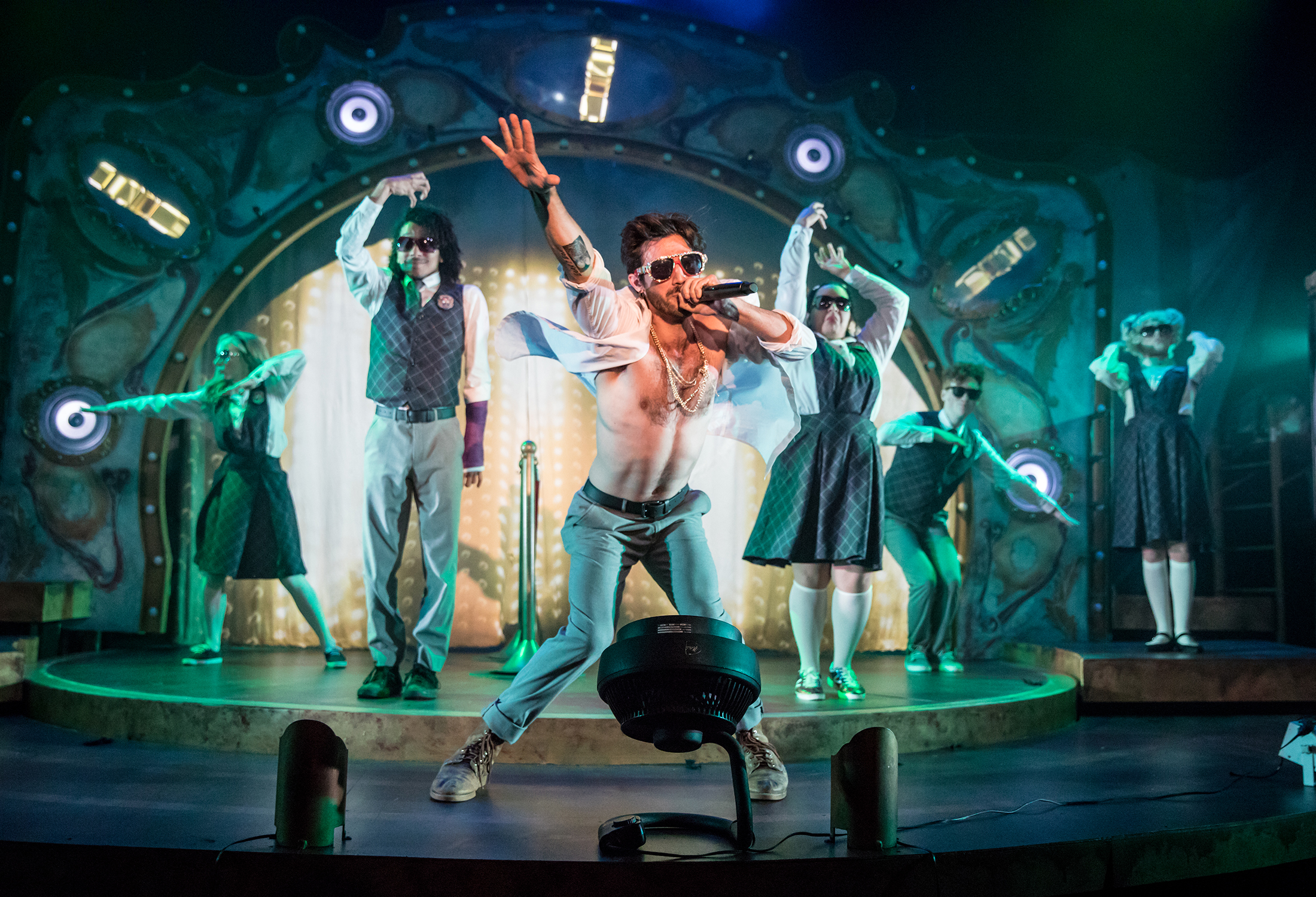 Right after I saw Ride the Cyclone, Jungle Theater's first show of the 2019-2020 season, I wanted to see it again. (I, and everyone else, have through October 20 to do so.) Even after its 90 or so minutes finished, the Off-Broadway musical's whirlwind of light-hearted, bright, and contemplative emotions it created kept spinning. Rather than the rollercoaster the musical is named after, it's more of a bizarre fun-house where your perspective gets warped, the mirrors reveal more than you think, and you get lost giggling at the impossible.
At first glance, playwright Jacob Richmond's story doesn't sound like fodder for positive emotions of any sort. The premise? A teenage choir dies in a freak rollercoaster accident and competes for a second chance at life offered by a mystical fortune-telling machine. Naturally, the competition is all through song and dance. Richmond and Brooke Maxwell thankfully eschewed the cliched, lamenting ballads of "if only" and instead wrote music and lyrics that focused on who each person is at their substance. And that means the soundtrack is a mix of genres that bursts forth unfettered by obligatory melodic themes or cohesiveness.
Sarah Rasmussen's direction plays up the typical array of high school drama characters: Type A valedictorian Ocean (Shinah Brashears), insecure and tread-upon Constance (Gabrielle Dominique), bad boy Mischa (Michael Hanna), wannabe poet Noel (Josh Zwick), and not-so-quiet-after-all Ricky (Jordan M. Leggett). But then there's Jane (Becca Hart), whose haunting voice and doll-like movements ring of her childhood lost, and the fortune-telling machine himself, Karnak (Jim Lichtscheidl), who is narrator, trickster, and the only being that seems to know the untold rules of this unexplained afterlife.
The acting maintains the script's delightful surprises instead of resorting to cheap shock value, but it's the creative team that makes the show. It renders the musical a crystal clear landscape of limitless imagination, parody, and desire instead of a murky plateau fogged over by too much indulgence. Lichtescheidl's choreography and Trevor Bowen's costume additions help make the overly swaggering "This Song Is Awesome" and the bizarre "Space-Aged Bachelor Man" numbers hilarious and oddly feel-good. Pairing Paul Bigot's wig and makeup design with Hart's and Lichtscheidl's roles enhances their uncanny and, in Hart's case, beautiful melancholy. And Kathy Maxwell, projection designer, adds just enough nostalgia tampered with the voyeuristic feeling of an impassive grim reaper with her visualization of memories.
The weakest point of Ride the Cyclone was the way Richmond trotted out the ending moral. It felt like a messy coattail when the story could have effortlessly floated away on the ride of Karnak's first lesson: Sometimes there is no moral. I'm sure some people appreciated it, but instead of trying to max out the play's message on how life is extraordinary in the ordinary, I would recommend to just sit back and enjoy the ride. Wait … was that the point?
Facebook Comments