In heavy-duty, Carhartt-style coveralls, with silver hoop earrings aquiver, Signe Harriday drives an electric utility vehicle into an expanse of fresh snow. She trundles up to the edge of a frozen pond near Annandale, Minnesota, that Franciscan sisters who once owned the surrounding land described as sacred.
Unbuckling, she walks the length of the dock, past a stand of kayaks. Harriday is a steward of this place—a 36-acre cradle of woods, wetlands, and prairies turned into a nature retreat for BIPOC and LGBTQ+ folks, who may not otherwise feel welcome in the natural 'scapes of rural Minnesota.
"You know, one place I often get stuck is at night, coming out to do the last of my chores or take the dog for his last walk," Harriday says, soaking in the clear, stingingly cold afternoon from the middle of the pond. "I will be stuck, mouth agape, head all the way back, and almost losing my breath as I look at the stars."
But Harriday, 46, is not always wrapped in wilderness. Over the past 20 or so years, she has become better known as a majorly productive Twin Cities theater presence. Of note in recent years: She has directed a play at St. Paul's Park Square Theatre about the friendship between Frederick Douglass and Susan B. Anthony; taught New York City students to connect more deeply with theater via a play about Malcolm X; and co-directed "Octavia E. Butler's Parable of the Sower: An Opera," set to tour again this year.
In 2021, Harriday moved up as the artistic producing director of Pillsbury House and Theatre, the south Minneapolis performing arts center known for boundary-busting performances that often dig into race and identity.
She kicked off her first season (Pillsbury's 30th) with gusto that summer: The play-slash-ritual "What to Send Up When It Goes Down" gathered audiences in the parking lot for spoken word, cathartic shouts, and acerbic sketches about anti-Blackness. For the Star Tribune, Rohan Preston wrote that it lent "renewed focus" to the theater's "gutbucket reputation."
The theater's latest season started last week with "the bull-jean stories," the next in a Pillsbury series with award-winning theater artist and writer Sharon Bridgforth, running through Feb. 5 and celebrating "African-American herstory, survival, healing, and sapphic love." Expect some shows throughout the season to explore grief, too. "How do we navigate grief and belonging and holding stories for Black women loving women?" Harriday poses.
Launching the Fields at Rootsprings retreat as a co-founder in 2021—an opportunity that opened up to her, her partner, and two other Black and Brown lesbian couples as part of what has seemed like a wider shift of resources toward people of color since 2020's racial reckoning—means the past few years have positioned Harriday more and more prominently. "Signe is just very naturally action-oriented," says Harriday's partner, Alice Butts, a graphic designer who lives with her at the retreat. "[She] is all about putting one foot in front of the other—and you need that out here."
Harriday has coined a word to bring her projects under one concept: Restoryation. It describes her use of stories to "restore our humanity." When she came up with the idea several years ago, she was deep in freelance work: designing arts-based learning curriculums, giving lectures, and holding workshops. "All felt like stories are at the center," she says. "Healing is at the center. Black liberation is at the center."
That includes her explicitly liberatory work as an organizer: With the Million Artist Movement, she co-founded a campaign enlisting artists in the fight against racist oppression in response to the 2014 police killing of Michael Brown, and she remains a member. In such moments of stress or confusion, Harriday tends to lift the torch. "I think that's just being a Black woman in America. That's real. And even being a lesbian … and being a fat person," she says. "I mean, I think teaching has been a way of transforming my own trauma for sure."
That's where the Fields at Rootsprings come in, as well. Here, Harriday has learned to slow down. Part of her work as a steward involves ridding the grounds of invasive plant species. Deceptively flowery, thistle can take over and establish a monoculture. "You go to try to remove it, and it just pierces your hand." Instead, she pulls up a comparison to white supremacy. "All it does is take more and more resources."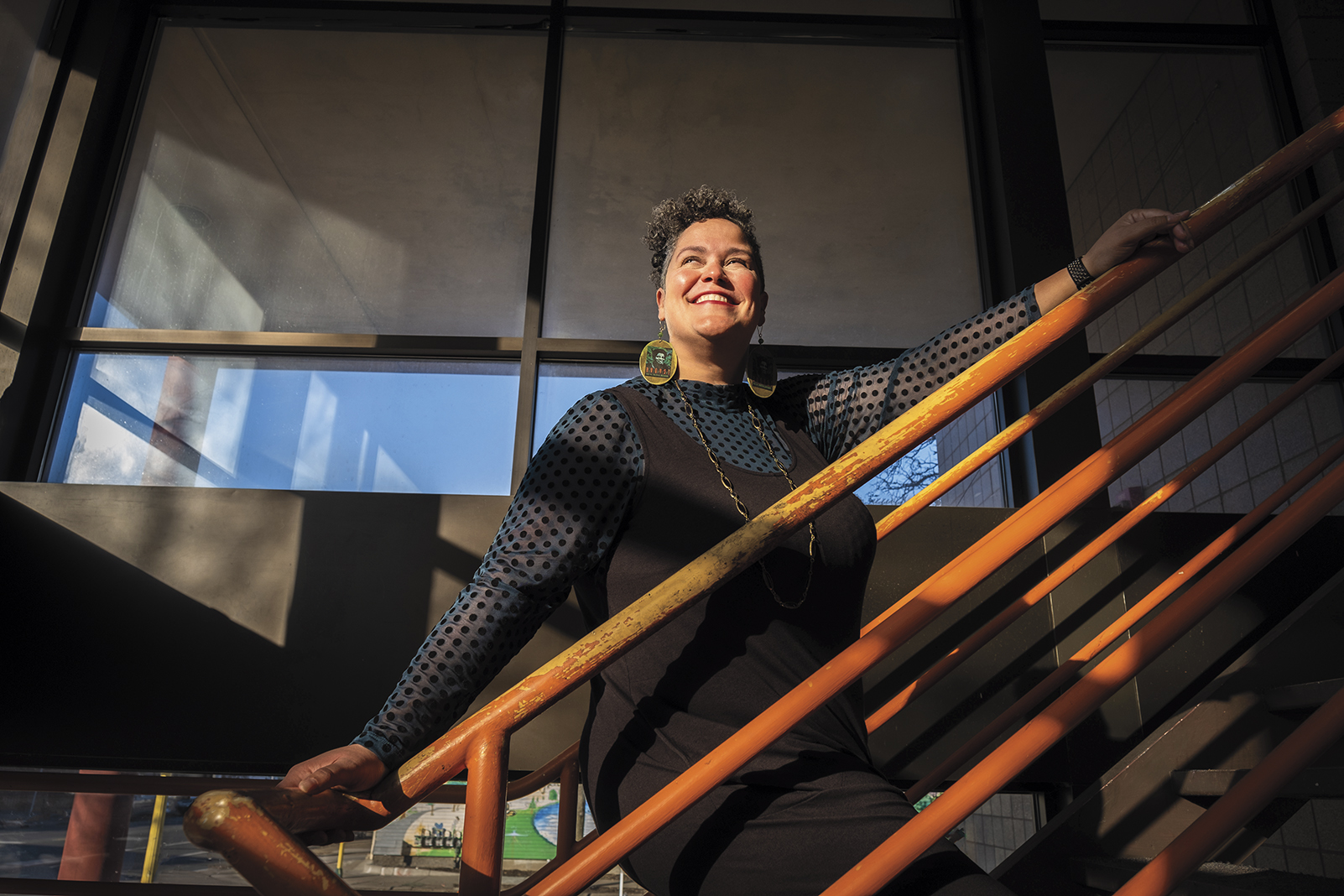 Torchbearer
In south Minneapolis, Harriday can gaze upon Chicago Avenue with as much intent as she does regarding a bright, cold afternoon on "the sacred pond." 
In the conference room of Pillsbury House and Theatre one recent evening, Harriday peers out a window that looks south over the slick street. She took over from the respected, multi-talented former coproducing artistic director, Faye Price, who stepped down after more than 20 years. That hasn't been the only shake-up: George Floyd's murder took place several blocks south, and the George Floyd Global Memorial is now co-located at Pillsbury House and Theatre. "We're not oriented toward downtown Minneapolis. We're oriented to the community," she says.
Before Harriday moved to Minnesota, she was growing up in Los Angeles. Her father preached for a Lutheran church, the first ordained Black pastor to earn his master's in divinity at St. Paul's Luther Seminary. Her Minnesota-native mother was among the first women truck drivers for the postal service in Minneapolis, in the '60s. Harriday's first name comes from her Norwegian maternal grandmother ("sig-knee"), and her middle name, Victoria, comes from her paternal grandmother—ties that early on primed Harriday to seek her own context. She recently sat down to leaf through documents proving the Black women in her family all registered to vote when it became legal, in 1920. That fact led Harriday, with poetic inevitability, to become an election judge last November.
She found the stage as a girl singing in church, and she would attend an arts school before moving to Lakeville in the early '90s. "Coming to Minnesota, it was very shocking," she says. Suddenly, she was one of few kids of color in her high school. She could act upon, but not quite articulate, the problem. To earn the prestigious "Gold Award" in Girl Scouts (which also played into her lifelong love of the outdoors, a precursor to the Fields at Rootsprings), Harriday devised a multicultural curriculum for local elementary schools. "I couldn't say that it was racist that we didn't have anything about Martin Luther King on Martin Luther King Day," she says. "I just was like, 'Can my dad come in and read the speech?'"
She stayed preternaturally busy. From swimming and speech and choir, she moved on to theater, rugby, and other activities in college, where she joined the Black Student Union to stand up for racial equity on campus. But why did theater end up clicking? "I think it's the ritual," she says. While in college at St. Olaf in Northfield, she even studied ritual theater and Ghanaian dance at the University of Ghana, and had earlier learned about African dance in kids' arts classes. "It holds the time and space for people to collectively have an experience that they'll never have again," she says. "Theater is in some ways one of the last places in our social fabric right now where people can gather who don't all think the same, who don't all feel the same."
After graduating with a taste for directing, she co-founded her own theater company, Mama Mosaic. Harriday and other women had felt the rare rush of representation in a multi-racial
production of Ntozake Shange's work "for colored girls" at Penumbra Theatre, St. Paul's storied Black theater. "There are no auditions for plays like that," Harriday says, "and, really, there were very few opportunities for people who look like how we looked."
The Twin Cities theater landscape at that time felt "anchored by white institutions with lots of resources, telling stories for white audiences," she says. She saw her lack of opportunities as part of systemic inequality, she continues, "but also as some kind of flaw that I had." So, she co-founded Mama Mosaic, focused on women of color. Later, she was selected as a member of Pillsbury House Theatre's associate company, which stirred enough self-doubt in her acting chops that she went to Harvard for an MFA.
By starting her run at Pillsbury with "What to Send Up," Harriday has continued her approach to theater making in what some might call a more receptive landscape. But there is reason for wariness. Since 2020, Harriday has noticed leaders of color "being thrown the keys to institutions"—particularly women. "You want to run a theater? Here you go." Such ostensibly progressive moves have happened before, she says, wryly name-checking the Emancipation Proclamation. It can look like momentum, even when those institutions fail to provide the resources for success. "Black women are often put in that position of trying to save a sinking ship."
Harriday herself seems naturally steadfast. "She's a dynamo. She's just a whirlwind," says George Hoagland, a professor at the Minneapolis College of Art and Design, who is a friend of Harriday's and was unwinding at the Fields at Rootsprings this winter. "And it's hard not to have a new thought when you're around her."
Harriday is deliberate with her words when she speaks, and when she lands on the right one, she seems clear-eyed in her commitment to it. "For Minnesota audiences to hear someone unabashedly say at the beginning of a play, 'This play is for Black people; if you are not a Black person, you are welcome to stay, but you need to understand the parameters around your participation in this experience'—I think that is pretty revolutionary," she says, referring to "What to Send Up," "in theater, for sure, and to audiences of the Twin Cities."
Bookend
Harriday says her motivation comes from accountability. "I feel accountable to my ancestors, feel accountable to my community. … Can it be exhausting? Absolutely. But it can also be very rewarding. And it is, in some instances—not all—part of my own healing process."
As part of more personal healing, Harriday is also on a synchronized swim team, as a co-creator of the Subversive Sirens. They won gold in the 2018 Gay Games, an Olympics-style event dedicated to equal representation. The team swims for Black liberation, queer
visibility, and radical body acceptance. "It's like my medicine," she says. "I mean, look, everything is my medicine, right? The arts, my medicine. The land, my medicine. I just live a very, very medicine life."
Another salve: the thought that, by the time her eight grandkids are out of high school, the trees recently planted at the retreat will have borne fruit. 
Harriday came into a family of three kids through her previous partner, who died at 44 of triple-negative breast cancer when Harriday was in her 30s. "It changed my molecular makeup," she says, of her partner's passing. But now her grandkids fill in the other side of her life's context: from her forebears to the succeeding generation.
About accountability, she clarifies that it is no burden. The retreat does not feed into anything so self-obliterating as a "cause." Instead, "I'm looking for a revolution that feels really damn good. I'm looking for Black liberation that makes every cell in your body want to vibrate," she says. "Now, does that mean that I do that with some kind of amnesia about systemic oppression? Absolutely not. But thriving looks a lot more like joy than suffering."
Find Pillsbury House and Theatre's new season lineup here, along with information about the social services it provides, and learn more about the Fields at Rootsprings here.
Facebook Comments