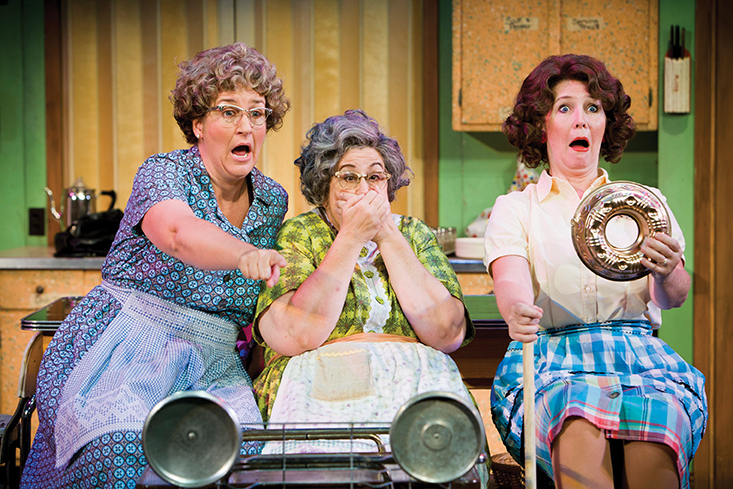 The Church Basement Ladies' nine scripted stage productions have been seen by more than 4 million people in 48 states and Canada. The comedy musicals center around three Minnesotan women who work a Lutheran church's many events while sharing friendship, life lessons, and recipes. The show returns to the stage this holiday season—but don't look for any new aproned antics.
"These shows, in that format, are done," says Greta Grosch, who has acted as Mrs. Gilmer (Mavis) Gilmerson in all nine of the musicals and written the last eight. In other words: There won't be any new stage productions, but that also "doesn't mean the Church Basement Ladies are done," Grosch says.
The stage productions continue in "reruns" throughout the United States. Church Basement Ladies 4 ("A Mighty Fortress Is Our Basement") closed at the Ames Center in Burnsville Nov. 12, but it returns Jan. 4-Feb. 14. The Church Basement Ladies Christmas show ("Away in the Basement") will be on a national tour during the holidays, with a Nov. 16 tour kickoff matinee also at the Ames Center.
And Grosch is working on a movie version that she hopes will find a home with a streaming service. It could be a musical series, she says. After all, there are 84 songs in the nine versions.
But can these uniquely Minnesotan Lutheran ladies, with their Jell-O, hotdish, glasses of Tang, bars, and, of course, endless pots of coffee, find an audience outside the Midwest? Definitely, Grosch says. 
"It's a tried-and-true product," she says. "It's like 'The Golden Girls.' People fall in love with these characters. … The church basement is where we are. Who we are is universal."
The Church Basement Ladies' stories were inspired by the 1997 book "Growing Up Lutheran: What Does This Mean?," written by two Norwegian Lutheran farm girls, Janet Letnes Martin and Suzann Johnson Nelson, who met at Augsburg College in the 1960s. That book led Curt Wollan, executive producer of Troupe America, to create the first Church Basement Ladies show. That production was set in the 1960s and ran for two and a half years at Plymouth Playhouse.
The stories from the basement, located in fictional East Cornucopia, Minnesota, feature Mavis, Pastor E.L. Gunderson, Mrs. Lars (Vivian) Snustad, Mrs. Elroy (Karin) Engelson, and her daughter Beverly (who is also called Signe). All the Church Basement Ladies shows have a conflict, and Vivian has to learn something and come out on the other end, Grosch says.
The nine productions are based decades in the past, with the final edition set in 1984. So, hypothetically, where would they be now? Grosch has some ideas, updated for today.
The character Vivian was born in 1901, but if she were alive today, she'd likely be living in an assisted-living facility, "criticizing the food, rubbing her finger over the piano to check for dust, and ruling the roost."
Mavis is likely still farming. "She was born to farm," Grosch says.
Karin, whose husband was a John Deere dealer, is running for office, Grosch speculates. "Maybe she's the mayor."
Beverly wrote a series of books based on living in a small town and does speaking engagements at events like mother-daughter banquets, advocating for small-town life.
Pastor Gunderson moved to "The Cities" in the second production and came back to work as interim pastor before the church closed. He's likely retired, but his wife is "a real go-getter," Grosch says. "She's probably a pastor now, and he's a pastor's wife."
And the original actors, who brought these characters to life?
Janet Paone, who played Vivian, works at Irondale High School and has done other CBL productions around the country. She was a fitting Vivian, Grosch says, because Paone "continues to be the kind of person people turn to for advice. She parks herself somewhere and people buzz around her."
Dorian Chalmers, the original Karin, works for Troupe America and is still acting, Grosch says. The kind of person who helps people move and remembers birthdays, Chalmers "really is Karin," Grosch says.
Grosch played Mavis and has been acting and creating for the stage for 35 years, including a couple of years with Dudley Riggs Brave New Workshop in the mid-1980s. "I am Lutheran through and through," she says. Born in California, she lived in Ethiopia and Papua New Guinea growing up while her parents volunteered with the Lutheran church. She now lives in St. Paul and is the secretary for her church. She didn't want to be a pastor, though. "The stage is my pulpit."
She recently directed her first Church Basement Ladies production and created an offshoot Scandinavian comedy trio called "The Looney Lutherans," which will perform at the Ames Center from Nov. 18 to Jan. 31. She's also a freelance artist in the Twin Cities who does voice-over and commercial work. 
"We really are the characters, in terms of who we are," Grosch says of the original three Church Basement Ladies. "The three characters really reflect the three actors who created them." 
For info about "Church Basement Ladies" or "Looney Lutheran" performances at the Ames Center in Burnsville, go to ames-center.com. Also learn more at inthebasementproductions.com.
---
The "Church Basement Ladies" series:
"Church Basement Ladies" – 2005

"A Second Helping" – 2008

"Away In the Basement" – 2009

"A Mighty Fortress Is Our Basement" – 2011

"The Last (Potluck) Supper" – 2013

"Rise Up, O Men" – 2016

"You Smell Barn" – 2018

"Hark! The Basement Ladies Sing" – 2019

"Plowin' Thru" – 2022