In all fairness, the fashion scene in Minneapolis-St. Paul cannot be compared to New York or L.A., London, Milan, or Paris—it's something all its own. For what we lack in international fashion houses and luxury brands, we make up with ingenuity and innovation. Every year, Minnesotans produce designer collections that push boundaries and thoughtfully merge function with form; below, I've rounded up my picks for best local collections of the year.
1. Joynoelle: "Pretty in Paleo": FW2015 Collection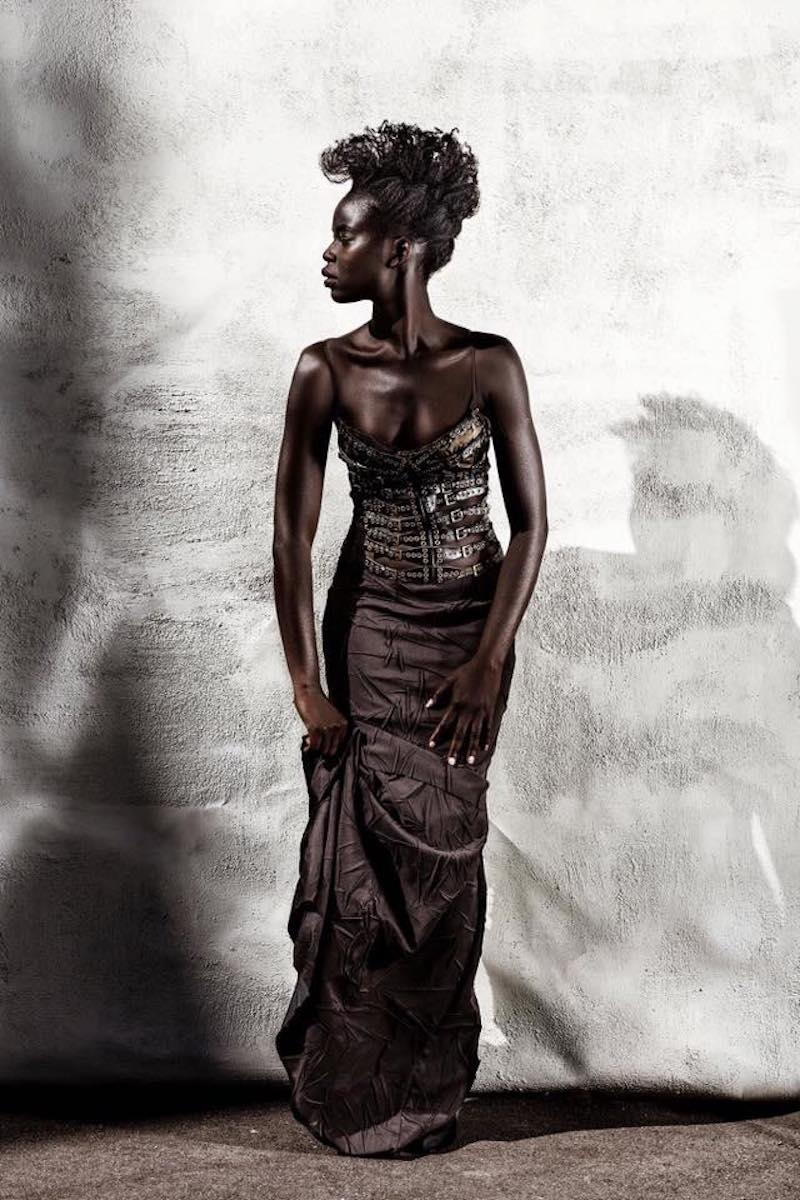 From my review: "Designer and couturier Joy Teiken has been one of the most consistent forces in the Twin Cities fashion industry since founding her line Joynoelle in 2003. [In April] she showcased her latest collection, "Pretty in Paleo," which took inspiration from the Jurassic period. The tough, textured skin of dinosaurs and lizards, and feathers were clearly points of inspiration for the 34-look collection, while the silhouettes of many of the looks seemed inspired by the spiny forms of antique beasts and rigid, glacier-carved landscapes. Teiken's latest collection was a logical step in the designer's evolution as she continues to move away from the sweeter styles of her earlier collections toward a darker, moodier vibe." Read the full review at mnmo.com.
2. Emma Berg: SS2016 Collection
From my review: "Only two short months after making the move to New York City, former Minneapolis fashion designer Emma Berg returned [in August] to showcase her latest collection—on the Walker Art Center's outdoor terraces in conjunction with the museum's ongoing International Pop exhibit. Berg's ten-piece collection combined sport-inspired details, such as racerbacks and cutouts, and new twists on Berg's signature, draped silhouettes, and quirky details. She presented an eclectic yet cohesive collection that remained true to Berg's style while pushing forward into updated silhouettes and fresh color combinations. Though the show had been in the works long before Berg decided to head east, the optimistic feel of Berg's collection seemed to make a statement that she'll continue to have a presence in Minnesota, though a long-distance one." Read the full review at mnmo.com. View the full lookbook at issuu.com.
3. Russell Bourrienne: FW2015 Collection
From my review: "Since the early 2000s, Minneapolis menswear designer Russell Bourrienne has been a fixture of the local fashion scene, consistently showing his collections alongside the emerging designers at shows such as Envision and Voltage. Despite his longevity in the industry, Bourrienne never looks stale or outdated next to fresh-out-of-design-school designers, always finding a new way to innovate and update his signature style, which relies heavily on classic Savile Row–style menswear tailoring. For his fall 2015 collection, the designer—who has spent much of his life restoring vintage three-speed bicycles—took inspiration from 1930s English bicycle touring, showing a collection of tweedy waistcoats and knickers, paired with modern style elements, such as a quilted bomber jacket. He also incorporated elements from women's clothing, such as a portrait-collared shirt, smartly styled with a shirt and tie, as well as Eastern cultures, as in a caped rain slicker inspired by a Chinese rain cape. It's forward-thinking and classic all at once." Read the full review at mnmo.com.
4. Caroline Hayden: Envision FW2015 Event Collection
From my review: "Since her runway debut at Envision in 2011, Crookston, Minnesota–based designer Caroline Hayden has gone from a complete unknown to one of the most recognized designers in the state. Known for her extremely polished, well-made garments, Hayden also has an attention to detail and fabrics that demonstrates a quiet confidence. While she typically uses a lot of soft textures and silhouettes, she changed things up with her fall 2015 collection, instead working with matte leathers, heavy wools, a metallic-threaded houndstooth tweed, and dollops of deep-red sequins that played on geographic shapes (a V-neck here, a plaid-shaped vest there). Inspired by the '90s fashions she favored as a child—think turtlenecks, vests, and jumpers—the collection also had nods to the '60s (the crisp mini-dresses) and '70s (a Studio 54-esque sequined V-neck gown)." Look for big things to come from this designer in 2016. Read the full review at mnmo.com.
5. Emily Trevor: SS2015 Collection
From my review: "The up-and-coming designer demonstrated a playful take on the sportswear trend in ready to wear with her line of crisp, tennis-inspired looks that blended sporty touches, such as a neon-striped hemlines, racerbacks, and white visors, with sculptural details reminiscent of famed Japanese designer Junya Watanabe, such as wide, architectural sleeves and asymmetrical hems. It was avant-garde, yet wearable—a difficult but ideal balance to achieve for any fashion designer." View the full review at mnmo.com. View the collection lookbook at ertrevor.com.
6. Cory Allen: "Horse Power": FW2015 Collection
From my review: "A new name to the Minnesota fashion scene, Cory Allen (né Cory Linsmeyer) had a major moment with his fall/winter 2015 collection, 'Horse Power.' The Wisconsin native is currently getting his MFA in fashion design at the University of Wisconsin–Madison. But while relatively new to the industry, Allen clearly has a sophistication beyond his years. His fresh collection of menswear was inspired, of course, by horses—which was especially apparent in his horse-sketched sweater and a dip-dyed camel coat that featured a mohawk of black horse-hair up the back. He also showed off a knack for leather-working in a leather backpack and varsity-style jacket. The collection's biggest wow items, though, were his knitwear, which showcased Allen's talent with knitwear, made from alpaca sweater that he sources himself through local suppliers. Trust me when I say images are a poor substitute from seeing these finely crafted hand-knits in person." Read the full review at mnmo.com. View the collection lookbook at coryallen.net.
7. Samantha Rei: "Black Pearl Lounge": FW2015 Collection
From my review: "Until fairly recently, fashion designer Samantha Rei was best known for her designs under Blasphemina's Closet, one of the first gothic-Lolita shops in the U.S. when it launched in 2000. 'Black Pearl Lounge' marks her first solo show since she rebranded under her own name to mark a shift away from those subcultures. The presentation-style salon show allowed guests to get an up-close-and-personal look at the detailed garments, which incorporated hand-beading and delicate fabrics such as lace and silk, and were topped by custom hats by Seattle-based milliner Apatico. Drop-waist silhouettes, fringe, and beading were in ample supply throughout the spirited collection, clearly taking inspiration from the Roaring '20s, while offering Rei's unique spin on the decade." Read the full review at mnmo.com. View the collection lookbook at samantharei.com.
Honorary mention: Caroline Hayden: Silhouette Event Collection
From my review: "Despite hailing from Crookston, Minnesota, designer Caroline Hayden designs clothing that is a far cry from middle America—it's sophisticated, luxurious, well-made, and slightly unusual. For her ten-look capsule collection made exclusively for the Silhouette benefit, she went on a minimal trek, showing a mix of flowing dresses and elegant two-piece sets that were remarkable in their restraint and quiet beauty." Read the full review at mnmo.com.