Overlooking Superior from Palisade Head, near Silver Bay, MN. Photo by Bryan Hansel.
Back in my awkward adolescence, I was invited to join my aunt and three young cousins on a car camping trip around Lake Superior. It seemed like an incongruous undertaking for my prim aunt, who had once, at a holiday dinner she was hosting, admonished members of our extended family not to bite her fragile crystal water glasses. Yet there she was, loading four kids and a couple of big tents into her Lincoln Continental and striking out for an open-ended adventure in the wilds of Ontario.
Recently, I decided it was high time to undertake another circumnavigation of the big lake that Longfellow and Lightfoot called Gitche Gumee. My wife, Lisa, and I loosely plotted a one-week circuit, traversing three states and one province covering roughly 1,200 miles. In undertaking one of the most ambitious road trips in America—the Route 66 of the North, the Great River Road for lakes—we would have to keep moving every day. But we'd also have time to tarry amid some of the most dramatic scenery around, to feel the spray off the lake and contemplate the magnitude of our mission: going around an entire inland sea.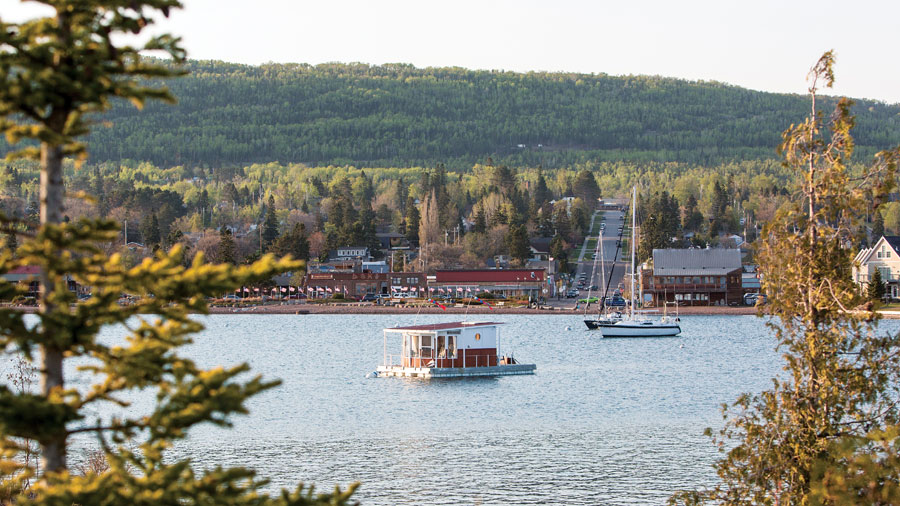 The Grand Marais Harbor. Photo by Ackerman + Gruber.
Day 1: Ship to Shore
We leave the Twin Cities mid-morning, heading north under a gloomy sky. As if on cue, the clouds part as we crest the ridge above Duluth, making our first view of the shining Big-Sea-Water truly shine.
Descending to downtown Duluth, we head straight to Canal Park. At Northern Waters Smokehaus, we pick up two salmon sandwiches, along with some smoked fish and sausage for later, and then stroll down to the benches along the ship canal to savor our lunch. Our timing is perfect: An ore freighter measuring nearly 800 feet from stem to stern (imagine the IDS Center lying on its side) slowly passes under the iconic aerial lift bridge and out through the canal to open water.
Back in the car, we cruise up the North Shore on Highway 61. Just past Silver Bay, we turn off at the discreet sign for the iconic rock formation known as Palisade Head and ascend the steep, narrow road to the small parking area at the summit. Surprisingly, there are no barriers to clambering over the massive volcanic promontory in any direction. While I approach the vertigo-inducing cliffs with extreme caution, fearless rock climbers waiting to rappel down and climb back up loll casually at the brink of the 300-foot drop, their legs dangling over the precipice.
Lisa and I set up camp for the night at Judge C.R. Magney State Park, the northernmost of the Minnesota state park campgrounds strung along the North Shore. We meet a vehicle-less young couple staying in the neighboring campsite that had been backpacking along the Superior Hiking Trail. Gratefully accepting our offer of cold beers from our cooler, they tell us they had just passed by Devil's Kettle, an unusual geographic feature where part of the Brule River mysteriously disappears into a huge pothole. A local had told them the same unlikely story we heard when Lisa and I had hiked up to it years ago: Someone had once pushed an old car into the abyss, they claimed, and it vanished without a trace.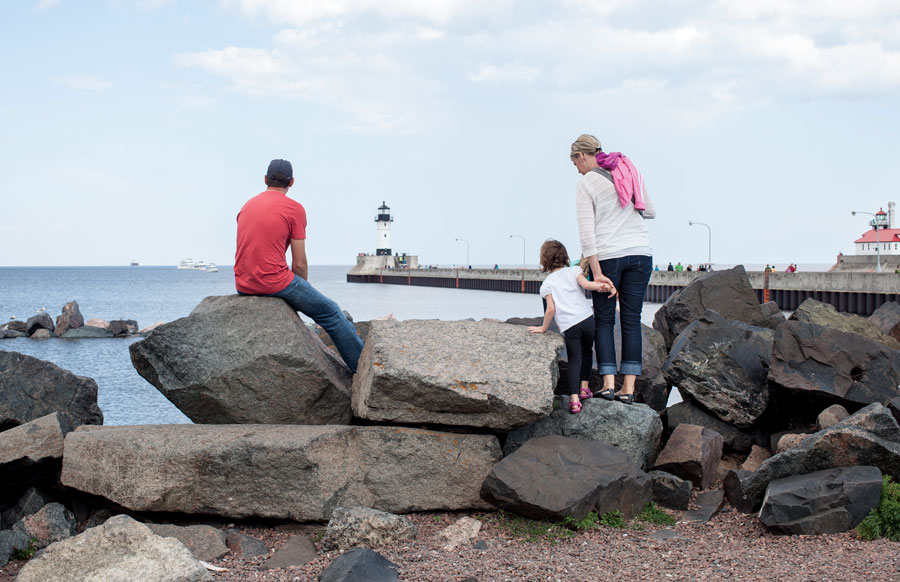 Duluth's Canal Park. Photo by Ackerman + Gruber.
Day 2: In the Realm of Nanabijou
Most of what is now Magney State Park once belonged to the Naniboujou Club, an exclusive retreat dreamed up by a group of Duluth businessmen in 1927. The short-lived club's sole vestige is the lakeside lodge where we start our day with breakfast. The light and fluffy buttermilk pancakes, studded with wild blueberries, are almost as dazzling as the dining room's brilliantly painted ceiling, a rainbow of psychedelic Cree–style designs.
We resume our northward trek through reservation land to Grand Portage National Monument, a park that pays equal tribute to the Ojibwe people who have inhabited this area for centuries and the voyageurs who ran a fur-trading post here in the late 1700s. Having staggered under the weight of a 50-pound backpack, I cringe to read about the voyageurs carrying two 90-pound packs on the nine-mile trail from the Pigeon River to Lake Superior. (Unsurprisingly, hernias were a common occupational hazard.)
After answering a few perfunctory questions at Canadian customs, we make a beeline for Thunder Bay. A friend had insisted that I have a meal at Hoito, a local landmark started nearly a century ago by union organizers who wanted to provide affordable comfort food for Finnish lumberjacks. It's best known for its pancakes, and I feel obligated to try them despite having already met my flapjack quota for the day. These thin, crepe-like Finnish versions could hardly have been more different from the ones at Naniboujou, but they are equally delicious.
Our next destination seems a world away from the industrial port of Thunder Bay, though clearly visible from the city. Sleeping Giant Provincial Park occupies a long peninsula jutting more than 20 miles into Lake Superior. According to Ojibwe legend, its undulations trace the profile of Nanabijou, the Spirit of the Deep Sea Water, who was turned to stone when white men discovered the secret of the peninsula's rich silver deposits. From a trailhead near the end of the peninsula, we take a short hike to Sea Lion Rock, a thin slab of volcanic rock projecting into a sheltered cove. Although it looks more like a seahorse to me, the black arch framing the turquoise-blue water is undeniably magnificent.
That evening, at our campsite beside a lake in the heart of the park, we happily make do with a pancake-free dinner of smoked lake trout salad before settling into camp chairs on the shore. We sit contentedly by the gently lapping water as the sun sets over the sleeping giant, lulled by the trills of loons.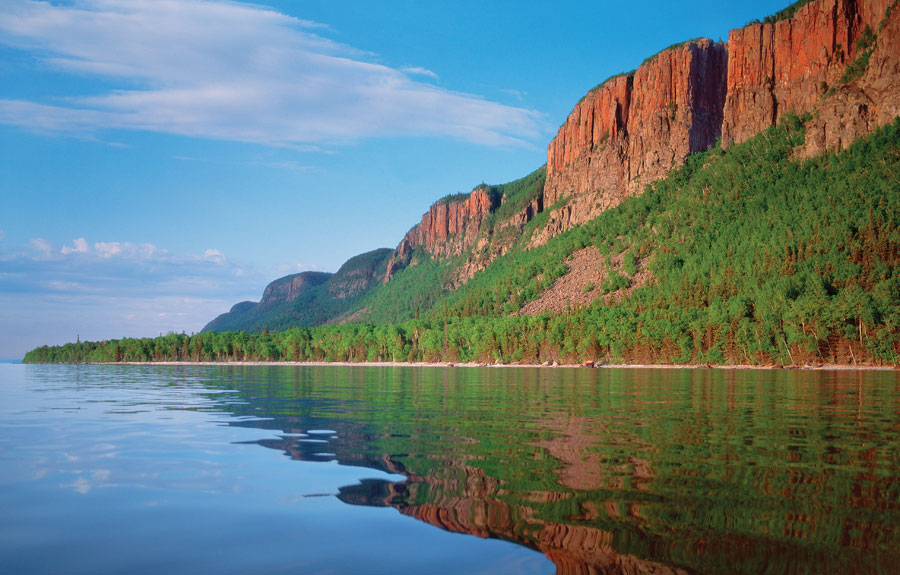 Sleeping Giant PRovincial Park Near the Canadian Port of Thunder Bay. Photo by Craig Blacklock.
Day 3: Over the Top
Stunning views of forest-green islands rising above cobalt-blue water start coming fast and furious almost immediately after Highway 17, a segment of the Trans-Canada Highway, rounds the most northerly point of the lake at Kama Bay. Though a landscape painter could happily spend days capturing the panoramic scenes, we press on to the little village of Rossport, where we hope to kayak in the calm waters of the island-sheltered harbor.
But when we arrive at the office of the town's lone outfitter, the door is locked. We leave a message at the phone number on the door and cross the road to Serendipity Gardens, Rossport's sole restaurant, where we enjoy an al fresco lunch among the flowers and hummingbirds. While we are paying our bill, the woman at the register tells us that the Rossport Inn, the old railroad hotel that now rents small cabins, has kayaks for their guests. With no campsite reservations for the night and rain in the forecast, we head over to find out if there are any available cabins. But there isn't a soul to be found at the inn, either.
Feeling like we've stumbled onto the set of a Twilight Zone episode, we decide to kill a little more time in the hope that we'll hear back from the outfitter. We follow signs for Island Pottery over a causeway to Nicol Island, just offshore, and up to a split-log home perched high above the lake. While perusing the attractive stoneware in the house's studio, we strike up a conversation with Tim Alexander, the pottery's proprietor and resident artist. When we mention our kayak plight, he offers us two boats of his own to use.
Tim may have regretted his generosity when I almost flipped the boat just a few feet from his dock. But I soon find my balance, and Lisa and I have a leisurely paddle around the island. At one point, a cormorant perched on a high branch overhanging the placid water seems to greet us with outstretched wings (though he was probably just drying them out in the breeze). Returning to the dock, we thank Tim profusely for salvaging our day, and buy a lovely little celadon container as a memento of his generosity.

Sea Lion Rock in Sleeping Giant Provincial Park. Photo by Shawn Thompson.
Day 4: Wet and Wild
We wake to the sound of rain driving against the windows of the motel room where we had taken refuge from the approaching storm. The rain is still falling two hours later as we pull up to the entrance booth of Pukaskwa National Park. We tell the young woman stationed there that we are planning to do some hiking, despite the inclement weather. "All right," she says with a smile. "Very adventurous."
We park at the trailhead and set out toward the headlands projecting into the lake. The footing becomes slippery as the trail crosses the open rock slabs of the southern headland, so we take a cutoff that leads along a driftwood-strewn beach to the more wooded northern headland. We soon wish we were back on the bare rock, as we stumble over rain-slickened roots and push our way through wet brush on the narrow trail. We're glad to make it back to the car, clammy but uninjured.
Past the turnoff to the national park, Highway 17 veers sharply inland for more than a hundred miles to avoid the particularly rugged terrain along Superior's northeastern shoreline. There's no shortage of water, as the highway threads its way around dozens of smaller lakes in what otherwise seems like an endless forest. There's no shortage of water coming down from the sky, either. Not relishing the prospect of spending the night in a soaking tent, Lisa puts in a call to a place to stay up the road, but is told there are no vacancies.
After a quick lunch stop in White River, Lisa calls the motel again to see if anything has opened up, and her persistence pays off—a guest had departed early, opening up a cabin. About an hour later, we pull in at High Falls Motel and Cabins, on the outskirts of Wawa. The Polish-born owner greets us enthusiastically and says that a bow-hunter from the states had checked out of the cabin after bagging a black bear sooner than expected.
"Maybe you've heard of him?" she asks, pointing to a signed photograph of Ted Nugent hanging on the office wall. "He comes here every year." When we reply that we are indeed familiar with the Motor City Madman, she hands us our cabin key along with a "Ted Nugent for President" bumper sticker that he had given her.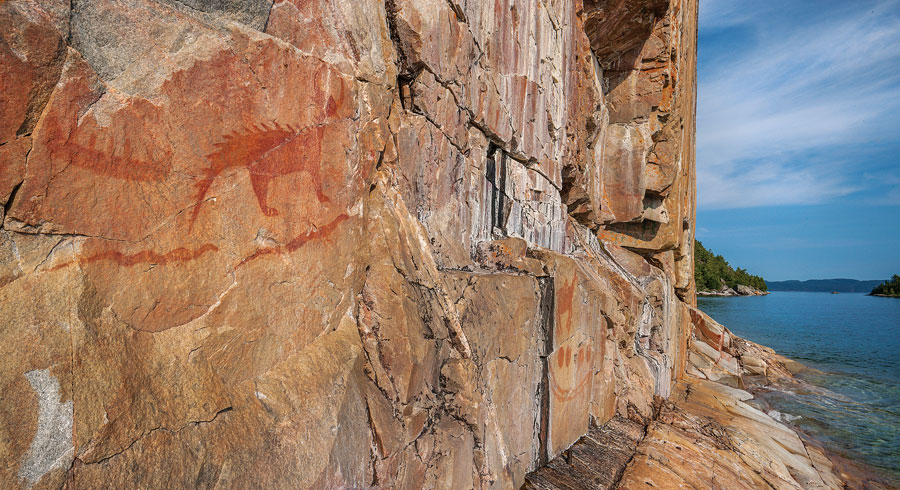 Agawa Rock in Ontario's Superior Provincial Park. Photo by Craig Blacklock.
Day 5: In Search of Lost Time
After losing an hour due to confusion caused by my phone's failure to reset to Eastern Time when we entered Ontario, we decide to forego a planned morning hike in nearby Lake Superior Provincial Park. Passing through the park, though, we pull off at Agawa Rock, a renowned Ojibwe pictograph site. A short walk brings us to the lake's edge, where a park ranger is standing next to a sign warning that unpredictable waves could kill or maim anyone venturing out onto the rock ledge to see the pictographs on the sheer wall above it. The friendly ranger says that, although she can't give any official advice, some people found it safer to traverse the ledge barefoot.
Slipping off my shoes and socks, I take hold of a chain anchored to the rock to make it to the first faint red pictographs of four canoes. Beyond that, I hug the wall to get to the next images. These surprisingly vivid representations depict a large spiny-backed animal with horns—an underwater spirit called Mishipeshu, the Great Lynx, it turns out—above two serpents. Safely back off the ledge, I learn that the pictographs were probably painted by two legendary Ojibwe shaman-warriors. While the Mishipeshu pictograph was painted only about 200 years ago, the ranger says, the canoes are closer to 400 years old.
On the approach to the bridge leading from Ontario's Sault Ste. Marie to its counterpart in Michigan, we pass a sign warning "Don't Move Firewood." Unfortunately, it's too late to do anything about the bag of contraband sitting conspicuously atop our cooler. We sheepishly confess our guilt to the stern customs officer, who has us pull over and surrender our Canadian wood.
At our national forest campsite that night on the shore of Whitefish Bay, we regret the loss of our well-seasoned logs as we struggle to get a campfire started in a light drizzle. Fortunately, in what seems like a karmic reward for the beer offering we had made on our first night, our neighbor gives us some fire-starters he had made from an egg carton, wax, and dryer lint. Before long, we're warmed by a roaring blaze.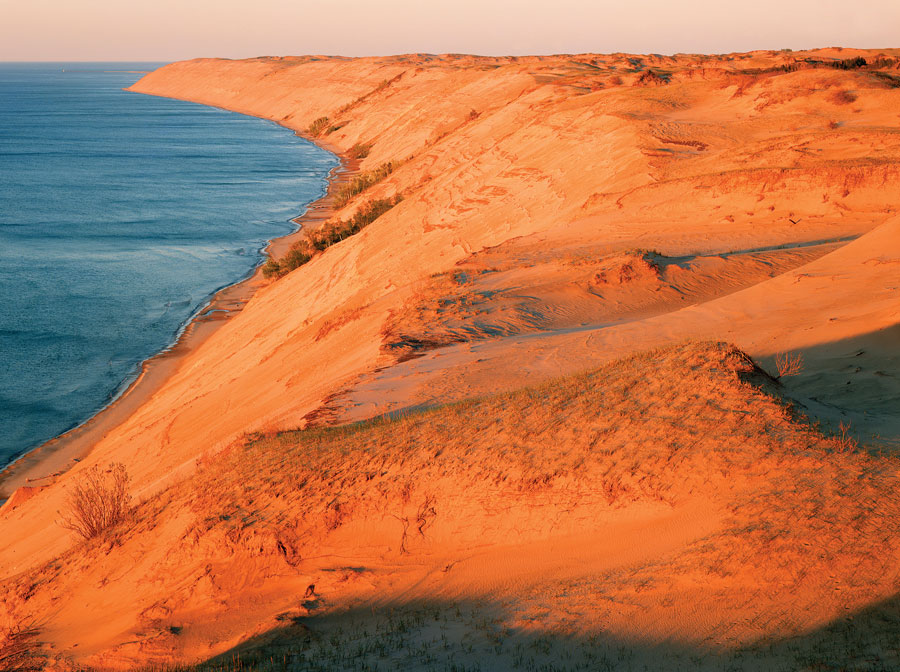 Grand Sable Dunes. Photo by Craig Blacklock.
Day 6: Pictured Perfect
In the morning, we're relieved to see sunlight glinting off the white-capped waves on the bay as we follow a circuitous route east toward Pictured Rocks National Lakeshore. Along the way, we pass a curious convoy of cars and people on foot, including a colorfully attired man holding a feather-festooned staff walking alongside a woman carrying a bucket. (We later learn they are participants in a "water walk" from Quebec to Madeline Island, a Native American pilgrimage intended to bring attention to environmental threats facing the Great Lakes.)
Our main goal in driving into the national lakeshore was to get a good look at Grand Sable Dunes, a five-mile-long bank of sand spilling down into the lake. But our first attempt from the east end leads us to an uninspiring ravine. I expect we will strike out again several miles west at the Log Slide overlook, where thrill-seekers now leap 500 feet down a sandy chute that was once used to transport timber to the lakeshore in one fell swoop. But when we follow a side trail to a nearby viewing platform, the whole vast expanse of the dunes stretches out before us in all
its improbable glory.
Dunes mission accomplished, our attention turns to viewing the national lakeshore's namesake formations. In the harbor town of Munising, we book passage on a two-hour cruise along the lakeshore's cliffs. We feel a little out of place among our fellow passengers, mostly retirees and young families with kids. But the mineral-streaked sandstone cliffs towering above the water are truly a sight to behold—and photograph incessantly.
The artistry on display at our next stop, Lakenland, on the road to Marquette, may have paled in comparison to the majestic compositions of Pictured Rocks, but it has its own whimsical appeal. The sculpture park embodies the singular vision of its creator, Tom Lakenen, who has posted a "No Trespassing" sign at the entrance that applies only to members of local planning and zoning boards—presumably because they've been less charmed than we are by his acres of wolves, owls, and aliens fashioned out of scrap metal.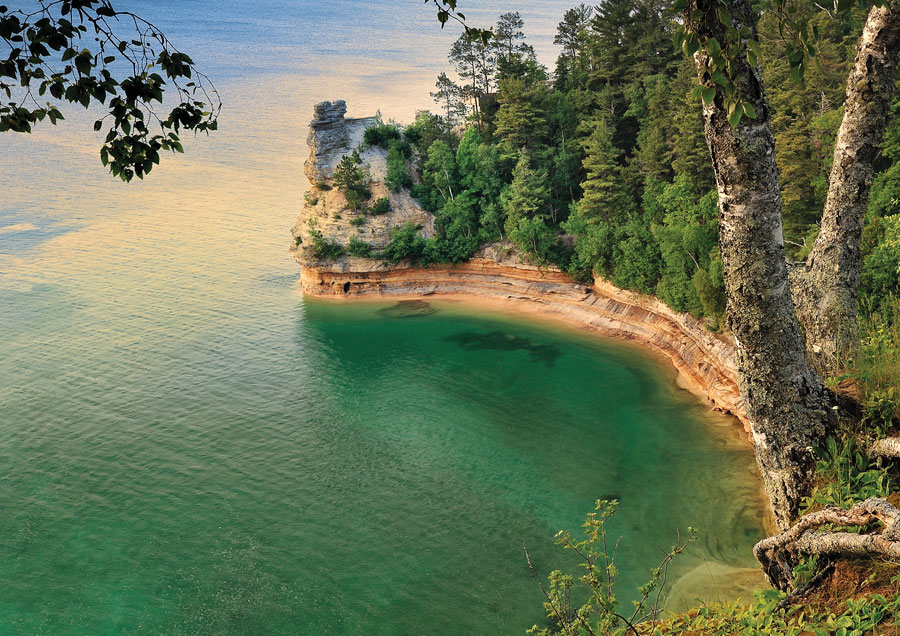 Miners Castle in Pictured Rocks. Photo by Michigan Nut Photography.
Day 7: Closing the Loop 
After a sound night's sleep at the Landmark Inn, a stately fixture in the heart of downtown Marquette, we set out on the last leg of our loop. Having had the pleasure of many weekend trips to both the Keweenaw and Bayfield peninsulas, and with a lot of ground to cover, we decide to take the more direct inland route west through Michigan's Upper Peninsula and northern Wisconsin.
The shorter path gives us time for a few more spontaneous stops. Just beyond Ishpeming, we pull up at Lawry's Pasty Shop, an unprepossessing shack of a building. We'd heard Lawry's made some of the best of the U.P.'s signature turnovers, and we're determined to try them. Seeing that it is only mid-morning, however, we take the advice of a cheerful young staffer and opt for half-baked pasties that can be heated up and enjoyed at a more pasty-appropriate hour.
We still have one gaping hole to fill in our sampling of regional cuisine: whitefish. The virtues of this Lake Superior staple were repeatedly and enthusiastically extolled by the earliest European explorers and inhabitants. ("The whitefish is most esteemed for the richness and delicacy of its flavour," Henry Schoolcraft wrote in 1820.) Returning to the lakeshore at Ashland, Wisconsin, we stop for lunch at the Deep Water Grille, where we both order whitefish sandwiches. Though I've had smoked whitefish plenty of times, the smooth texture and buttery flavor of the fresh version is a revelation.
Leaving Ashland, we part ways with the lake again. But as we drive high above the harbor on the freeway bridge leading from Superior to Duluth, we have one last good look at the vast inland sea that had been our almost constant companion for the past week. Feeling the distinct satisfaction of literally having come full circle on an epic journey, I turn our car homeward.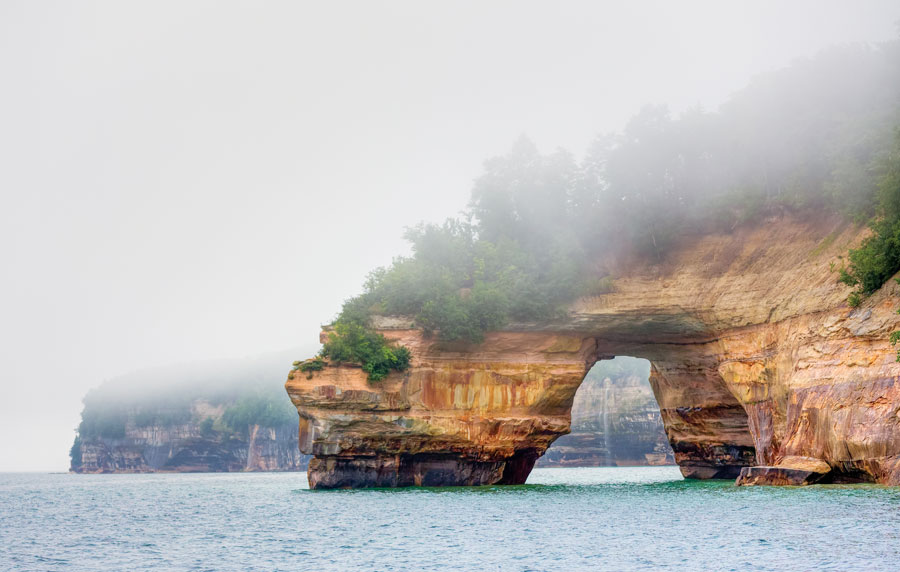 Lover's Leap Arch in Pictured Rocks. PHoto by Kenneth Keifer.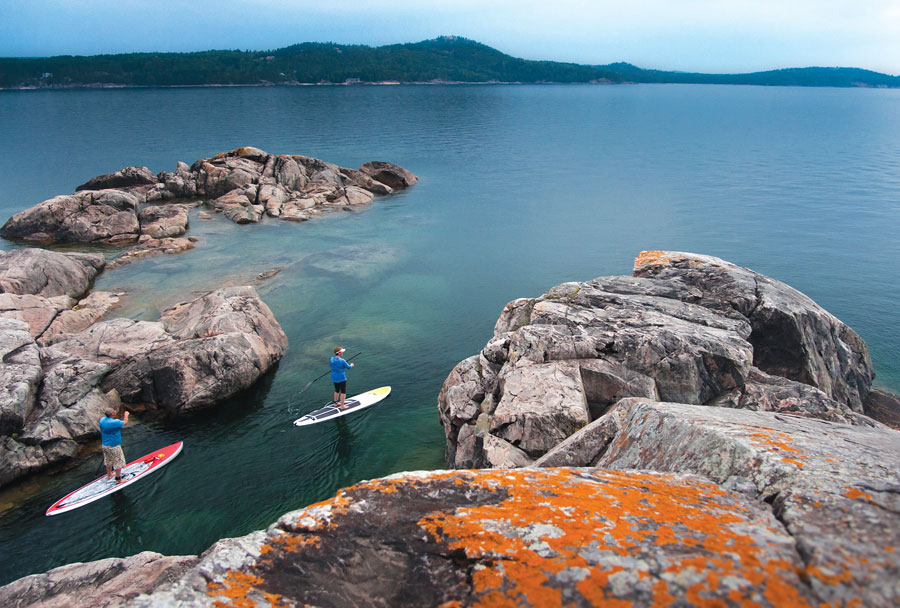 Paddleboarders near Marquette, Michigan. Photo by Aaron Peterson for Travel Marquette.
Facebook Comments