Last summer, two organizations teamed up to achieve the same goal: to preserve the plywood boards that had become canvases for protest art throughout the Twin Cities.
The organizations were called Memorialize the Movement and Save the Boards, and they now operate together under the former's name. The leaders, Leesa Kelly and Kenda Zeller-Smith, work with a team of volunteers to collect and organize the boards, some of which feature colorful portraits of George Floyd, while others tout phrases like "No Justice No Peace" and "Hold Police Accountable."
Now, 200 of these boards are set to appear in an exhibit in Phelps Field Park in late May.
"Preserving murals created by the community that speak to pain and grief and police accountability is a radical act of protest because these boards were never meant to be collected and preserved," says Memorialize the Movement founder Leesa Kelly. 
The boards' origin story is by now a familiar one: People took to the streets to peacefully protest in the summer following George Floyd's murder, and nights of civil unrest also ensued, causing businesses to board up their shop windows. Then, a creative movement covered many of those boards in graffiti art.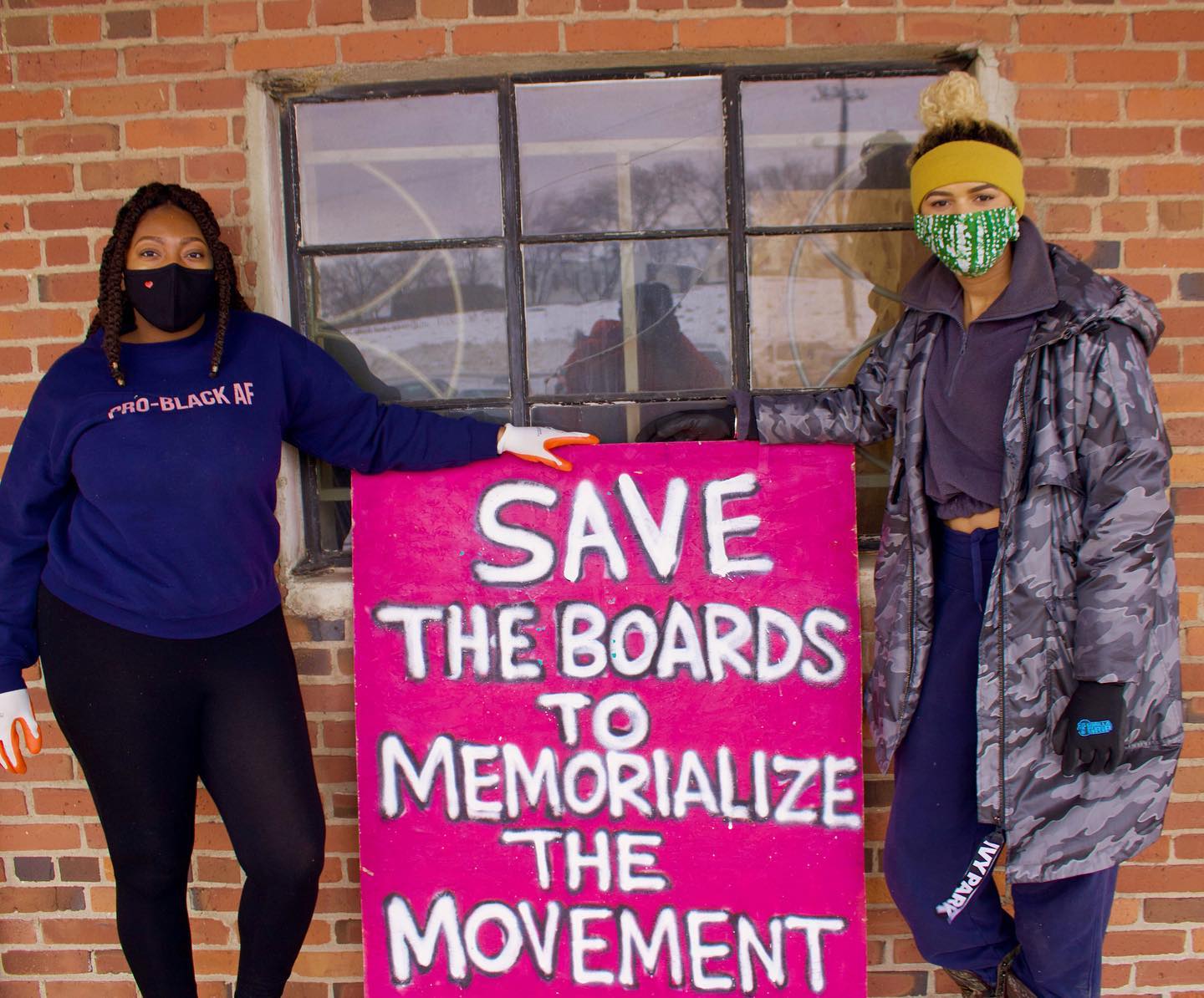 Kelly felt called to do more after attending protests, participating in food drives, and raising money, she says. She was "trying to find ways in which I can make a more lasting impression, a way for me to effect change in a positive way that wouldn't exhaust me."
She started going around to pick up boards the second week of June in her boyfriend's Jeep, sporadically around the Twin Cities. When the collection grew to around 800 boards, Memorialize the Movement streamlined the process. 
"As we have continued to collect, we've begun the process of archiving and cataloging," Kelly says. "We're working on a digital archive that we'll put up on our website sometime this fall, so that people can actually, kind of, flip through the stack and see all of the boards."
The collection now serves as a tool for people in the community to come together and process their grief, she says.
From Movement to Museum
What began as a grassroots effort has grown into something approaching a museum format—part of a curatorial realm widely regarded as white-dominated when it comes to major arts institutions. 
"Going into this, I didn't consider myself a leader. I didn't consider myself, you know, an organizer, and I didn't think I could be the executive director or the founder of anything," Kelly says. 
But, as co-leader of the movement, she now hopes to create something long-lasting.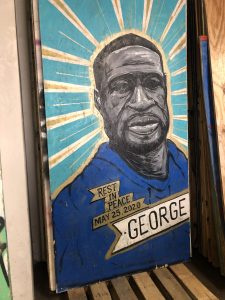 Memorialize the Movement's social media accounts on Instagram and Facebook have been helpful platforms to mobilize and raise awareness. People will contact the organization, asking volunteers to collect boards after they are taken down from businesses, Kelly says. Social media has also been helpful for tracking down the artists of the murals. However, this has proven more difficult than Kelly anticipated, as these artworks were created during active protests, and graffiti is not always supported as art because it is seen as vandalism, or criminal activity, Kelly says.
Despite that complication, Kelly is setting her eyes on the future as the collective has gotten more organized. She hopes its mission of preservation and continued activation of the boards can effect change.
"These murals were created in protest. And we wouldn't be doing them any justice if we did not continue to bring them out and activate them in protest," Kelly says. As the group moves into the museum industry, the Minnesota African American Heritage Museum and Gallery has been a helpful resource for Kelly and her team of volunteers to navigate the white-dominated world of collection and curation, she says. 
"We've said from the beginning that our main goal is [to be] a gallery space or museum space or display space where the boards can be available and accessible to people all year round," she explains.
The Exhibition
In total, the group has collected and preserved around 800 plywood boards of art from around the Twin Cities metro area. Memorialize the Movement and Save the Boards will showcase around 200 of these pieces in Phelps Field Park on May 21-23. The exhibit is intended to be the first of an annual showing, and will feature 18 muralists painting on blank wood, 12 performers, speakers, and musicians, and 10 vendors and small businesses.
"Every time we get an opportunity to make the boards visible, it feels like a huge success," Kelly says. "Anytime we get to hold up murals as a mirror to the City of Minneapolis, it's a big success to me"—especially as they prepare for the group's first exhibit near the year anniversary of Floyd's murder.
"We want people to process, we want people to heal and reflect and to talk. We're not just going to have an exhibit. We also want to make this a place for Black and brown people to feel safe, healing and processing, as well," she says.
The boards will be displayed on 20 triangular walls, each 12-by-12-feet wide and 8 feet high. "We're hoping that when the boards are upright, it'll really stimulate this experience with the layout that we've come up with, of walking down the street," Kelly says.
After the triangular structures of boards, a resting area will be available, where anyone can talk with the University of St. Thomas's Urban Art Mapping team, create their own artwork, or write a letter of emotional reflection. Mental health, legal, and LGBTQ+ resources are also set to be available to visitors at the exhibit. 
Kelly says she knows it will be an emotionally taxing day. The exhibit calls on people to relive the trauma of the past year to create change and understanding through art. 
"We don't want you to leave feeling disparaged and heavy," Kelly says. "We want you to leave feeling uplifted and feeling as if you have been able to process this and can move forward and continue this fight."
Facebook Comments