This upcoming Monday is Memorial Day, and we have a roundup for that, covering virtual events that commemorate military personnel, plus other ways to enjoy the long weekend (including drive-in movies, farmers markets, and takeout tips).
Here are some other weekend picks to keep you busy:
Minneapolis-St. Paul International Film Festival Goes Online
What: Minneapolis-St. Paul International Film Festival (MSPIFF)
When: Through Saturday, May 23
Where: On the MSPIFF website
The MSP Film Society is carrying on with the annual Minneapolis-St. Paul International Film Festival, now in its 39th year. This time, it's "redefined" for this all-virtual moment in entertainment. That means more than 50 feature films and dozens of shorts produced by global filmmakers, all available to watch online. You have until Saturday to check them out. (Read our picks of flicks by genre to see what piques your interest.)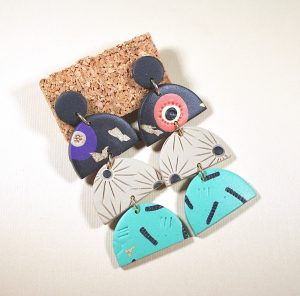 Walker Art Center Launches Jewelry Market Virtually
What: Jewelry & Accessory Makers Mart by the Walker Art Center
When: Through June 14
Where: Walker Art Center website
The Walker Art Center is putting on its first-ever virtual market for jewelry and accessories, and 24 local artists are participating, from Beth Novak (metal work that uses enamel, copper, and sterling silver) to Maggie Thompson (luxury yarns and hand-loomed designs) and Jac & Violet (featuring mixed-media works by Andrea Gharritt named after women she finds inspiring).
Minnesota Opera Streams The Shining
What: Minnesota Opera Digital Series: The Shining
When: Thursday, May 21-Sunday, July 5
Where: Minnesota Opera website
First, the Minnesota Opera put its performance of Richard Wagner's Das Rheingold online (available for streaming until June 28). Now, it's releasing a critically lauded original: its operatic take on Stephen King's iconic novel The Shining. To come are Massenet's Thaïs, The Fix, and Mozart's The Marriage of Figaro.
Park Square Theatre Does a Two-Day Fest
What: Park Square Plays On: A Virtual Play Festival
When: Friday, May 22, 7:30 p.m.; Saturday, May 23, 7:30 p.m.
Where: Zoom
Park Square Theatre's two-night virtual theater festival kicks off with a whiskey-themed, two-women show (Bad Things, Good Whiskey), followed the next day by a detective comedy set in Vancouver's Japantown circa the 1940s (Fire in the New World). Make sure to reserve your Zoom "seats."
Theater Mu Hosts Variety Show
What: A Mu Variety Show
When: Friday, May 22, 7 p.m.
Where: Facebook Live
Since the shelter-in-place order, St. Paul's Theater Mu, the second largest Asian American theater company in the country and a perpetual joy, has stayed busy: hosting virtual table readings on Mondays, organizing online chill sessions with theater artists, and giving families in-depth looks into theater. This Friday, they're streaming a variety show on Facebook Live—a "Mu-tini hour" with six performers doing music, comedy, poetry, and dance. Consider it a socially distanced way to celebrate Asian Pacific American Heritage Month.
"For us, every month is Asian Pacific American Heritage Month, especially during a year when so much Asian American theater, film, and television has taken the nation by storm," says artistic director Lily Tung Crystal in a press release. "To our AAPI communities, today and every day, we at Mu are working with our partners to aid in your struggles, and we will continue to celebrate our pride in being Asian American." Make sure to RSVP, and you can donate to the nonprofit theater company here.
Whiskey Inferno's Barbecue Drive-Thru Gives Back
What: BBQ Drive-Thru for a Difference at Whiskey Inferno
When: Saturday, May 23, noon-5 p.m.
Where: Whiskey Inferno Meat House & Craft Bar, 14425 Hwy. 13 S., Savage
Pick up barbecue, offer food-shelf donations, support a local restaurant. Whiskey Inferno started weekend drive-thru service (no pre-order necessary, no getting out of your car) in mid-March. This Saturday, they're preparing "BBQ Feasts," wings, desserts, and cocktail kits. The folks behind the Savage eatery sum up the situation for many businesses: "Remember when you asked us to donate to community festivals, your sports teams, your organizations, and your fundraisers?" they posted on Facebook. "We are calling in a favor right now. Please answer the call. We need your help!"
Bike Tour Hits Up Minneapolis' Best Parking Lots (Really)
What: Noteworthy Parking Lots of Minneapolis Bike Tour II: The Return
When: Saturday, May 23, 2-5 p.m.
Where: 10 W. Lake St., Minneapolis
Forget your architecture tour. These asphalt expanses merit their own 5-mile bike tour, apparently. The last time this happened was four years ago, and now's as good a time as any for local cyclists to check back in, although "with small scale and some safety precautions," organizer Bill Lindeke wrote on the event's Facebook page. Also, spoiler warning: "Some of [the lots] are gone, others are not."
Floral Workshop Pairs Well with Inbound Brews
What: Sip 'n Bloom with Inbound BrewCo
When: Order deadline: Saturday, May 23, 5 p.m.; pick-up time: 1-4 p.m., Sunday, May 24
Where: Pick up at 701 N. Fifth St., Minneapolis; virtual design classes on Facebook and YouTube
This "design-at-home" floral workshop, presented by Sip 'N Bloom, readies DIY kits for curbside pickup at Inbound BrewCo, in Minneapolis. The kits will contain spring vases and seasonal flowers, which you'll take home so a floral master can guide you through arrangement via Facebook or YouTube (garden shears available separately). Good for all ages—except for that to-go beer—and skill levels.
Livestreamed Entertainment Supports Women
What: Pay Gap Comedy Couch Tour
When: Saturday, May 23, 7 p.m.
Where: Zoom
Backed by the Twin Cities Women's Expo's "Rock What You Got" platform for women in entertainment, the Pay Gap Comedy Couch Tour has been livestreaming "the comfiest club in town" for about a month, with three shows left in the series.
This Saturday, performances feature actor and writer Lorelei Ramirez (known for Notes on an Appearance and National Lampoon Radio Hour), local comedian Elise Cole, and Suzanne Sinclair, better known as Suzanne the Magician. Audience members are encouraged to turn on their webcams; they're asking for interactions, from claps to laughs and supportive signage. "Among those hit the hardest [by the pandemic] are women who—as a result of the gender pay gap—have less to fall back on during this difficult time," reads the event description on Facebook. The series is your chance to be part of the solution.
Facebook Comments