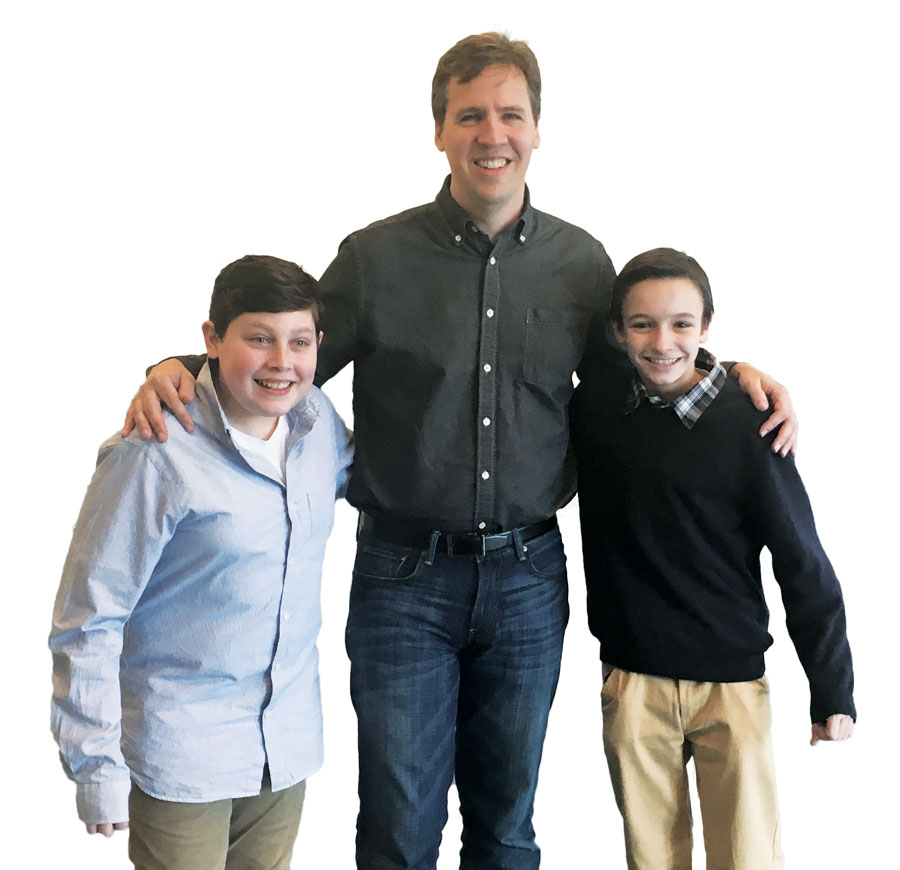 Wimpy Kid author jeff kinney with actors david rosenthal and ricky falbo. Photo by Melissa Ferlaak.
If you have a middle-school-ish boy in your life, you've likely come across the book series Diary of a Wimpy Kid. Depicting the times and travails of the shifty and, yes, wimpy Greg Heffley, the part-text, part-drawn lightweight adventures have sold more than 150 million books in 30 countries. There have already been three film adaptations, but now for the first time Children's Theatre Company is bringing these idiosyncratic stories to the stage. 
On the first day of rehearsal, the series' Massachusetts-based creator, Jeff Kinney, was at the theater looking low-key and unassuming, very plausibly stepping out of the video-game software developer's role he calls his "day job."
"I've come to understand that what I'm doing is not just about Greg, but looking at childhood from every angle," Kinney explains. 
This CTC premiere evokes Kinney's simple, ink-drawing on notebook paper aesthetic that connects so well with his audience—the books themselves are typically a series of gags strung together into meandering plots that rely on the anxieties, injustices, and fleeting triumph of the middle-school experience. CTC is banking on name recognition and wide appeal to draw in audiences, and there's a sense the theater would like to see Wimpy Kid join A Year With Frog and Toad as a CTC production that makes the leap to the big New York stages (Minnesota native and big-time Broadway producer Kevin McCollum is on board).
Kinney, who remembers his parents taking him to productions of Brigadoon and Les Miserables when he was about Greg Heffley's age, says that he thinks the writers for this adaptation have improved on his books—he's remarkably humble for an author named one of the world's most influential people by TIME, and when I remark on the time I've spent reading his books with my son he offers a wry apology and adds, "They're not Shakespeare."
Nor do they have to be. The thing is, I like Kinney's books. They're irreverent, a little unfocused, full of smart-ass moments—not unlike me and my friends at Greg Heffley's age. Kinney remembers his own junior-high experience as "awful in every way," then notes that his own 13-year-old son is a solid student, an athlete, and a happy guy popular with his peers.
"I didn't see it coming at all," Kinney says with a nod to good fortune and, one presumes, hope for the inner Greg Heffley in all of us.
Diary of a Wimpy Kid the Musical
Through June 5
Children's Theatre Company
childrenstheatre.org
Facebook Comments