Pocket Pet Quarterly Nail Trim Clinic – Blaine
April 24 @ 12:00 pm

-

3:00 pm

$10.00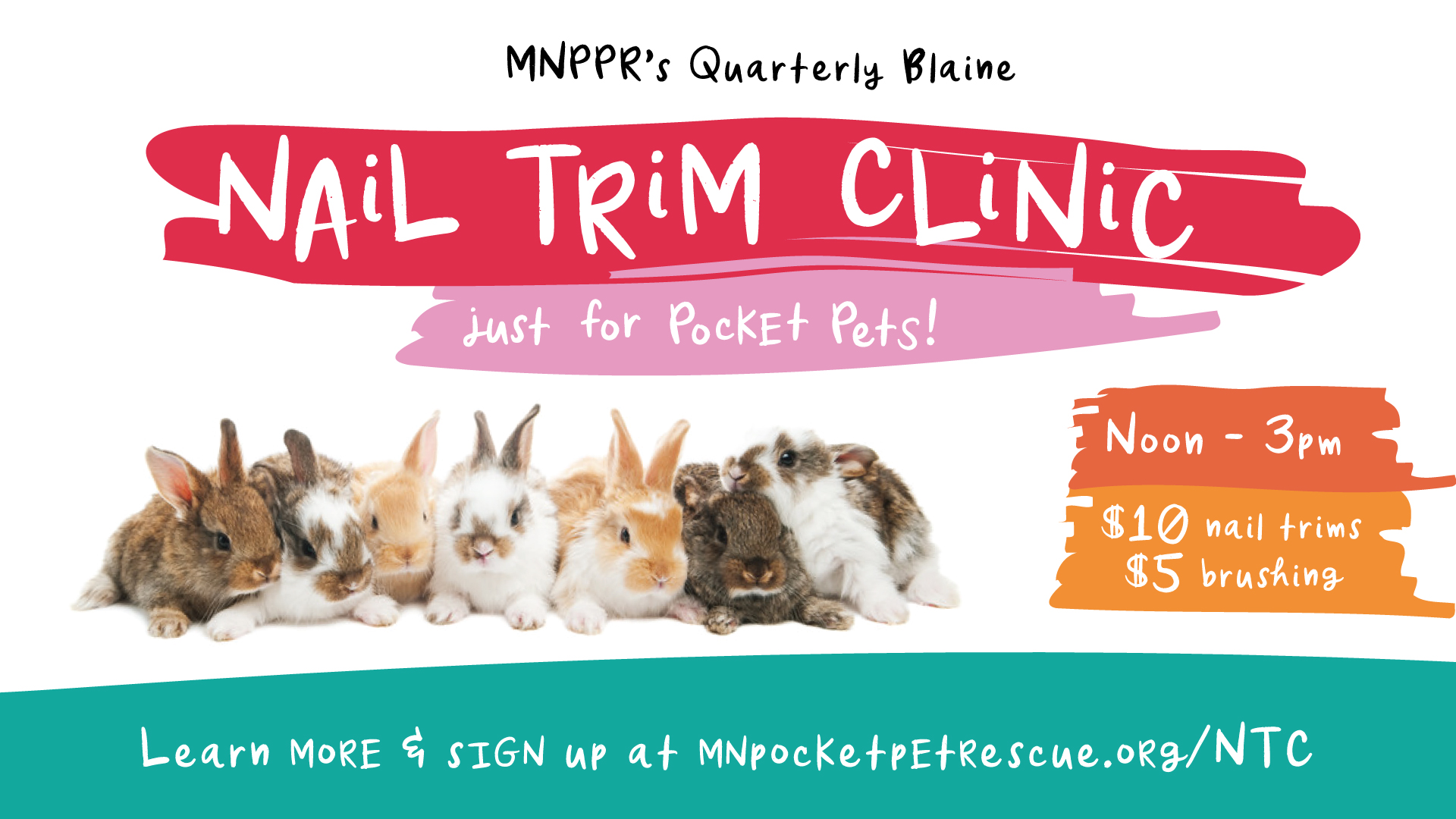 Do you have a pocket pet in need of a nail trim? The MN Pocket Pet Rescue can help!
Our patient volunteers will provide nail trims for ferrets, gerbils, guinea pigs, hamsters, hedgehogs, mice, rabbits, rats & sugar gliders for a suggested donation of $10 per pet. We will also offer to brush your pocket pets for only $5.
**Please Note: Starting in February, our Nail Trim Clinics welcomed back rabbits who have completed their full round RHDV2 vaccines at least 2 weeks prior to the event. We will be requiring proof of all rabbits' up-to-date RHDV2 vaccine status upon registration. We will only accommodate clients who have pre-registered and provided proof of full vaccine coverage. If you have not completed this registration and provided proof, you and your rabbit will be unable to participate in that Nail Trim Clinic. We will only be offering nail trims for rabbits, not brushing.
Visit our website for more information on the Rabbit Hemorrhagic Disease Virus: https://www.mnpocketpetrescue.org/rhdv
We currently require you to pre-register for these events so that we are able to anticipate the number of participants & what species will be attending & can appropriately staff the event. We can still accommodate walk-ins as needed. Due to the rabbits having time slots for trims, all other pets must arrive between Noon & 2pm as the last hour will be reserved for Rabbits only.
Your pet must arrive in a secure and safe MNPPR approved carrier. An MNPPR approved carrier requires the following:
* Must be completely enclosed and secured.
* Must have adequate ventilation for proper breathing.
* Should be appropriately sized so that your pet can stand up and turn around inside the carrier (at a minimum.)
If you arrive with a carrier that is inappropriate you will be asked to leave for the safety of you, your pets, and everyone else. Alternatively, you may purchase a used carrier from MNPPR at a discounted rate during the clinic event or a new carrier from the event host pet store. Ask a volunteer for more information about our carriers if you have any questions!
Click the link in our event here to register or visit our website: https://www.mnpocketpetrescue.org/ntc for our registration form.
*Note: All rabbits must have proof of current full RHDV2 vaccines to participate. All ferrets must have proof of current rabies vaccines to participate.
Related Events
We make every effort to ensure the accuracy of this information. However, you should always call ahead to confirm dates, times, location, and other information.
To submit an event for consideration, consult our calendar policies and guidelines.