Willie Wisely Plays For Lovers, A Valentine's Evening of Dining & Music
February 14 @ 6:00 pm
$14.99 – $199.99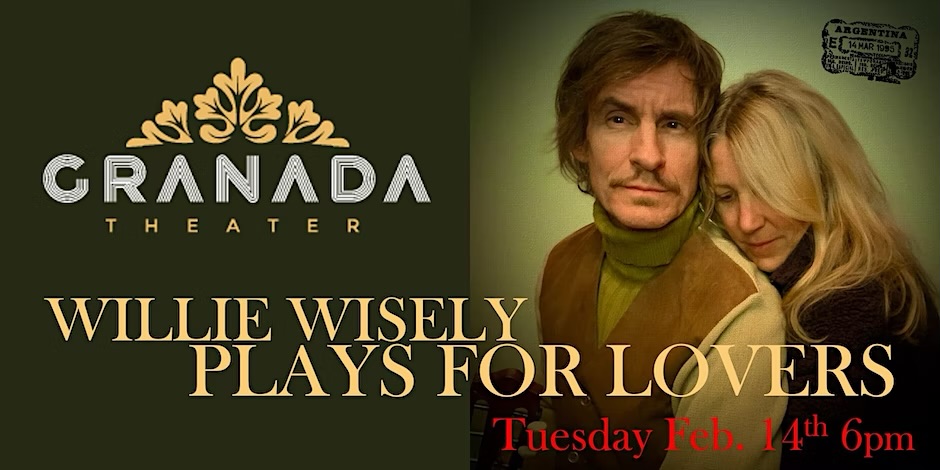 This Valentine's Day, Willie Wisely and his band play for lovers, a set so passionate and provocative, you might need sour cream with your meal just to cool off!
Make your Valentine's plans now and reserve a table for dining and drinks. The Granada has designed a special menu for the evening, meant to impress and delight. Choose the perfect dining experience and menu options for you and your loved ones. All guests with seated reservations will receive gifts of love from the Granada and Willie, to take home and enjoy. Perfect for couples or a special treat for yourself! Plus, early bird pricing is available until 02/09/2023. Don't miss out the discount!
Willie Wisely is that rare bird, mixing outsized stadium-rock showmanship with songs so lyrical, so personal and true, you'll leave the show feeling like you've got a new best friend. He is among the most distinctive songwriters of his generation, seasoning his career with decades of touring, three times to Japan; 18 years a resident of Laurel Canyon, LA's historic songwriting enclave; composing indie film scores and even some guest appearances acting in film and television. In 2018, Wisely returned to his native Twin Cities, to find more time for his music and family and to again be a part of one of the country's most richly creative communities. Willie will welcome to the stage the amazing talents of Peter Anderson (drums), Steve Brantseg (guitar), Barb Brynstad (bass) and special guest Karen Paurus (backing vocals).
Pete Hofmann- Solo Guitar
Entree selection and food sensitivities will be available during checkout. All tickets for reserved table and dining options admit two persons (*please note that General Admission allows for only single-person admission, with no guaranteed table or seating). If your Valentine's party will be more than two persons, please purchase additional ticket packages for two or use the a la carte dining option for additional singles.
Discounted parking is available by visiting granadampls.com
Related Events
We make every effort to ensure the accuracy of this information. However, you should always call ahead to confirm dates, times, location, and other information.
To submit an event for consideration, consult our calendar policies and guidelines.