It took a visit from a friend who lives in Michigan to introduce me to an amazing kids' hangout just 20 minutes from my house.
"Have you heard of the Tamarack Nature Center?" my friend Robyn emailed when we were trying to determine a good meeting spot while she was in town. Her mom had heard about it and they had recently checked it out. "It's a fun place for kids of all ages."
"No, where is it?" I asked.
"White Bear Township."
White Bear Township? After I had graduated from high school, my parents had lived in White Bear Township for years. How do I have a 5 and almost 8-year-old and know nothing about this place? It's not like White Bear Township is a huge city [12,000 residents], and it's not like it's that far away [20 minutes from St. Paul]. All those times when I had wondered how to entertain the kids on a budget, all those times when I had Googled "fun places for kids near St. Paul," this had never appeared in my search. I was intrigued.
Our group of nine adults—including Robyn from Michigan and Jesse from California—and 12 kids met in the Discovery Hollow Nature Play Area and Garden, the outdoor area of the Tamarack Nature Center. Within minutes of arriving, shoes were off, smiles were on, and the kids, ranging in age from two to 11, were building stick houses in The Wood area, climbing the "cliffs" (engineered 'boulders'), or playing in the sand/stream area (the water isn't much more than a trickle, so I use the word "stream" very loosely). Not once did I hear "I'm bored"—even the older kids were laughing and running around. It was a constant flurry of activity.
Robyn had told us to bring an extra change of clothes in case the kids got wet and/or muddy (good tip—the little kids did manage to get dirty and wet), and plastic buckets, shovels, and cups for the stream areas (another good tip—because wet sand is so much more fun when you can scoop it up and, you know, build castles and moats with it). We all shared a picnic lunch in the shelter before leaving, right as the little ones began showing signs of potential meltdowns. (Nap time!)
There were a few reasons I've been recommending this park to my friends with kids:
• It's "back to the basics" fun. There are trails to explore (we'll do that next time), and educational demonstrations in the nature center (my boys had the opportunity to feed a turtle), and just a whole lot of digging, climbing, dam-building and mud-pie making. There are no slides or swings at this park, and you honestly don't miss the playground aspect one little bit.
• Your kids can cool off on a hot day by playing in water and sand—just like they would at a beach, only without any of the worries that come with playing near a lake. (No life guards or life jackets required!)
• It's free! (Donations, however, are always appreciated.)
• It's off 35E North. You could stop here on your way to the cabin (or on the way home), or make an afternoon of it when looking for cheap/free ways to entertain the kiddos.
• There's a lovely shaded picnic shelter. 
• There are bathrooms inside the nature center. (No offense to port-a-potties, but I definitely appreciate indoor plumbing on hot summer days.) 
• There's a separate gardening area, complete with adorable little watering cans. What a great way to teach the little ones how to be good stewards of the land.
• Even when it got busy, it never felt overwhelming or crowded.
• I know it sounds cliché to say there was something for everyone, but it sure seemed that way. Hopefully, when our little friends from Michigan and California returned home—happy, sun-kissed, and full of fishing, campfire, and waterpark stories—they brought with them a fun memory of their afternoon at Discovery Hollow.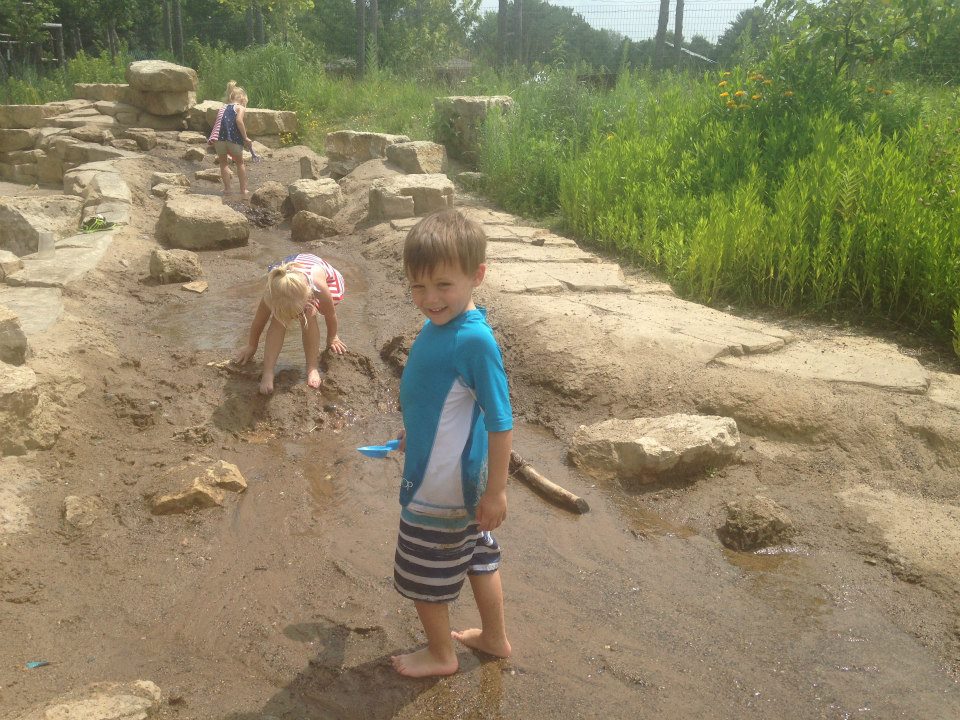 Tamarack Nature Center (a 320-acre preserve within Bald Eagle – Otter Lakes Regional Park)  
Discovery Hollow and Garden
5287 Otter Lake Road
White Bear Township, MN 55110
Hours: Sunday through Wednesday: 9 a.m. to 5 p.m.
Thursday through Saturday: 9 a.m. to dusk (half hour after sunset)
Directions:
Tamarack Nature Center is about 20 minutes north of downtown St. Paul. From St. Paul, take I-35E North to Highway 96, go east on Highway 96 to Otter Lake Road and turn north. Tamarack is located approximately 2.5 miles on the left-hand side at 5287 Otter Lake Road in White Bear Township.
For more information, visit the Tamarack Nature Center's website.
Facebook Comments