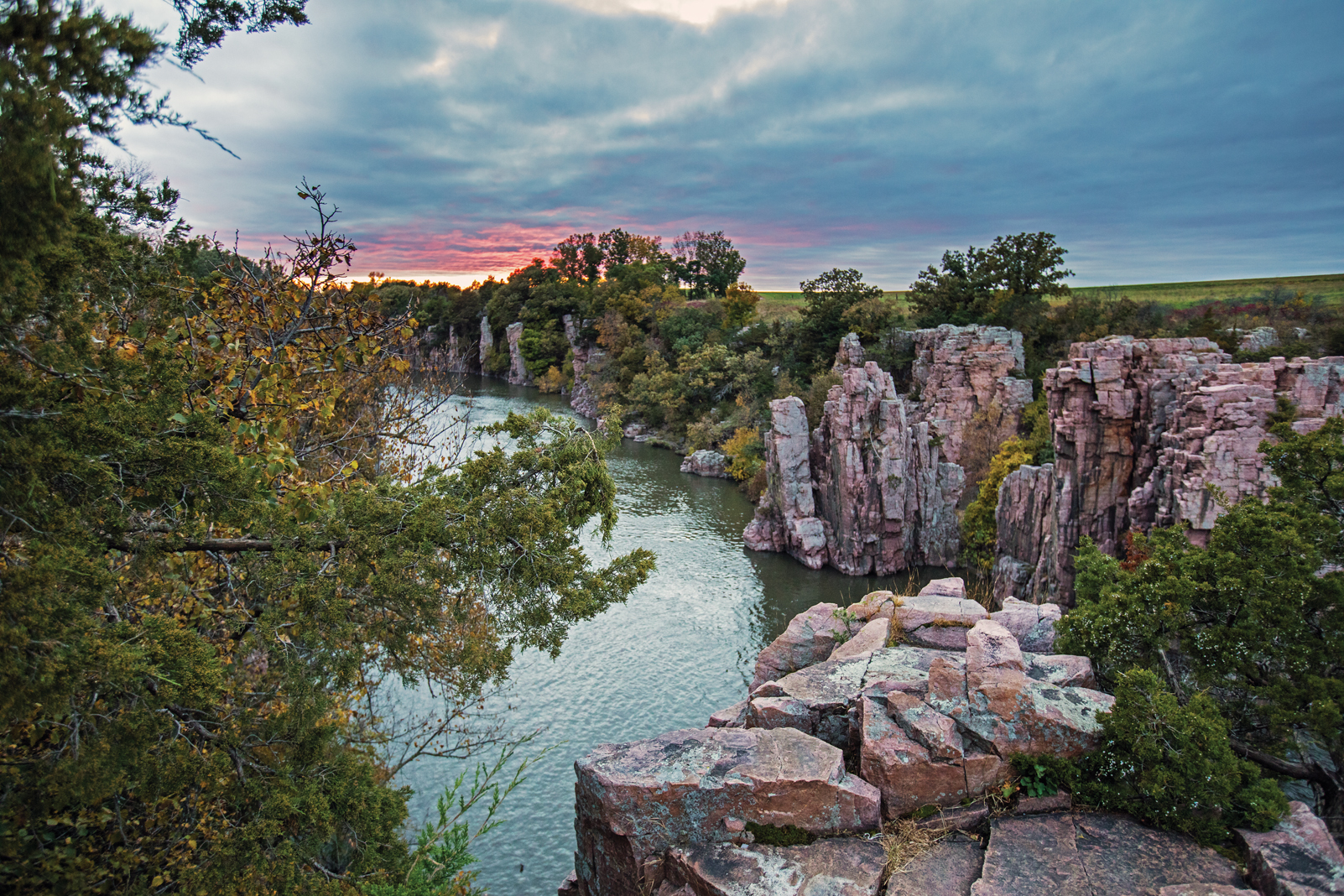 A buff-colored cat perches on a barrel like an unofficial greeter to guests at Strawbale Winery just north of Sioux Falls, South Dakota. Hens with speckled feathers strut past couples in colorfully painted Adirondack chairs, and sunlight glows through their glasses of wine. Live music grooves from the stage across a sweeping yard featuring a flower-bordered, red barn.
On this farm four hours southwest of the Twin Cities and 15 minutes from downtown Sioux Falls, you can feel your shoulders relax. The breeze carries a whiff of wood smoke and bubbled cheese from a mobile pizza maker.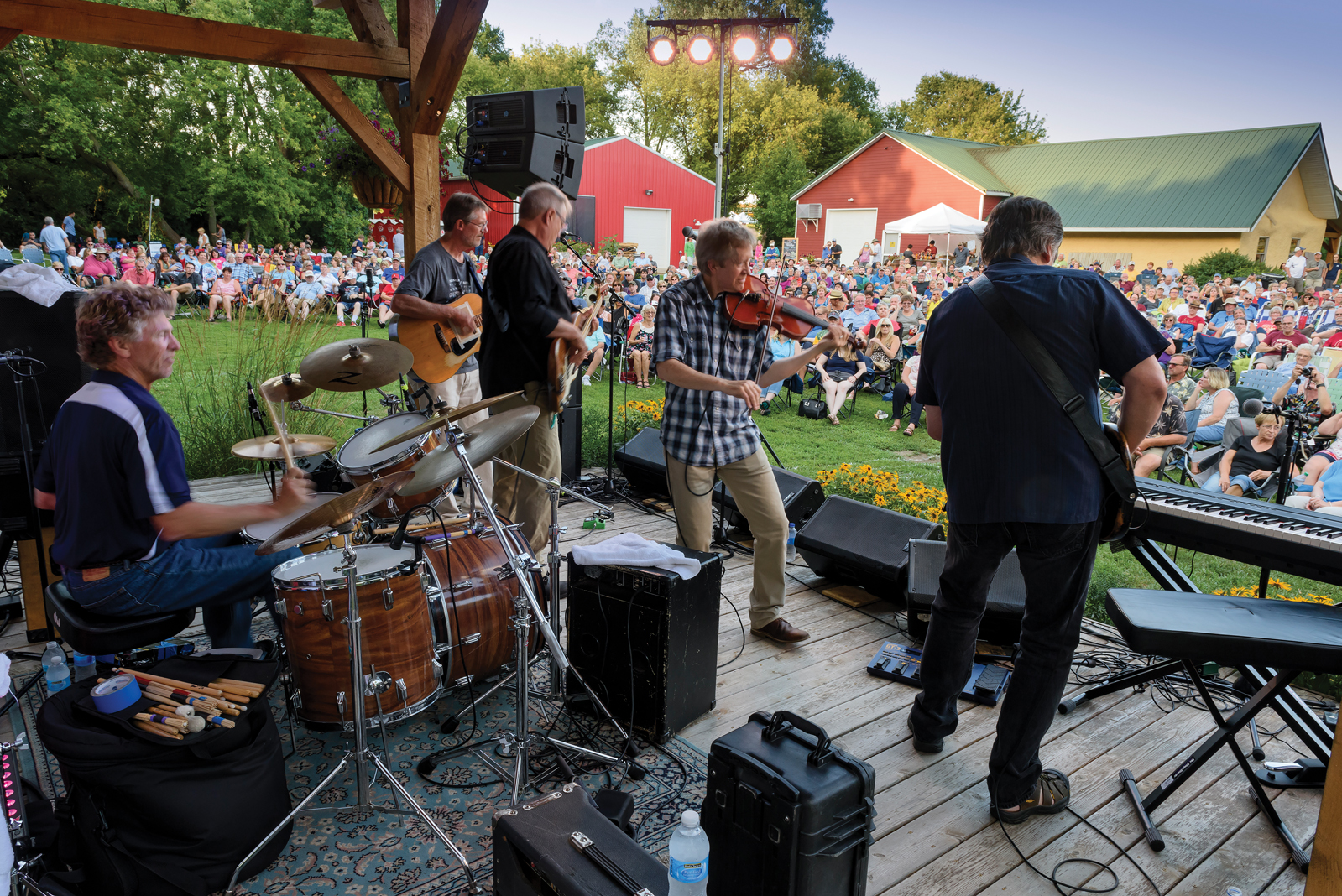 A long weekend on southeast South Dakota's prairie can unfurl with trips to wineries and breweries or treks to museums in Brookings—all while staying based in Sioux Falls for the hotels and chic, seasonal dining. At a quarter of the Twin Cities' metro population, Sioux Falls offers a welcome downshift—as do the communities a short daytrip away. Each mile of rural road seems to diffuse the daily and digital grind.
First things first: Sioux Falls' namesake tugs at newly arrived visitors, pulling them to Falls Park the way Gooseberry Falls draws North Shore visitors. These gentler falls cascade 100 feet through the Big Sioux River gorge that bustles with couples posing for photos, kids leaping among the rocks, a few anglers, and the zip and rhythm of bicyclists and runners on the Big Sioux River Recreation Trail and Greenway—a 19-mile loop through the city. Nearby is Levitt at the Falls, an outdoor music venue that debuted this summer.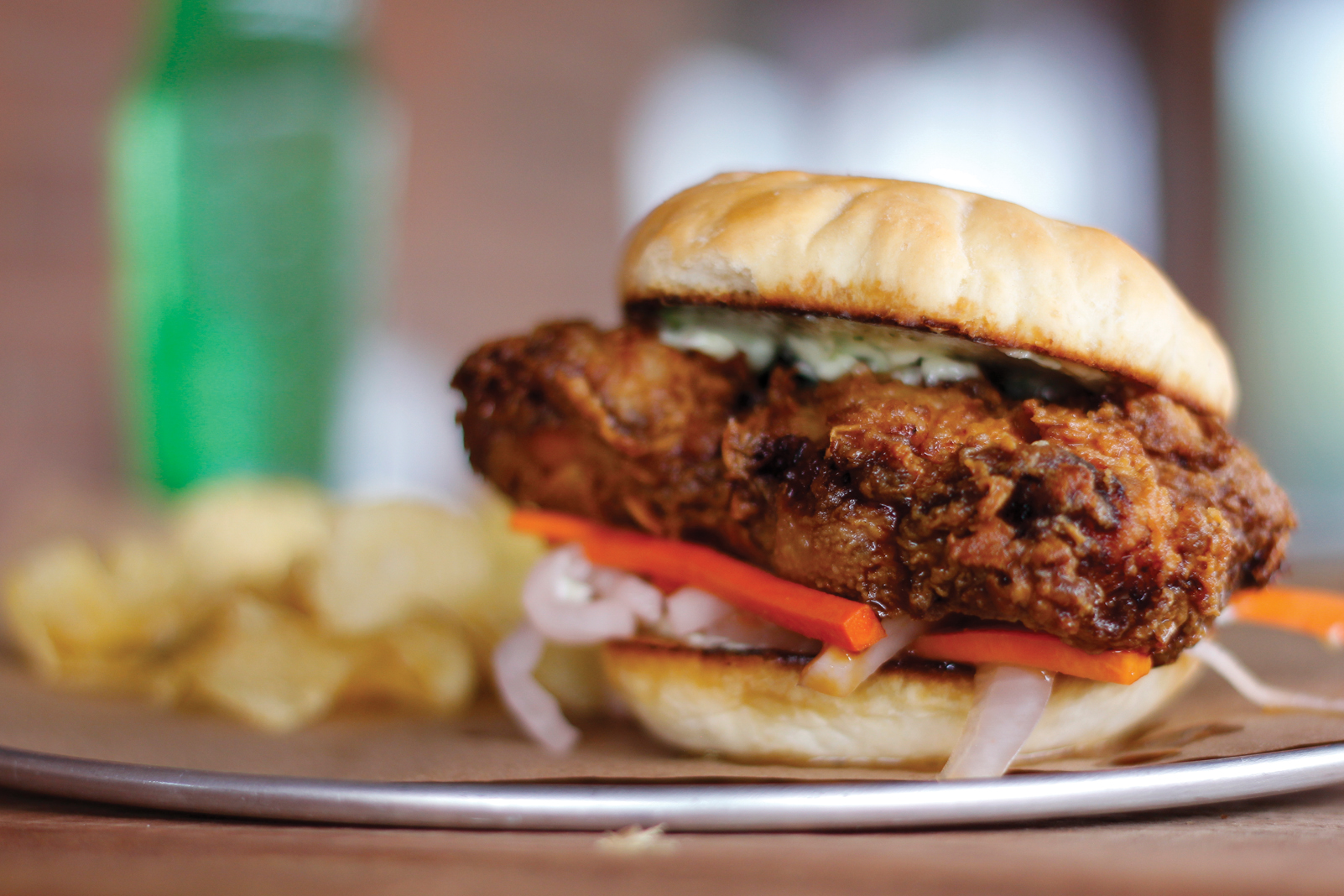 Less than a block from the park's west bank, the warm spice and preserved-lemon kick of Moroccan chicken salad and the sweet zip of a Vietnamese fried chicken sandwich beckon diners to Bread & Circus Sandwich Kitchen. A few blocks away, the Market is another chef-driven, locally sourced eatery and wine bar in a former tractor warehouse.
Shops, breweries, and restaurants cluster along the sculpture-dotted Phillips Avenue corridor—an easy 20-minute walk or bike ride from hotels and Falls Park. Cap off an evening with a creamy milk stout at WoodGrain Brewing Company or indulge in a looks-too-perfect-to-eat petite gateau, or small cake, at CH Pâtisserie.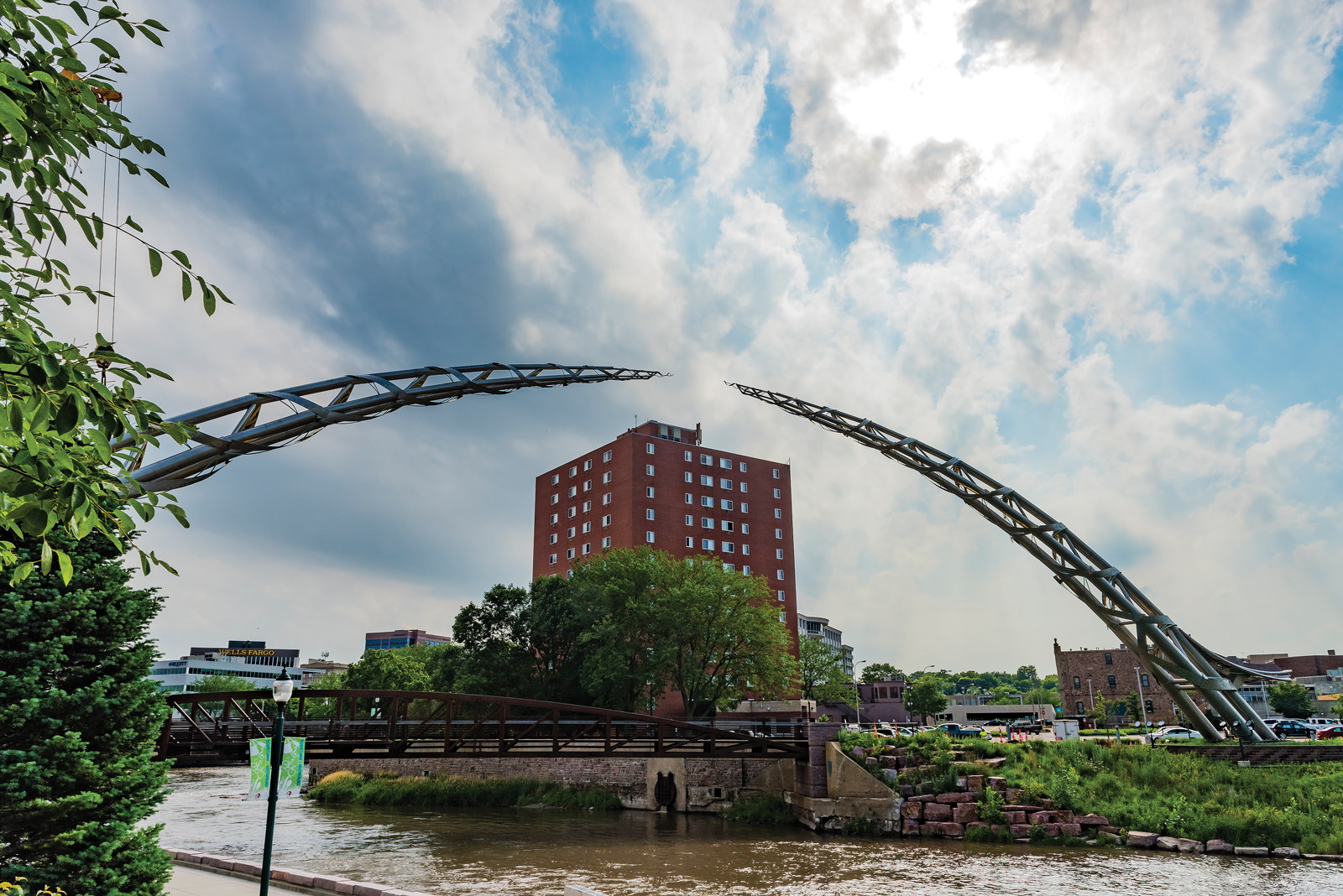 Bearings in Sioux Falls attained, one wandering option is an hour north in Brookings (pop. 24,000) for a day trip rich in nostalgia. The Pride of the Dakotas marching band drums up excitement in South Dakota State University's stadium for Jackrabbit football games in the fall. The campus of 14,000 students also includes the South Dakota Art Museum, with Native American works and prairie-themed Harvey Dunn paintings, as well as the Agricultural Heritage Museum, which shows the evolution of harvesting equipment.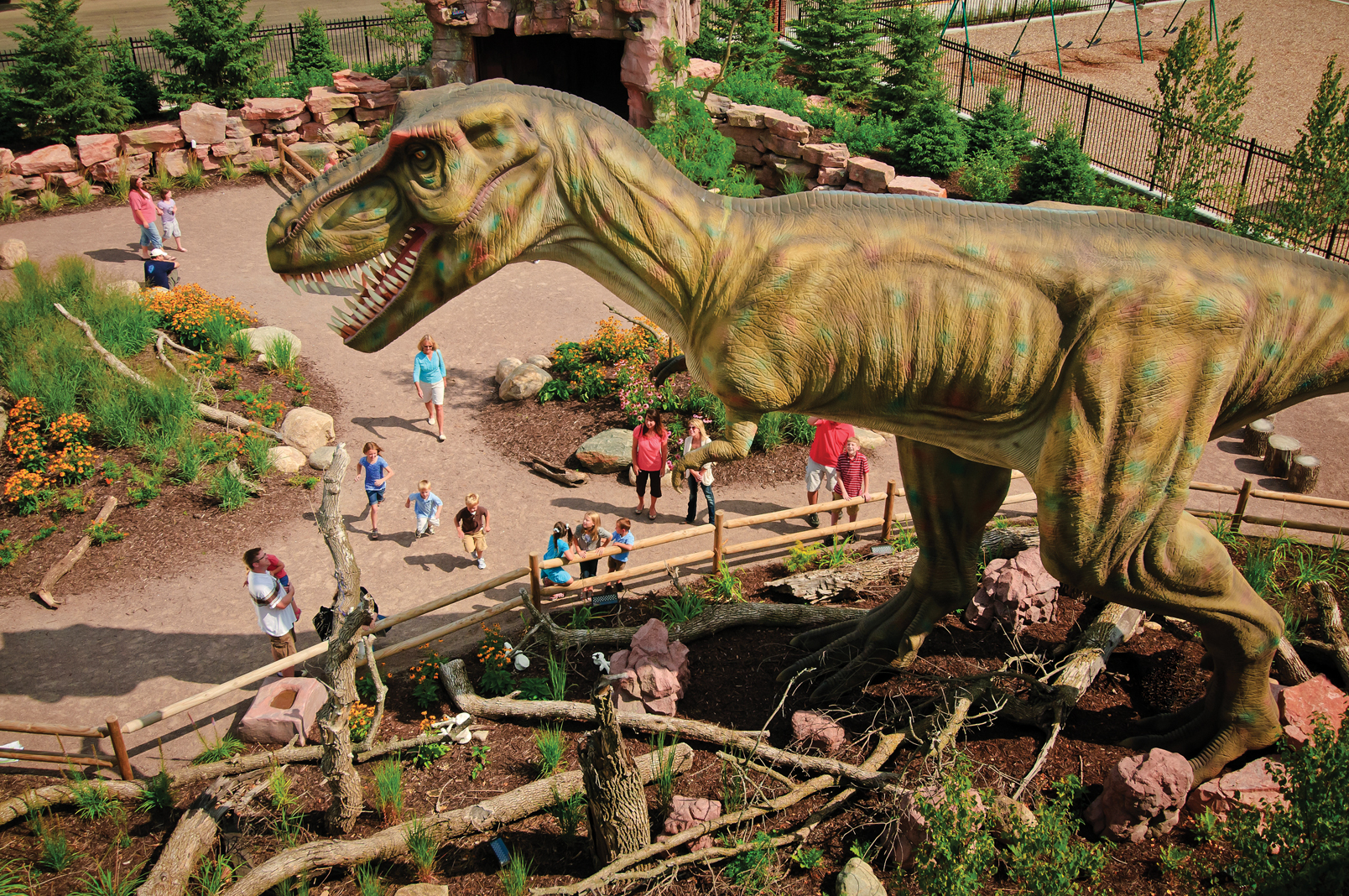 In downtown Brookings, the Children's Museum of South Dakota offers the biggest surprise with its whimsically redesigned historic elementary school. Its on-site Café Coteau, in a two-story atrium open to the public, overlooks the museum's prairie-themed outdoor play area, with fishing, a fossil dig, a tall-grass tunnel, and animatronic T. rex dinosaurs that roar. You can also order ice cream made at the SDSU Dairy Bar, which claims to have invented the cookies and cream flavor in the late 1970s.
Two blocks away, venerable Nick's Hamburger Shop has welcomed diners to its U-shaped counter surrounding sizzling beef patties for 90 years. They're still served humbly on sheets of wax paper with bags of chips, slices of pie, and milkshakes.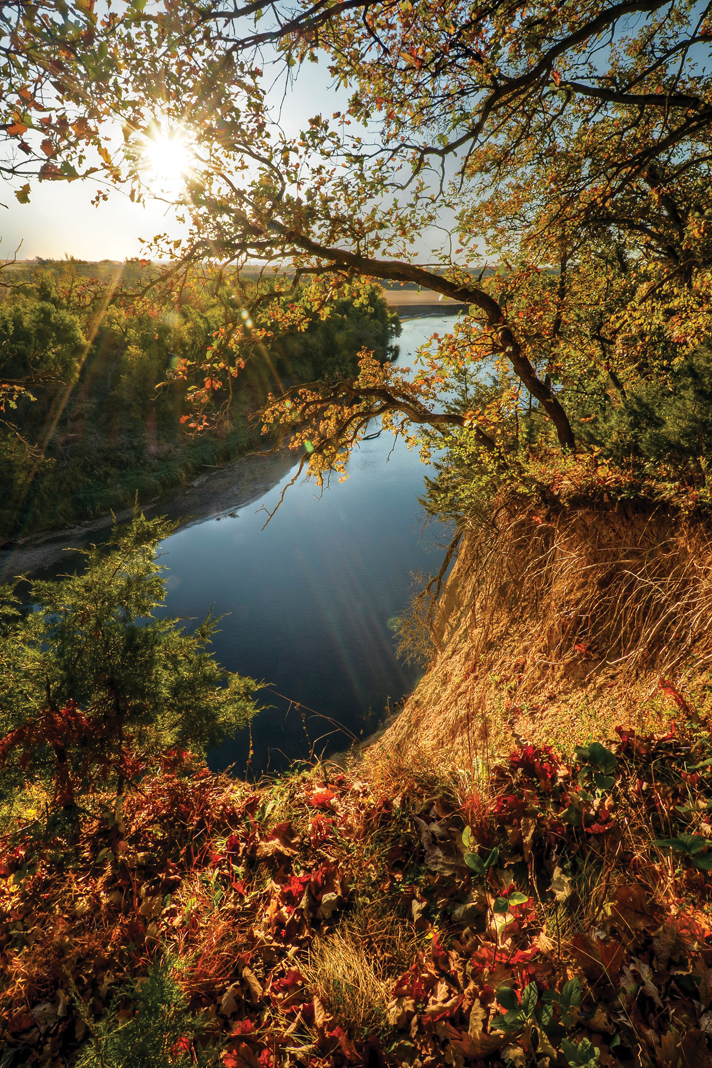 For a deeper dive into the past and a day of fall hiking, head about 10 minutes southeast of Sioux Falls near the Iowa border. South Dakota's newest state park, Good Earth, preserves the land where Oneota people—ancestors to Otoe, Ioway, Ponca, and Omaha—had a vast village along the Big Sioux River from 1300 to 1700 AD. The visitor center, opened in 2017, offers a glimpse of their lives and trading networks, which included ceremonial pipestone. Trails overlook the river valley and bronze shades of autumn prairie grasses.
Head north toward Big Sioux State Recreation Area and follow Split Rock Creek as it snakes east toward Palisades State Park, an idyllic stop on the way back to Minnesota.
The creek carved 50-foot cliffs and formations into the pink quartzite. Trails wind around Balancing Rock and to towering King and Queen Rock, a fittingly majestic sight to cap off an autumn getaway.
Where to Eat
Pheasant Restaurant & Lounge, Brookings
Start the weekend with Norwegian waffles or wait for lunch and dinner options, such as a smoky pheasant salad sandwich or a bacon-wrapped bison filet with a Wojapi sauce of raspberries, honey, and herbs.
The Market, Sioux Falls
Dine in with mushroom curry or blackened shrimp tacos or grab a bottle of wine with charcuterie and cheese for a picnic at the Falls.
Bread & Circus Sandwich Kitchen, Sioux Falls
Munch through a Lamb Philly or Naughty Fries drenched in pork chili verde.
Ode to Food and Drinks, Sioux Falls
Start the day with smoked salmon mousse on breakfast pizza and a San Francisco egg scramble, followed by Saigon noodle salad, a Guinness-brined pork chop, or ribeye with risotto cake for dinner. 
Where to Stay
South Dakota State Parks
Choose a campsite or stay in a camping cabin with a front patio at Big Sioux Recreation Area or Palisades State Park. campsd.com; gfp.sd.gov
Sioux Falls Hotels
Holiday Inn, Country Inn & Suites, and Hilton Garden Inn are downtown near the river. Watch for a new boutique spot, Hotel on Phillips, set to open by fall.
Where to Play
Strawbale Winery, Renner
Stop in the tasting room built with straw bales and Boundary Waters blowdown timber, or help with the grape harvest from 9 a.m. to 1 p.m., Sept. 14 and 21.
SculptureWalk, Sioux Falls
The country's largest annual public sculpture walk lines downtown with playful bears, musicians, and abstracts, numbering close to 60 sculptures, along with more than 30 permanent fixtures. The 70-foot-tall, 300-foot long Arc of Dreams, spanning the Big Sioux River, is expected to debut this fall.
Facebook Comments