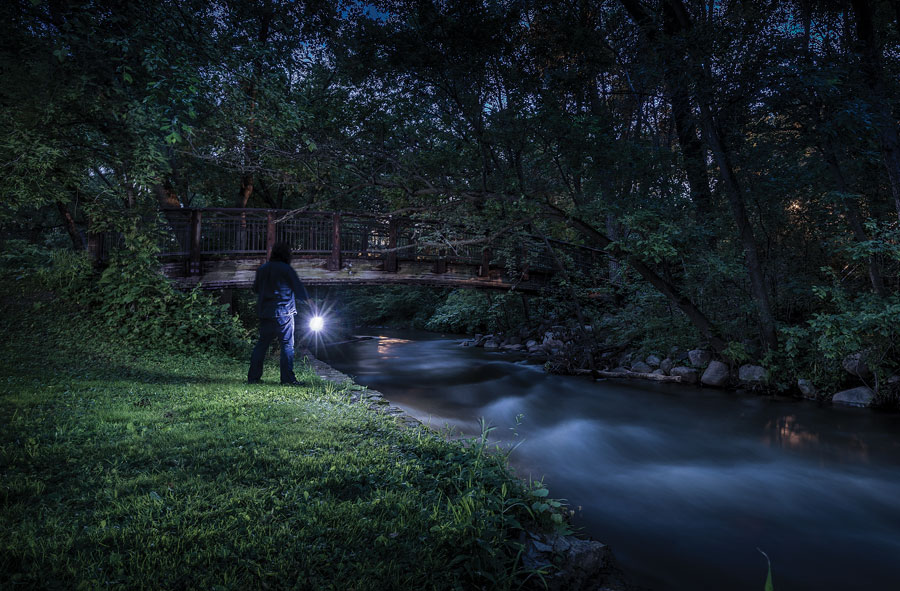 photo by david J. turner
---
When a divorced mother is found murdered inside her luxe Edina home, covered head to foot in the type of fuzzy dust that usually coats the inside of a vacuum cleaner bag, Nils Shapiro—the wise-ass Minneapolitan private detective of Matt Goldman's debut novel, Gone to Dust—joins a ring of cops inside the yellow tape to puzzle over Edina's first homicide in more than a decade. The crime is bizarre, but not so bizarre that Shapiro can't use the investigation as an excuse to culturally dissect one of Minnesota's most affluent suburbs. Regarding the grand piano in the victim's living room, he quips, "This was the kind of neighborhood where every parent makes their kid take piano lessons, but no parent wants their kid to be a musician."
Shapiro, the novel's snide first-person narrator, automatically zeroes in on anything less than pure. And so, Gone to Dust, published this month, brings Twin Cities neighborhoods to life in often unflattering ways. Shapiro searches for leads, for example, in "'prestigious' West Bloomington," so called by realtors and not "all that prestigious unless you liked McMansions." Sleuthing in Northeast Minneapolis, he notes, "You can't rent a place without showing two forms of ID and three tattoos." And visiting the swank Edina subdivision of Indian Hills, with streets named Dakota Trail and Blackfoot Pass: "The trails and passes could have been dubbed 'streets' and 'avenues,' but I suppose that would have diminished the illusion that Native Americans still wandered this land studded with 6,000-square-foot homes."
Tapping into a merciless sense of context, Shapiro rarely eases off regional satire—and for good reason. Goldman, a veteran stand-up comedian and Emmy-winning TV writer, grew up in Minnesota and moved back after 14 years spent honing his voice in Los Angeles, where he wrote for shows including Seinfeld, Ellen, and The New Adventures of Old Christine. It's become trite for critics to call a setting an essential character in an artist's work (and usually it's New York City), but you can't ignore Goldman's droll, deadpan take on the state. Whether it's during a precarious sprint to catch a suspect on a frozen Minnehaha Creek or as the Feds track Shapiro to the home of the original Jucy Lucy—Minnesota is all over this book.
For his part, Goldman didn't need to do much research. Raised in Mankato, New Hope ("a misnamed town if there ever was one," Shapiro asides), and St. Louis Park, Goldman showed symptoms of the comedian's curse, observing irony in everything—"more of a disease than research," he says.
But if snark comes naturally, he nonetheless dishes it from a place of love. He had friends who lived in Indian Hills, and he's fraternized with residents of West Bloomington. Basketball games at St. Louis Park High School taught him a play-hatred of Edina.
Starting his stand up career while attending the U of M, Goldman distinguished himself with cuss-free routines plying the same wry, oblique perspective as his book. He bypassed "What's the deal with airplane food?" and gunned instead for how he had to wear Toughskins jeans from Sears as a kid—self-eviscerating bits that landed him a writer's spot on Seinfeld.
LA, though, never felt like home. "There's a sense of community in Minnesota that's brought on by the weather, and the fishing opener, and the sports teams, and the arts," Goldman says. In 2000, he moved back, settling in the east Edina neighborhood where the dust-covered murder takes place.
"I didn't want to write what's called a 'cozy mystery'"
He got to know Edina, really, for the first time. When he started reading up on crime fiction—initially to move from half-hour sitcoms into hour-long crime dramas—he began flagging irony once again: something about the Twilight Zone juxtaposition of polite, well-to-do Edina and lurid, convoluted murder.
Then, one 11-below winter's day, knowing he wouldn't get TV work until spring, he started putting it to paper.
"I didn't want to write what's called a 'cozy mystery' that takes place in a small town with the same few characters," he says. Unlike Angela Lansbury's Cabot Cove—the murder-prone town that sets the provincial backdrop for Murder, She Wrote—the Twin Cities host enough cultural richness to flesh out a believable multi-book Shapiro series. "Minneapolis is like a small town," Goldman says, "but it's a major international city at the same time."
He points to the state's immigrant populations. In Gone to Dust, intrigue surrounds a call center staffed by Somali immigrants and owned by a white suspect who claims he's integrating the next Somali generation into the workforce. Goldman drew the idea from that Minnesotan sense of community combined with the state's reputation for business innovation—an example of our well-intentioned yet sometimes-tone-deaf Minnesota Nice. (Another plot point touches on Catholics and Lutherans competing over who can most warmly host a wave of Somali arrivals.)
Such layered conflict shows the state has more to it than people only familiar with Fargo might realize. For outsiders, Goldman's book opens a lace-curtained window into those contradictions. And in spite of—or thanks to—Shapiro's jabs, it's a source of fond recognition for those who know it.
"I hope, to Minnesota, it reads like a love letter," Goldman says.
Tough love, to be sure—but we can't all be nice.