Edward Sharpe and the Magnetic Zeros played to 5,000 at Surly Festival Field in 2016
photo by tony nelson
---
A few years ago, Surly owner Omar Ansari was upstairs at the craft beer company's Destination Brewery gazing out at the empty field on the property. "I think we can have a concert out here," he said to himself.
Following much anticipation, the 50,000-square-foot Destination Brewery space had just opened in St. Paul's Prospect Park neighborhood in 2014. A new facility supplementing their Brooklyn Center plant meant Surly—built on flavors that are unapologetically more bitter and hops-heavy than your typical pilsner—could up production from 10,000 to a projected 100,000 barrels of beer annually to meet overwhelming demand.
The new space also signaled the once-fringe brand's intention to create deeper experiences for an increasingly mainstream Surly Nation fanbase. Along with the Destination Brewery's 1,000-person capacity Beer Hall for guzzling Furious, Cynic, and other signature brews came a dining empire, featuring an acclaimed barbecue menu, as well as adding the Pizza Upstairs restaurant, with pies named after characters from '80s movies.
As for Ansari's concert daydream? It became a runaway success in 2016. Surly partnered with Minneapolis concert haven First Avenue to bring marquee national music acts to what is now known as Surly Festival Field, starting with L.A.-based indie-folk collective Edward Sharpe and the Magnetic Zeros, whose hit "Home" has been featured in ads, on TV, and in movies.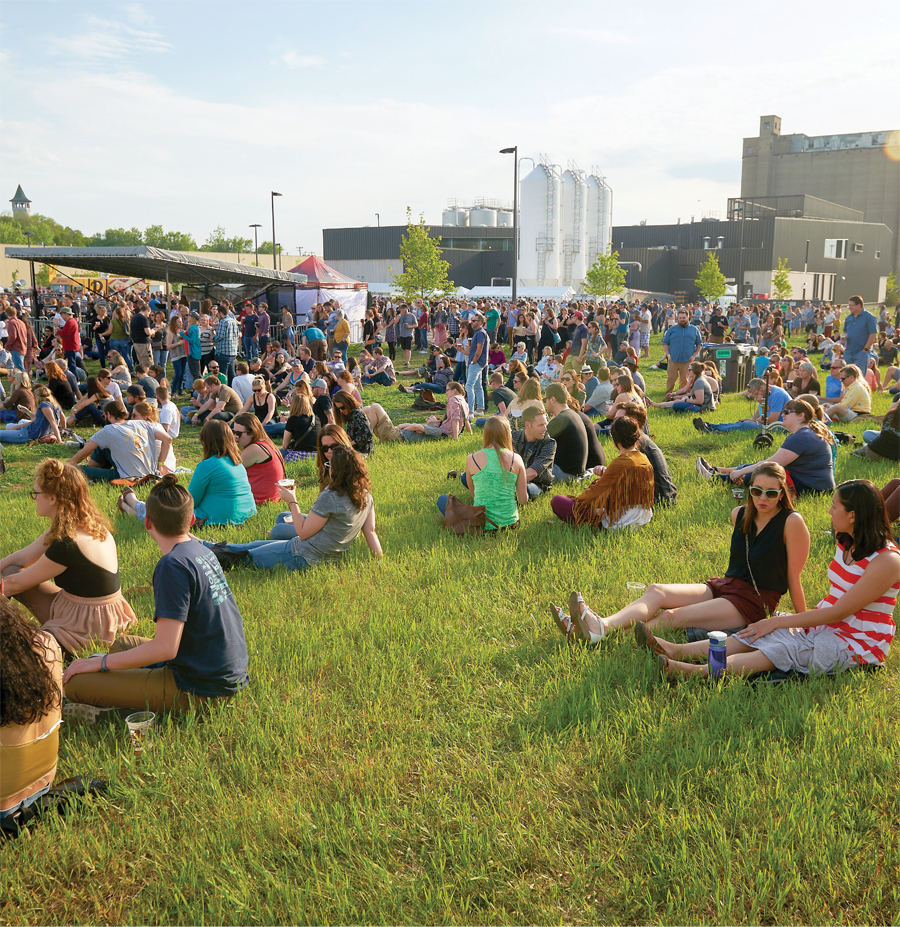 Surly Festival Field is now one of the top Twin Cities music venues
photo by tony nelson
---
During that sold-out concert, which was attended by about 5,000, Ansari recalls, "A friend of mine who goes to a lot of shows turned to me and said, 'This is one of the best venues in the area now.'"
With that capacity, the Festival Field space is also one of the largest spots not home to a sports team to see live music in the Twin Cities. Philadelphia psych-rock band Dr. Dog also played in 2016, and singer-songwriter Father John Misty performed last year. This year's lineup of indie rockers Spoon and Grizzly Bear (June 30), experimental synth-pop duo Sylvan Esso (July 20), Australian breakout star Courtney Barnett (July 21), and blues guitarist Gary Clark Jr. (September 8) is the most extensive to date.
At these shows, the beverage of choice will be +1, a new golden ale extending the First Avenue-Surly collaborative spirit even further. "We always had a lot of friends over at Surly, and they've always been a real music-driven brand," says First Avenue general manager Nate Kranz. "When we started doing higher-profile concerts down at the brewery, it deepened the relationship, and the familiarity made it easier for us to do +1."
The product is also available at First Avenue and its affiliates—the Turf Club and Palace Theatre in St. Paul—and has distribution in local liquor stores and in eight states, plus Manitoba. Through taste tests involving both Surly and First Avenue management, they developed something "highly drinkable that would be good to have more than one, and enjoy at a concert," Kranz says.
Over this same time period, Surly's beer business has soared. It is now the third-largest craft brewing company by sales volume in Minnesota—behind Schell's (founded in 1860) and Summit (founded in 1986)—and the 49th largest in the nation.
When original brew partner Todd Haug left two years ago to join a brewery in Illinois, some of the flavor profiles changed, but the enthusiasm to discover and refine new ones remained. This year, 23 new seasonal, specialty brews will hit stores, and even more concoctions are always rotating on the 30-plus taps at the Destination Brewery.
As any cult favorite grows, there are the accompanying challenges. The rabid popularity of Surly's yearly release of limited-edition Russian imperial stout Darkness spawned a Darkness Day event—featuring music, food, and lots of beer to both sip and save for later—that has already outgrown what the Brooklyn Center plant, in an industrial park, could accommodate.
On September 28-29, the event will be held at Somerset Amphitheater in Wisconsin, and the press release headline stated "Remain Calm." Somerset offers onsite campgrounds and both on- and off-sale liquor licensing, so people can drink at the event and take some beer home.
"Some people were upset because change is always nerve-racking and stressful," says Surly's senior events and brand experience manager Andrea Graham. "And then we have other people who were super pumped and super excited about the conveniences of the new venue, and how it was easier to get to, park, camp, and just less stress in that way."
You can see the sassy responses on the Facebook post still—"Wisconsin? Really? Ugh."—but for the folks behind the scenes, the change needed to happen.
"We wanted to give people a spot to camp and be pretty safe," Ansari explains. "We didn't want to move it out of Minnesota—that's where we started it—but at some point you take opportunities that seem to make for a better event, better experience, for our fans."

Surly's new First Avenue collaboration beer
photo by Darin Kamnetz
---
Experience is the tie that binds Surly's wide variety of current brew event partnerships. Along with the First Avenue collaboration, they're also working with Minnesota United (Rising North Pale Ale), retired Twins pitcher Glen Perkins (Kut Down IPA), Fair State (Obscurity of Purpose IPA), Lord Fletcher's (Mango Axe Man), as well as breweries in Iceland and Florida.
"One of the greatest differences between craft beer and macro beer is the nature of collaborations," says Surly senior marketing manager Holly Manthei. "It's the fabric of what craft beer was built on. This camaraderie that craft beers have with one another. Sharing information, sharing hops, or sharing processes, etc. It's at the core of what craft brotherhood is all about."
So, for Minnesota's third-largest brewery—still a far, distant cry from the 500 million-plus barrels industry goliath Anheuser-Busch InBev produced worldwide in 2017—growth hasn't impeded the ability to create and maintain an identity unique to the local market. If anything, the goal is to double down on it. So, what's next?
"Instead of always scrambling on what's going on this week, we've actually done planning for this year and some for next year, which for us is an unbelievable change," Ansari says. "I can't say, 'Here's the next big piece of the five-year plan.' The brewery is at its max in the summer, so a lot of it right now is keeping the balls in the air."
---
Digital Extra: Liquor Legislation
To honor the summer of Surly, brush up on what it meant for the state's third-biggest brewing company to pass the "Surly Bill" into law back in 2011.
Facebook Comments