Kulap Vilaysack travels from L.A. to Minnesota to Laos to find herself in documentary Origin Story
photo by jonathan nicholas
---
The 2018 twin cities film fest takes over St. Louis Park's ShowPlace ICON Theatres from October 17-27 and features a wealth of incredible stories. Two local debuts on this year's program have scenes filmed right here in Minnesota, but that's where the similarities end. Origin Story is a documentary-style narrative about finding one's identity, and Strange Nature is a thriller featuring mutated frogs based on real-life pollution here in the state. Read on to learn about the filmmakers, who both possess strong perspectives and Minnesota ties.
Origin Story
Saturday, October 27, 10 a.m.
When Kulap Vilaysack was 14 years old, she found out a terrible secret. Her parents were having an argument in their Eagan home, and Vilaysack took her father's side. Angry, her mother told her that the person Vilaysack thought was her father wasn't her biological dad. The news was devastating, and Vilaysack never really processed that revelation until she was 33, when she decided to make a documentary about it, Origin Story.
The emotionally raw film, which premiered earlier this year, follows the Los Angeles-based actor, comedian, and writer through a journey of self-discovery. Interviewing her parents and other family members, Vilaysack opens old wounds, interrogates long-held secrets, and experiences profound epiphanies. She even travels to Laos, the place from where her mother and birth father escaped as refugees during the Secret War, a proxy war that happened there during the Vietnam War era.
Vilaysack eyed other forms of storytelling before settling on a documentary. She considered a one-person play, or writing a book where she could hide names and make embellishments. "Something locked in for me when a friend of mine—the brilliant director Lance Bangs—came over to my house and interviewed me for this series for Vice called 'Young Americans,'" Vilaysack says. Bangs didn't have a crew—instead he was kind of a one-man band. She realized making a film didn't have to be a huge production.
Bangs became a mentor to Vilaysack as she began. She also reached out to others she knew in L.A., asking questions and favors. Learning to make a film as she went along was kind of like building an airplane while it's in the air, she jokes.
To help tell the story, Vilaysack employs graphic-novel images, illustrating the moment that started it all when she was 14. In some ways, the film's title, Origin Story, alludes to the classic "origin story" trope of many comic books. "I knew I wanted to integrate art into the film, especially in thinking about the past," she says. "I wanted to have some sort of vibrant representation."
It makes sense, because Vilaysack is in fact a comic-book character, or at least her likeness is. Four years ago, artist Gail Simone created a DC Comics superhero in the image of Vilaysack. The character is named Katharsis, and she appears in Batgirl and as part of a team of vigilantes in the DC title The Movement. Katharsis also makes an appearance in Origin Story.
"The moment when I found out my dad is not my real dad—that, for me, is my origin story," Vilaysack says. "That's where I think things turned around and took a different direction for me—who I am, and the relationship with my parents. This documentary is sort of a record of me finally exploring that moment, and leads me to my present."

Horror movie Strange Nature features Minnesota's real-life deformed frogs
Photo by Strange Productions, LLC
---
Strange Nature
Friday, October 19, 9:35 p.m.
Filmmaker Jim Ojala was attending Duluth Central High School in the 1990s when he saw something curious on the news: malformed frogs found in Minnesota lakes. The first report came in 1995, when schoolchildren in Le Sueur found such frogs in a restored wetland close to the Minnesota River. Then similar stories followed from around the state. Scientists at the time were baffled. Some had missing eyes, others had missing or extra limbs, and some had problems with their internal organs. "It was just so bizarre," Ojala recalls.
As a filmmaker years later, Ojala kept thinking back to the frogs. "I found this was an awesome set-up for a film—for an ecological thriller," he says. Now complete, that thriller, starring the mutated frogs, is Strange Nature.
The movie is fictional horror—it depicts a single mother and her 11-year-old son in a small town facing malformations that spread beyond bodies of water—but behind that lies a serious message about the environment. "To this day, we don't even know what causes most human birth defects, let alone what started a deformed frog phenomenon 20 years ago," Ojala says.
Ojala left Duluth 18 years ago to get started in the movie business as a makeup and special-effects artist. He interned with Troma, a production company out of New York known for the Toxic Avenger sci-fi movies, and quickly moved up in the field, becoming a special-effects assistant for film, television, and Broadway projects. After 9/11, Ojala and his wife, Beth Meadows, who is also in the business, moved to Los Angeles, where Ojala worked on films such as Buffy the Vampire Slayer and Where the Wild Things Are.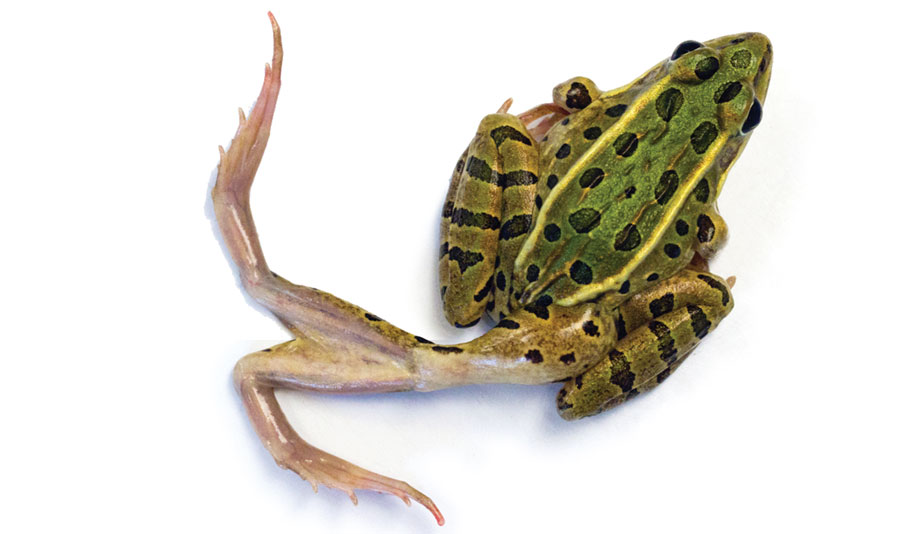 photo by jeremy monroe
---
In the works since 2003, Strange Nature has been somewhat of a tortuous journey for Ojala and Meadows, who also acts in the film. Funding hit many obstacles, but after a crowdfunding campaign, Strange Nature started filming in the summer of 2014. (They secured additional funding through the state's Snowbate program and the Iron Range Resources and Rehabilitation Board.) Ojala and Meadows were joined by Minnesota-based producer Jessica Bergren, who helped with location scouting and logistics in Minnesota before the L.A. team flew in for filming.
"I was boots on the ground in Minnesota looking for locations," Bergren says. Initially, they were scouting mostly around Duluth,   but Grand Rapids native Bergren went home for a few days and realized that area had everything the film needed.
One filming highlight was Mike's Bar, in a town called Bovey. "The mayor owns the bar and they just threw up some cones—they just blocked off the whole stretch for us," she says.
Shooting in Duluth and the Iron Range created opportunities for local folks to work on the film, and provided an economic boost to those communities. "I knew enough to spend as much of our money in those local areas as possible," Bergren says.
Meanwhile, state funding for the Minnesota Pollution Control Agency's research into the causes of the deformed frogs ceased in 2001, and independent research since then hasn't yielded a concrete cause. (Though popular theories point to chemical contaminants or parasites.) "Look, this isn't something crazy I made up," Ojala says. "We're stemming from a real thing that's still going on, and we don't know where it's going to lead."
---
Digital Extra: Something in the Water…
Look behind the scenes of Minnesota native Jim Ojala's horror movie about the real-life phenomenon of deformed frogs developing in local lakes, debuting at the Twin Cities Film Festival this year.
Facebook Comments