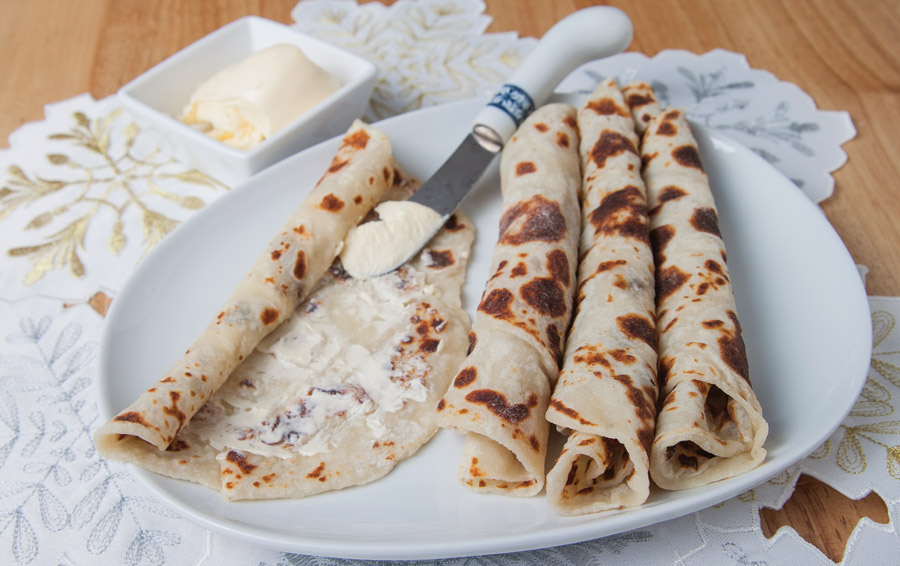 photo by al kerk
Lefse is the traditional Norwegian flatbread typically enjoyed during the holiday season, and not just the Scandinavians among us can make and savor it. Gary Legwold, lefse aficionado and author of The Last Word on Lefse, shares tips to keep in mind.
Perfect Lefse is a Myth. "Don't be hung up on perfection," Legwold warns those who are new to making lefse. "People tend to remember their grandma making perfectly round, perfectly soft lefse, but it probably wasn't, at least not every time—only the ones she served."
 
Don't Obsess Over Equipment. Fancy gear doesn't guarantee glorious lefse. "Lots of people collect turning sticks—long, thin paddles used for flipping lefse. They're beautiful, but they aren't essential." Legwold says you can actually use a yardstick with a beveled end instead.
 
There's Only One "Show Side." Every round of lefse has what Legwold calls a "show side," with beautiful brown bubble markings from the hot griddle. The first side of the lefse that hits the griddle will not be the show side, so undercook it to retain moisture. Flip the lefse to the second side, and lefse's attractive signature markings appear.
 
Create a Lefse Sanctuary. Legwold likes to wake up early, when his house is still and quiet, to make lefse for his family's big holiday meal. "Slow down when making lefse," he says. "Be present with the task. Making lefse can be a sanctuary from all the holiday hullabaloo."
 
Remember the World Record Lefse. In July of 1983, a team of nine Scandinavians in Starbuck, MN, made a batch of dough using 30 pounds of potatoes, 35 pounds of flour, 1 pound of sugar, 1 pound of powdered milk, and 4 pounds of shortening. They flattened it using a 12-foot roller and cooked it on a 10-by-10-foot steel grill, creating a lefse round that was roughly 9-foot-8-inches by 9-foot-1-inch. You can handle a mere 10-incher!