Just in time for the weather to feel more like fall, football season is here. The Minnesota Vikings open the season at home Sunday against the Tampa Bay Buccaneers.
U.S. Bank Stadium has many options for fans, including tons of small local businesses, but let's be honest—the tailgate is where the eating action really lives. I've assembled a list of restaurants within walking distance of the stadium that never, ever miss wide left. (Sorry for the Blair Walsh reference.)
Near U.S. Bank Stadium
Hotel Emery/Giulia has always been my sneaky pre-U.S. Bank Stadium suggestion because it's such a close walk, but now they're trying to make it less of a hidden gem. They're branding the pre-game experience "The Warmup Beer Garden"—three hours before kickoff, it's an open tailgate with live music, giveaways, and great food. Grab a beer or a Lovejoy's Bloody Mary and get a brat or double smash burger, Chorizo Breakfast Tacos, or some wings. They'll have raffles, too, with tickets and hotel stays. The money benefits Secondhand Hounds, an awesome local nonprofit animal rescue.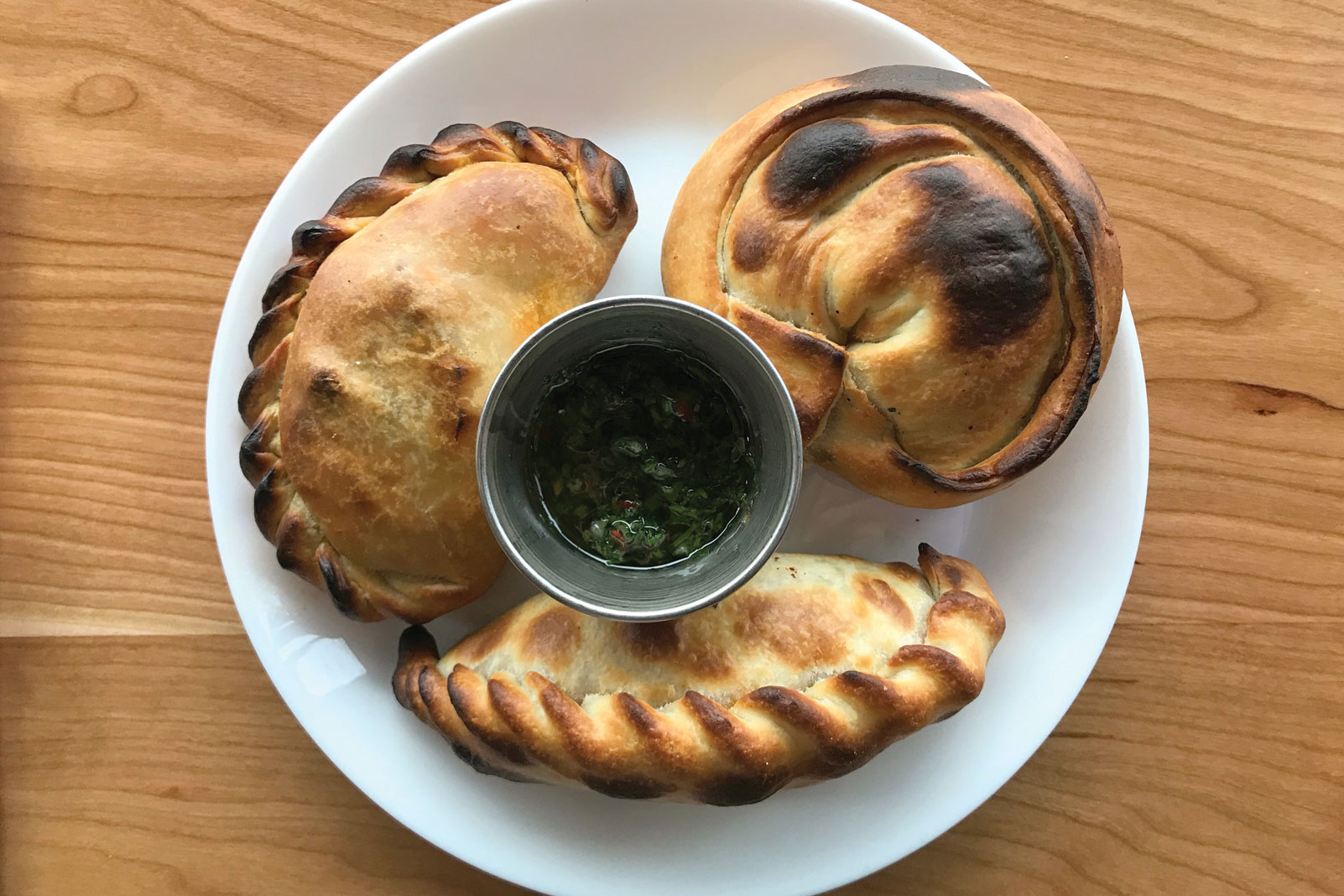 These Argentinian pizzas and empanadas are always a touchdown in my book. In the shadow of U.S. Bank Stadium, Boludo opens at 10 a.m. on noon game days. They have an awesome patio that seats over 50 people, a full liquor license, and a ton of room indoors too.
Open at 8 a.m. on the Vikings' noon game days, otherwise open at 11 a.m., Day Block has great food and a fun vibe within eyesight of U.S. Bank Stadium. Known for interesting pizzas—but Day Block's gameday menu is much more expansive.
Opens at 9 a.m. Why wouldn't you want to choose among 243 hot sauces for your Jacked Up Bloody Mary? The bloody and mimosa bar is 35-feet long, with more meats, cheeses, peppers, salts, and olives than you could ever need. But man is it fun! $10 for a classic if you want them to do the work, $17 for the bar. You deserve it!
A more chill option within a 15-minute walking distance, Hen House has classic breakfast fare as well as incredible bars and cookies if you want a pre-game treat. Opens at 7:30 a.m.
A casual French bistro, if a gorgeous Bordeaux is more your idea of pregaming. Chloe isn't usually open for Sunday brunch, but on game day they will be. Make a reservation with a $25 cancellation fee, and then enjoy a limited brunch menu designed to get you out the door in time for the game. Just two blocks from U.S. Bank Stadium.
Tom's has become the official sports bar of Minneapolis, with about a million TVs. This is a great option if you want the communal fan experience without a ticket to the game. It's a 15-minute walk to the stadium if you're going.
There's 8 a.m. Sunday brunch, about 30 minutes to walk to the stadium. Avocado toast, breakfast fried rice, and chipotle sweet potato hash are among my favorites.
Breakfast starts at 8 a.m. on Sundays at this North Loop mainstay. Huge patio. It's a 30-minute walk to the stadium. I love the breakfast gnocchi, walleye-shrimp cake Benedict, and shareable monkey bread.
Post-Game
Show your Vikings ticket stub, get a BOGO drink. Good for game days only.
Show your Vikings ticket stub, get a BOGO Old Fashioned. Good for game days only.
Baller Brunches
Manny's Game Day buffet goes from 9 a.m. to noon, $50 for adults, $20 for kids, plus $15 for valet parking for the day. Park, gorge, walk to the game. 
Town Hall Brewing has awesome beer and very underrated food. This is right across the highway from U.S. Bank Stadium with a parking ramp at Seven Corners, too. So park, do the all-you-can eat brunch for $22 that includes a drink from 9 a.m. to noon on the Vikings' noon game days, and thank me later.