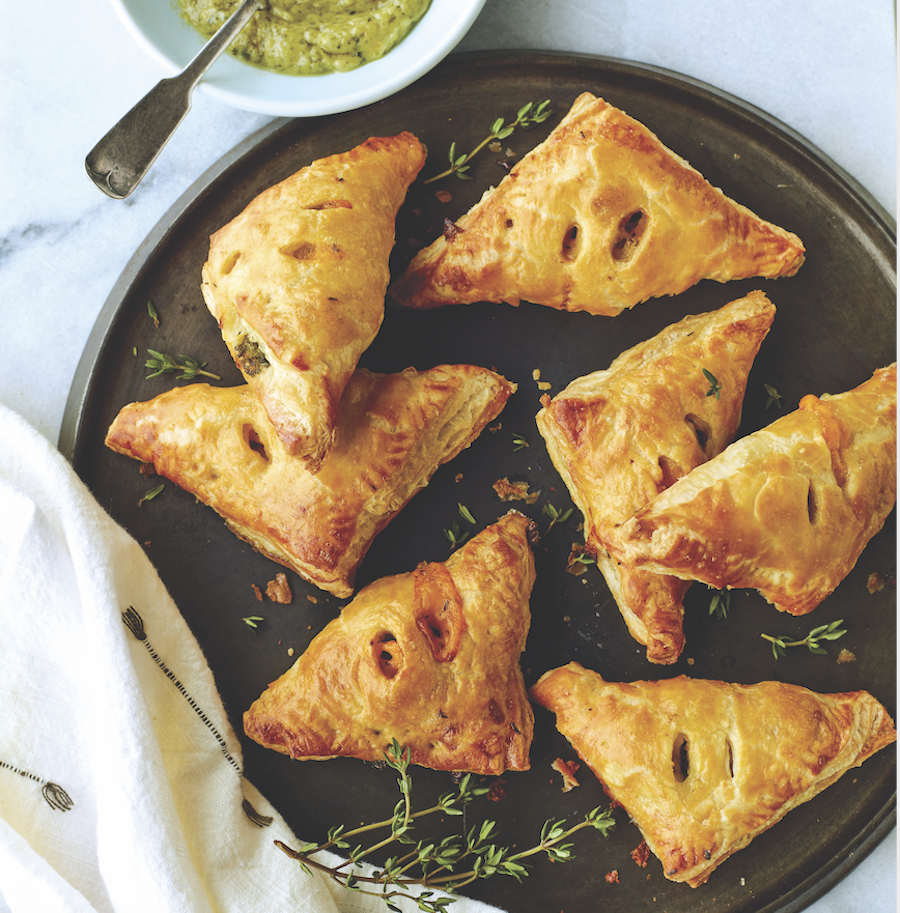 Bring a welcome flavor combination to the table this season, whether you're hosting or looking for a bite to share. Broccoli, cauliflower, and cheddar is one of the most delicious—and also kid-friendly—combos you will find, and putting them into puffy, golden brown tartlets makes them a surefire family-pleasing treat, say Twin Cities chef and cookbook author Robin Asbell, who created this recipe for Real Food. If you want to skip chopping, you have the option to use frozen vegetables, and there are three optional dip recipes. Puff pastry makes this very easy; you can even make the vegetable filling a day ahead of time and assemble them on the day of your party. If you aren't cooking for vegetarians, you can chop a slice of ham to add to the filling, notes Asbell.
Also, scroll down for a roundup of 10-plus recipes for dips, meatballs, and more to round out the spread of appetizers at any party throughout the season.
Broccoli and Cauliflower Tartlets with Cheddar
Makes 9 Servings
1 tablespoon extra-virgin olive oil
1 large onion, chopped
1 cup chopped broccoli, fresh or frozen and thawed
1 cup chopped cauliflower, fresh or frozen and thawed
1 teaspoon dried thyme
½ teaspoon salt
½ teaspoon black pepper
½ cup shredded sharp cheddar cheese
Flour, for dusting work surface
1 sheet puff pastry, thawed
1 large egg, whisked with 1 tablespoon water
Heat the oven to 400°F. Line a sheet pan with parchment paper and reserve. Gather a pastry brush, a cup for the egg wash and a fork for sealing the tartlets.
In a large sauté pan, warm the olive oil over medium-high heat for a second, then add the onion. Stir until it starts to sizzle, about 2 minutes. Reduce the heat to medium-low and stir occasionally for about 5 minutes. Add the raw broccoli and cauliflower, thyme, salt, and pepper and stir, then cover the pan for 5 minutes. (If using frozen broccoli and cauliflower, pat dry and stir into the onions, then remove from heat.)
Uncover the pan and test for doneness by piercing a piece with a paring knife. The veggies should be tender; if not, stir and cook a few minutes longer.
When tender, scrape the veggies into a bowl to cool. When cooled to room temperature, about 10 minutes, stir in the cheddar cheese. Reserve. (You can prepare the recipe up to this point and refrigerate, tightly covered, for up to 2 days.)
To make the tartlets, lightly flour a counter and place the puff pastry on the flour. Lightly dust the top with flour and use a rolling pin to form it into a 12-inch square.
Cut the dough into 9 pieces by dividing in three even slices and then slicing those into three even squares.
Brush the egg wash over the puff pastry squares, then place a rounded tablespoon of filling into the center of each square.
Fold each square over the filling, corner to corner, to make a triangle. Use a fork to seal the border of each tartlets, and poke a hole in the top of each one. Transfer to the prepared baking sheet, with an inch between the tartlets. Brush the tops with remaining egg wash.
Bake for 20 minutes, until puffed and golden. Serve hot.
Cook's Note
The tartlets are delicious on their own, but you can offer a dipping sauce for a splash of color and flavor. Dips can be served at room temperature.
Basil Aioli: Combine ½ cup mayonnaise, 2 tablespoons prepared pesto and 1 tablespoon extra-virgin olive oil in a small bowl and stir until mixed. Serve as a dip.
Honey Mustard: Stir together ¼ cup honey and ¼ cup Dijon mustard.
Red Pepper Dip: In a food processor, place 2 jarred roasted red peppers (drained and patted dry) 2 tablespoons pine nuts or almonds, ½ teaspoon paprika, and ½ teaspoon salt and purée. Add 2 tablespoons red wine vinegar and 1 tablespoon extra-virgin olive oil and purée, stopping and scraping the sides as needed until smooth.
Nutrition info Broccoli & Cauliflower Tartlets with Cheddar Cheese (no sauce) Per Serving: Calories 213; Fat 15g (Sat. 4g); Chol 27mg; Sodium 255mg; Carb 16g; Fiber 1g; Added Sugars 0g; Protein 5g
Hungry for More?
Here is a roundup of appetizers and light bites I have highlighted for various occasions here, but they can also work for any get-together:
Bacon-Wrapped Brussels Sprouts and Spiced Caramelized Nuts Recipes
These simple yet sumptuous appetizers are sure to win the "best bites" category at your party.
Crab Cakes with Old Bay Remoulade Recipe
These crab cakes dish up Mid-Atlantic shore flavor for an elegant appetizer or light dinner.
Antioxidant-rich pomegranates provide unique juicy flavor for snacking or in these recipes from appetizers and salad to dessert—plus tips for opening.
Looking for an appetizer for the rounds of merrymaking or a light meal? Pears and cheese are natural partners to begin with, but the marriage is much livelier if you add heat, both from chilies and from the oven.
Beef and Bacon Meatballs in a Bacon-Flavored Barbecue Sauce Recipe
Bacon. Bacon in meatballs. Bacon-y barbecue sauce atop said meatballs. Need we say more? These tasty little gems by meat expert Bruce Aidells make an ideal appetizer—for meat-eaters.
These easy-to-make exotic-flavored meatballs (also by meat expert Bruce Aidells) work equally well atop rice for a main dish or as hors d'oeuvres—with optional green curry or Asian dipping sauce.
5 Globally Spiced Meatball Recipes
Roll out delicious takes on the ever-popular savory spheres.
Take a Dip: Classic Smooth Hummus Recipe with Variations
Enjoy a traditional hummus blend or easily change it up with peppers, sun-dried tomatoes, and more
Take a dip into a surprising, protein-rich sweet companion for fruit and more
Mediterranean White Bean Hummus Recipe
A different savory dip for veggies, crackers, or bread will be a welcome change of pace in this season of sweets.
Facebook Comments