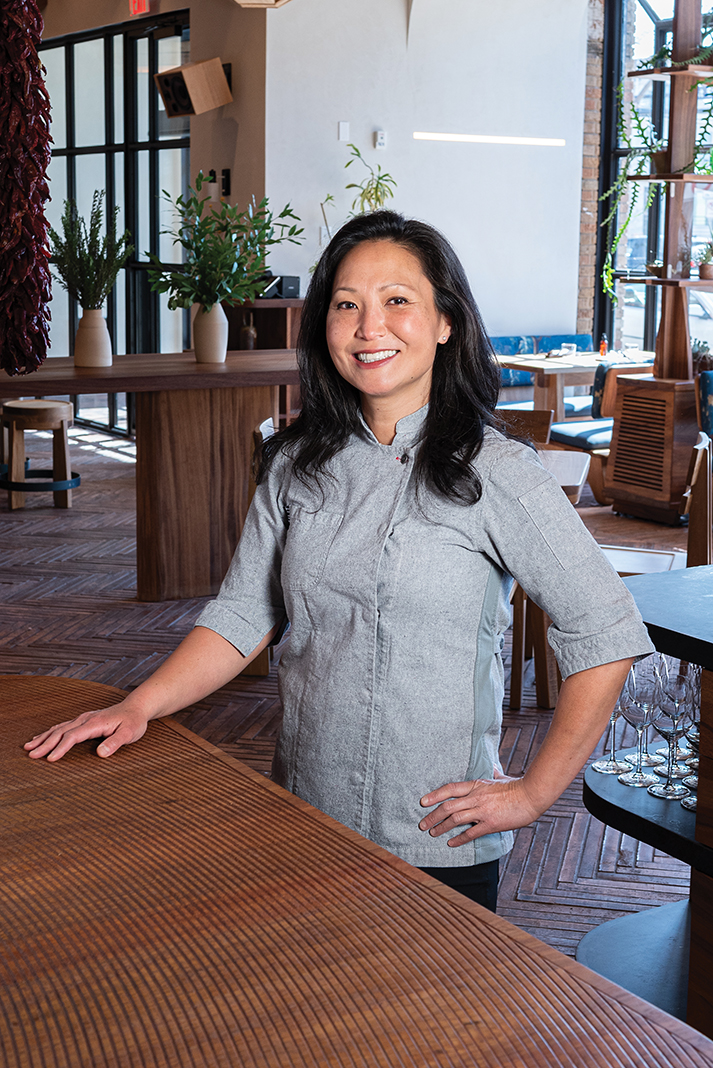 Ann Kim is taking a sabbatical. Let that sink in. The Type-A, always achieving, James Beard Award-winning chef behind Pizzeria Lola, Young Joni, Hello Pizza, and newly opened Sooki & Mimi is taking a sabbatical. She got national love for urging people to "F*** fear" at the Beard Awards, and she showed her fearlessness at her newest restaurant Sooki & Mimi. I reviewed it, calling her food "bold, courageous" and "inventive." It's great. All of her spaces are great.
She broke the news on Matt Gundrum's Food Under Fire podcast, where the host opened the show talking about his own struggle with how he defines himself and how he finds inspiration. Then she let it drop that she herself was struggling, and was planning on taking some time away.
Some of what she told Matt: "I really was not loving what i was doing anymore."
"I felt like I was just going going going to survive. To keep the restaurants afloat. To keep as many people employed as possible."
"Now it's time to step away from that so I can find that joy again."
"I just need breathing space."
I reached out to Ann to learn more. "Honestly, I didn't plan on sharing any of this with Matt Gundrum, but he started the podcast about being scared and anxious about making a big change in his life. So it was spontaneous and felt natural at the time to share the idea of my sabbatical with him," she says. "I'm still figuring out the details—I don't know when or how long of a break I will take."
Frankly, the issues Ann talks about resonates a lot with me, as I'm sure they do with many of you. A lot of us who are Type-A are constantly moving and grooving in a process that can seem like it's more about staying in perpetual motion rather than achieving any sort of creative growth or success.
"I personally just need some time off after 11-plus years of going, going, going," she says. "The last 15 months have been the most difficult of my life, yet some of my most rewarding work has also come out of this challenging time. Although the past year gave some people the opportunity to take time to reassess their lives, the pandemic forced me to go into overdrive 24/7 because my livelihood and the livelihood of my staff depended on it. It was a heavy burden to bear."
Indeed. Ann said she's really looking at it as a form of extended vacation. "I have no intention in leaving the business or my role as owner/chef. To be clear, I'm fine and nothing is wrong. As a matter of fact, in some ways things have never been better for our organization and possibly the perfect time to take a break," says Kim.
Indeed, each restaurant has a strong management and culinary team, and her overall organization Vestalia Hospitality has had a strong focus on mental wellness. "This really isn't newsworthy in my humble opinion," she says.
And perhaps that would be true in some other countries around the world. Taking an extended break is a luxury that only college professors and people working for fancy marketing firms seem to get. Perhaps this should be more commonplace, and perhaps seeing one of our most decorated chefs taking a step back will inspire the rest of us to think about what really motivates us.
"If my decision normalizes the idea of taking a sabbatical for people wired like me, then I'm happy," she said. We're all cheering for Ann to have some space to find the creative inspiration and inner joy she needs.
Facebook Comments