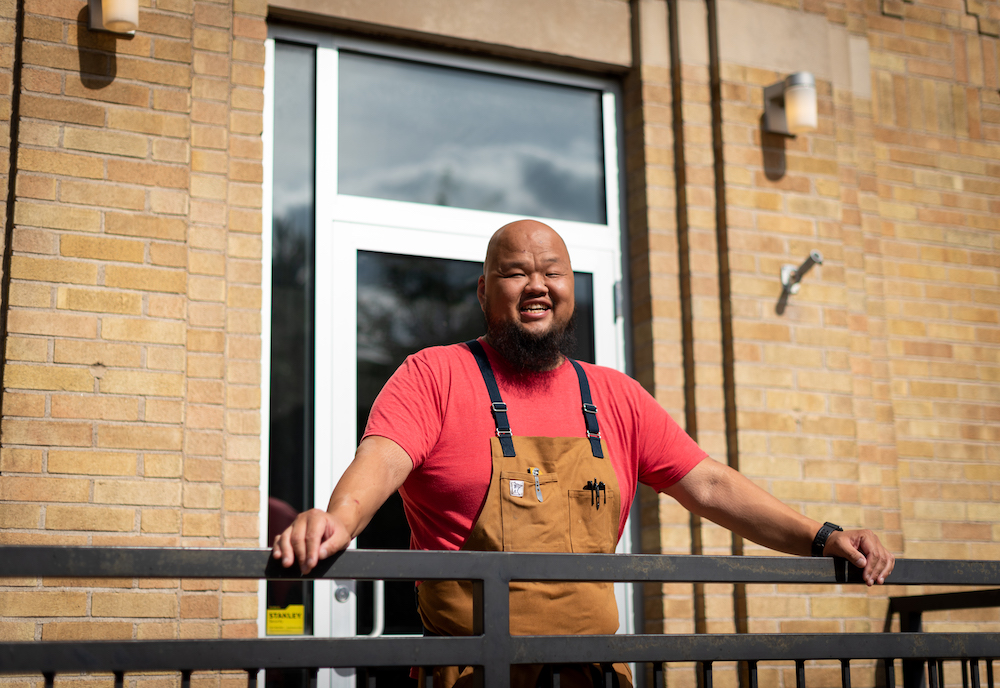 Say goodbye to Republic, at least for now, and hello to a temporary takeover by Union Hmong Kitchen. Chef Yia Vang is currently building out a new location in northeast Minneapolis for his restaurant Vinai, and Matty O'Reilly has been trying to figure out how to keep his terrific beer bar near 7 Corners and the U of M viable in a time where faculty members and law students aren't really coming to campus.
"This partnership just makes me happy," said O'Reilly in a statement. "It's a true win-win, giving Yia and his team an indoor location, and providing us with positive momentum and fresh perspective until patio season returns again."
Union Hmong Kitchen at Republic sounds like what would happen if the UHK truck crashed into a gastropub. "We are really excited to be a part of the Republic tradition of a great bar serving great food," Vang said. "This is a chance for us to come together to weather the winter and the effects of Covid; to prop each other up in tough times and all come out stronger on the other side. This isn't about a single restaurant surviving, it's about us joining together to help each other make it."
What should you expect? Full dinner service for dine-in (at whatever limitations are set by the state for COVID), and a robust takeout operation. You'll see Khao Poon Noodle Soup, Hmong Hot Dish, the popular Fried Chicken Sandwich from the truck, in addition to a daily Pho special. This does mean that the Union Hmong Kitchen trailer at Sociable Ciderwerks is coming to an end as well.
"We're excited to move into a larger kitchen, which gives us room to grow and experiment. In addition to expanding our Union Hmong Kitchen specials, we'll cook our unique take on classic Minnesota bar food to pair with Republic's awesome beer selection—items like spicy chicken wings and a special burger. We're keeping Republic's famous french fries—now just serving them with cilantro aioli!" Yang said.
The other amazing part of this situation is that the Republic team continues to manage the front-of-house, so Vang and his culinary team can focus on the food, and O'Reilly can focus on running a restaurant. Yes, that means the absolute rockstar best beer program in the city will stay sharp as ever, as does the cider and cocktail program. "This makes it an even better marriage of talents," O'Reilly told me.
Republic also has a treehouse balcony which people can reserve for private dining, picture one of Yia Vang's Kamayan Feasts up there (a communal Filipino meal served on banana leaves and eaten by hand). The larger kitchen will also be the base for a launch of Vinai Gatherings, a catering operation from Vang and Chef Marshall Paulsen, formerly of Birchwood Cafe. Boxed meals for social distancing, picnics, webinars, and family-style meals for weddings and special events. Vinai will open in 2021, and the whole operation will move to Northeast Minneapolis. But this winter will be a little warmer—knowing that Republic will live to fight another day, and we'll all be enjoying Vang's delicious food before the snow starts to fly.
Union Hmong Kitchen at Republic, 221 Cedar Ave. in Minneapolis, MN​​​​, unionkitchenmn.com
Sunday-Thursday from 11 a.m.-8 p.m., Friday and Saturday 11 a.m.-9 p.m, with bar open until 10 pm every night.
Facebook Comments