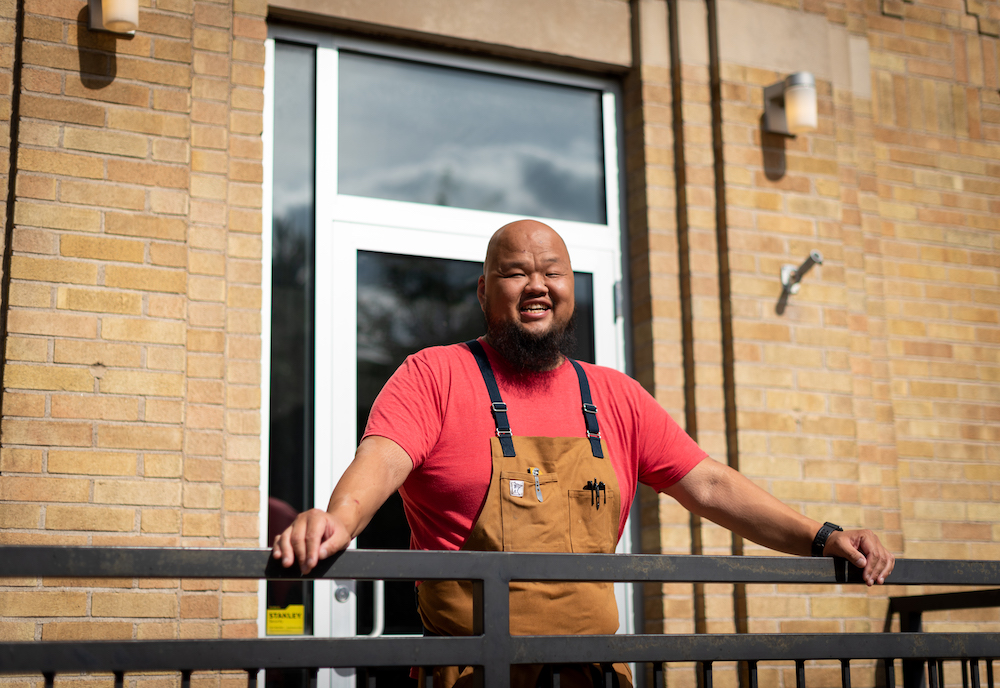 Chef Yia Vang has won over many Minnesotans with his brand of Hmong cooking, and excitement built when he announced details of a brick-and-mortar restaurant, Vinai. But the Kickstarter campaign for the new spot, which raised $97,000, didn't have a location attached. Until this week.
In the spring of 2021, Vinai is set to open in a brick structure built in 1933, which originally housed Fleischmann's Malting, in northeast Minneapolis' Bottineau neighborhood. The restaurant gets its name from the refugee camp in Thailand where Vang was born. Christian Dean Architecture (Upton 43, Colita, Kado No Mise, Kaiseki Furukawa, Headflyer Brewing, Quang) is updating the space this fall, including a woodfire grill that will be a central feature.
The spot, 1717 2nd St. NE, is a few blocks west of Vang's Union Hmong Kitchen trailer at Sociable Cider Werks, and even closer to Young Joni, Hai Hai, and more featured dining destinations of the area. Some select favorites of the Union Hmong Kitchen menu will live on at Vinai, but the residency is expected to continue at Sociable as well.
Union Hmong Kitchen was named one of Minnesota Monthly's top options for global cuisine, and food editor Jason DeRusha has raved about it as well.
Birchwood Cafe vet Marshall Paulsen will work with Vinai in an operations role, to help source local ingredients, and build a progressive work culture. "These principles have always been important to us, but now we can give them life," Vang says in a press release, adding: "In Marshall, we have someone who has helped bring change to the whole system.
"Marshall and I met a few years back and have had the chance to collaborate on some great things—we did a fundraiser for Urban Roots together, and we've been good friends ever since. We geek out on a lot of the same stuff, so collaborating is a blast. I'm so excited to work with him as we create this place I've dreamed of for so long: a true home that will honor the past, present, and future of Hmong cooking."
Due to COVID-19, takeout will be a featured element along with spaced-out indoor/outdoor space, but a communal table is part of the long-term vision. Says Vang in the press release: "Vinai, the camp where my parents met and where I was born, was a symbol of hope for refugees, and now for me, the restaurant has become a symbol of hope for all of us—my team, our staff, our friends. We will come out on the other side of this thing, and I can't wait to see people sitting together, sharing meals again."
Facebook Comments