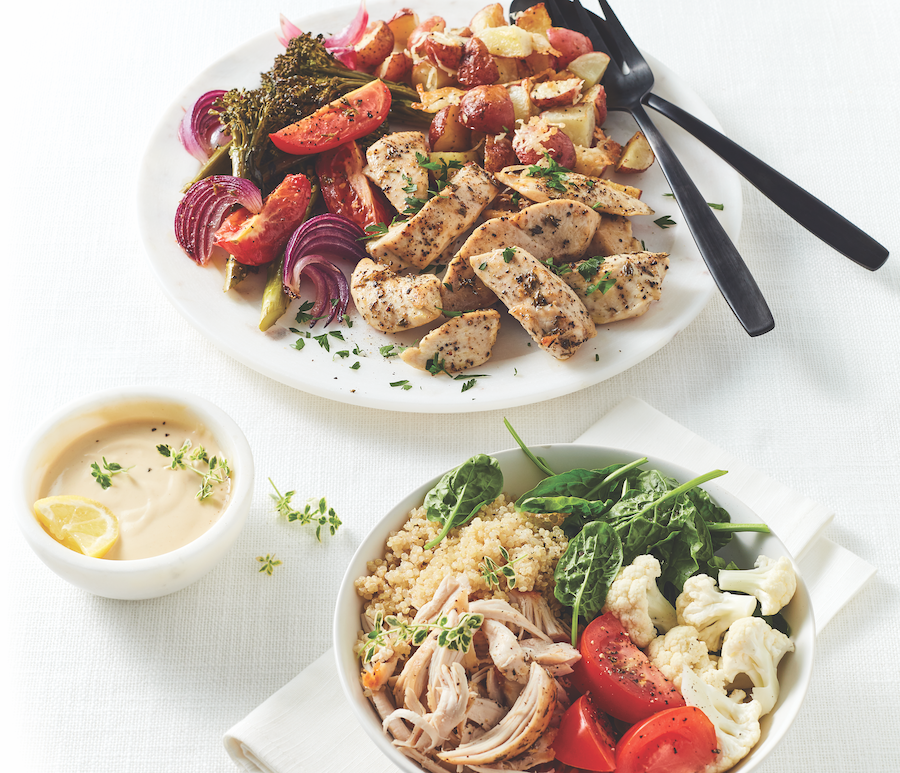 Help yourself out any night of the week or the weekend with an easy-to-make dinner and look ahead to having lunch or dinner ready to go another day. You'll thank yourself for thinking ahead, and Twin Cities chef and cookbook author Robin Asbell for planning it out for you in these recipes she created for Real Food.
Chicken, veggies and the oven get together to make these two hearty meals. The first night, a platter of colorful broccolini, tomato and red onion serves as a bed for tangy marinated chicken pieces, and a side of crispy roasted potatoes coated in golden Parmesan completes the comforting meal. On the second day, you will pack a bowl with the remaining chicken over quinoa that will brighten up lunch hour or make dinner a breeze. We can all use a little help with meals as life is getting busy again.
MEAL ONE
Sheet Pan Chicken Breasts and Broccolini, Red Onions and Parmesan Roasted New Potatoes with Parmesan Crust
Makes 4 Servings
Makes 8 Cups Chicken and Veggies, 3½ Cups Shredded Chicken, 6 Cups Potatoes
3 tablespoons extra-virgin olive oil
2 tablespoons red wine vinegar
1 tablespoon fresh thyme, chopped
½ teaspoon kosher salt
½ teaspoon black pepper
2 pounds boneless, skinless chicken breast, divided
12 ounces broccolini
1 large red onion, sliced
1 large Roma tomato
½ cup chopped parsley
For the Potatoes
2 pounds new potatoes, halved
1 tablespoon extra-virgin olive oil
½ teaspoon coarse salt
½ teaspoon black pepper
½ cup shredded Parmesan cheese
Prep for Meal Two: Chicken, Cauliflower, Spinach and Quinoa Bowls
1½ cups quinoa
2½ cups water
For the Chicken: In a storage container large enough for all the chicken, whisk the olive oil, vinegar, thyme, salt and pepper. Cut the chicken breasts across the grain into 3-inch wide pieces. Add the chicken and toss to coat. Marinate in the refrigerator for several hours or overnight.
Preheat oven to 425°F. In a large roasting pan, spread the vegetables. Drain the marinade from the chicken into the pan and toss with the vegetables. Place half of the chicken on top and put in the oven. Roast for 30 minutes.
Place the potatoes on a second sheet pan and drizzle with olive oil, sprinkle with salt and pepper, then toss to coat. Spread evenly on the pan and roast along with the chicken for 15 minutes. After, take out, sprinkle with Parmesan, and roast for another 10 minutes, until the cheese is golden brown and the potatoes are tender. Serve hot.
When the chicken is browned and an instant-read thermometer inserted in a large piece reads 160°F, scrape the chicken and veggies onto a platter and top with the parsley.
Place the reserved half of the chicken on a small oiled baking sheet and roast for 20 minutes or until it reaches 160°F on an instant read thermometer and is cooked through. Then cool, shred and transfer to a storage tub and refrigerate, reserving for the quinoa bowls. It will keep 2 to 3 days in the refrigerator.
While the chicken is in the oven, cook the quinoa for the bowls. Bring the water to a boil in a small pot, then add the quinoa. Cover and bring to a boil, then reduce the heat to low and cook for 15 minutes. When all the water is absorbed, remove from heat and let stand, covered, for 5 minutes, then transfer to a storage tub to cool. When cool, cover and refrigerate.
Cook's Note: You can make the Lemon-Tahini Sauce (see step 1 in recipe below) and refrigerate or make the next day.
MEAL TWO
Chicken, Cauliflower, Spinach and Quinoa Bowls with Lemon-Tahini Sauce
Makes 4 Servings
4 cups cooked quinoa (See Sheet Pan Chicken recipe above, step 6)
2 large tomatoes, cut in wedges
2 cups cauliflower, raw
2 cups fresh spinach, chopped
3 cups cooked shredded chicken, reserved from Sheet Pan Chicken recipe
For the Lemon-Tahini Sauce
¼ cup tahini
3 tablespoons water
3 tablespoons fresh lemon juice
2 tablespoons extra-virgin olive oil
½ teaspoon salt
Make the Lemon-Tahini Sauce: In a cup or small storage container, stir the tahini, water, lemon juice, olive oil and salt. You can make the night before and refrigerate. This will keep for 1 week.
In each (of 4) 3- to 4-cup storage containers, place 1 cup cooked quinoa, half of a tomato, ½ cup raw cauliflower and ½ cup spinach, then about ¾ cup shredded chicken. Drizzle with 3 tablespoons Lemon-Tahini Sauce, or pack sauce in a separate small container. Keep cold until time to eat.
Nutrition info (per serving):
• Chicken Breasts & Roasted Potatoes: Calories 496; Fat 16g (Sat. 5g); Chol 80mg; Sodium 637mg; Carb 50g; Fiber 7g; Added Sugars 0g; Protein 39g
• Chicken, Cauliflower, Spinach &Quinoa Bowls: Calories 609; Fat 28g (Sat. 4g); Chol 70mg; Sodium 536mg; Carb 52g; Fiber 9g; Added Sugars 0g; Protein 40g
Hungry for More?
Pork Carnitas Tacos plus Carnitas-Potato Hash with Egg Recipes
Enjoy two meals from one easy slow-cooker or oven-baked pork roast and make the most of dinner now plus breakfast or brunch later.
Fish Fry at Your Place
Cook a healthier take on fried fish with Crispy Baked Cod Sandwiches with Chipotle Mayo and Pickles, Cod with Lemony Veggie Zoodles + 5 more fish recipes.
Facebook Comments