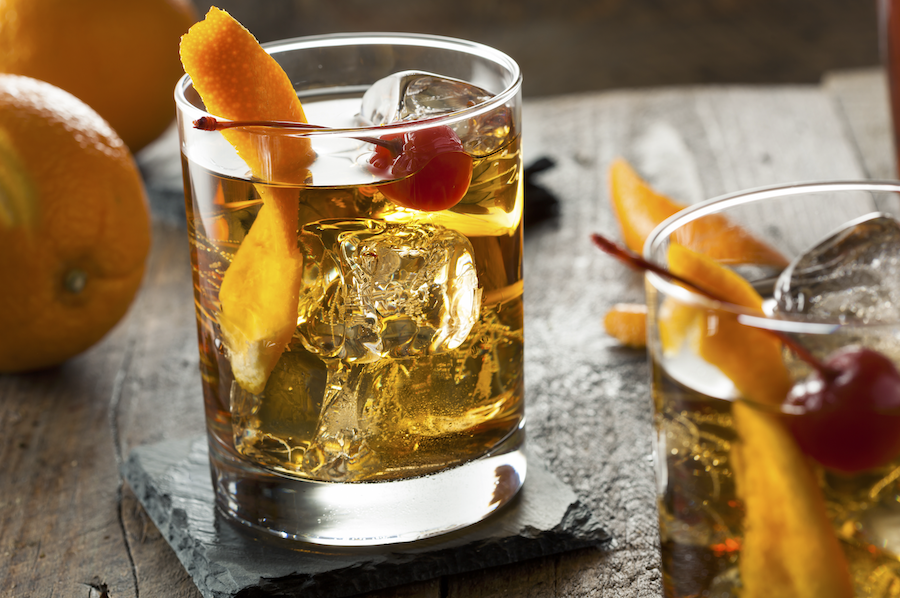 Aromas are known to stir up memories. Sometimes my husband will have a drink and I'll take a whiff and say, "That smells like a dad drink," as I sip on my fruity concoction. Maybe it's the whiskey? Or perhaps a gin-based drink? I'm not sure, but it brings me back. Of course mom and dad would enjoy a Margarita and some chips and salsa, too. If your dad or any father figure in your life could use a bottle of one of their favorite spirits as a gift this Father's Day, it would be fun to make it a package and include mixers and garnishes to whip up either a favorite cocktail or print out a recipe for something new and add it to the bag. Here are some ideas made with bourbon whiskey, rum, tequila, vodka, and amaretto, along with a few fun facts to sip on. Plus, scroll down for links to gin-based drinks, a Margarita roundup, and recipes for tacos, burgers, and more.
Bourbon Fun Facts
All bourbon is whiskey, but not all whiskey is bourbon. Bourbon whiskey must contain a minimum of 51 percent corn (Scotch whisky is made with malted barley—and spelled without the "e"), be produced in the United States, be distilled at less than 80 percent alcohol by volume (160 proof) and be aged in new charred oak barrels. "Straight" bourbon must be aged for a minimum of two years with no artificial color or flavors added.
While technically bourbon can be made anywhere in the U.S., the Kentucky Bourbon Trail has America's most famous concentration of distilleries. More than 90 percent of all bourbon is produced in Kentucky, and it makes up more than two-thirds of the country's exported distilled spirits. Enjoy it neat, on the rocks, and in cocktails such as the Old Fashioned, Manhattan, and Mint Julep featured here, and more, of course. Cheers!
Old Fashioned Cocktail
Makes 1
This classic cocktail has been served since the mid-1800s and is as popular today as it was then. The recipe is very simple, has been adapted in many ways over the years, and can be personalized to your taste.
1 sugar cube (See Notes)
2 to 3 dashes Angostura bitters
2 ounces whiskey
orange peel
orange slice, for garnish
maraschino cherry, for garnish
Place the sugar cube at the bottom of an old-fashioned glass. Saturate the cube with bitters, add an orange peel, and muddle. Fill the glass with ice. Add the whiskey and stir well. Garnish with an orange peel and cherry.
Notes:
• If you do not have sugar cubes, you can use 1 teaspoon granulated sugar or 1½ teaspoons simple syrup.
• If you would rather not muddle the peel, express it over the drink before dropping it into the glass. Simply twist up the peel and squeeze it into the glass and bits of citrus oils will spray into the drink.
• Top it off with a splash of club soda for a variation, if you wish.
Manhattan
Makes 1
2 ounces bourbon whiskey
1 ounce sweet vermouth
1 dash bitters
1 maraschino cherry, for garnish
Place 1 cup of ice cubes in a mixing glass. Pour in vermouth, then whiskey, and stir. Strain into a cocktail glass. Add a dash of bitters if desired, and garnish with a cherry.
Mint Julep
Makes 1
9 to 12 mint leaves, plus a sprig for garnish
½ ounce sugar syrup
2½ ounces bourbon whiskey
Lightly muddle the mint leaves and sugar syrup in the bottom of a Julep cup or highball glass. Add the bourbon and stir. Add some crushed ice and stir about 30 seconds. Garnish with a mint spring.
Notes:
• It is important to only lightly muddle rather than crush the mint leaves, which can release bitter inner juices. Also discard the stems, which are bitter.
• For a variation, add a few dashes of Angostura aromatic bitters.
Dark 'n' Stormy
Makes 1
This classic cocktail gets its name from the Caribbean waters, where sailors weathered many storms.
2 ounces rum
3 ounces ginger beer
½ ounce lime juice (optional)
lime wedge, for garnish
Fill a tall glass with ice cubes. Add rum. Pour in ginger beer and lime juice. Stir with a barspoon. Garnish with a lime wedge.
Cosmopolitan
Makes 1
The delicious combination of vodka, orange liqueur, lime juice, and cranberry juice have made the Cosmo a timeless cocktail. Here is a classic recipe, and you can always experiment with the ratio of each ingredient to tweak according to your tastes.
1½ ounces lemon vodka
½ ounce orange liqueur, such as triple sec, Cointreau, or Grand Marnier
1 ounce cranberry juice
¼ ounce fresh lime juice
lemon, lime or orange slice, for garnish
Shake all ingredients with ice and fine strain into a chilled glass. Garnish with a lemon, lime or orange twist.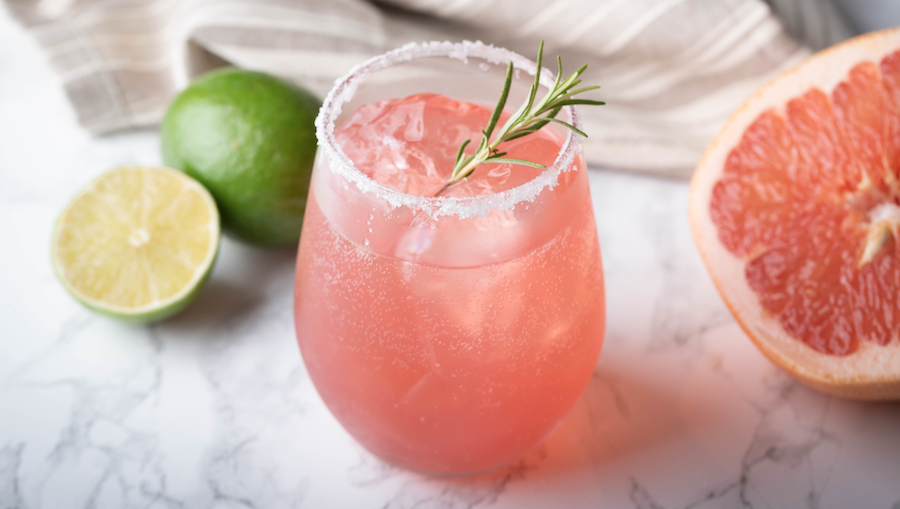 The Paloma
Makes 1
This cocktail, which hails from Mexico, is an easy, peaceable drink: "La Paloma" means "the dove," which is the bird of peace, the bird of salvation. The key to this Margarita-esque creation is the soda. When we think "citrus soda" we often think "lemon-lime" or "orange." But, in Mexico, they tend to think toronja, which is grapefruit. If you use one of the sweeter U.S.-styles of grapefruit soda, you might want to add a teaspoon or so of fresh grapefruit juice per drink. If you choose to use the reposado tequila, the spicy, vegetal notes of the tequila seem to combine with everything else to give this drink a meaty, savory sensation.
½ lime
1½ ounces tequila
pinch of kosher salt
grapefruit soda
grapefruit wedge, for garnish
Fill a cocktail glass with ice. Squeeze lime half into it and drop in the shell. Add tequila and salt. Top off with grapefruit soda, stir lightly.
Velvet Espresso Martini and Caramel Macchiato
For a coffee-flavored cocktail or cool dessert in a glass to satisfy your sweet tooth and help you beat the heat, try these cocktails courtesy of Disaronno Italian liqueur.
Velvet Espresso Martini
Makes 1 | Courtesy of Disaronno Velvet
1½ ounces Disaronno Velvet
½ ounce Tia Maria Cold Brew Coffee Liqueur
½ ounce vodka
Chocolate flakes or coffee beans, for garnish
Shake and strain ingredients over ice. Garnish with chocolate flakes or coffee beans.
Caramel Macchiato
Makes 1 | Courtesy of Disaronno Velvet
2 ounces Disaronno Velvet
2 ounces vanilla vodka
1 ounce Tia Maria Cold Brew
2 scoops of vanilla ice cream
Caramel, for garnish
Add Disaronno Velvet, Tia Maria Cold Brew, and vanilla vodka to a blender with two scoops of vanilla ice cream. Blend together, garnish with a caramel drizzle and enjoy with a straw.
Thirsty for More?
Check out my posts highlighting these cool cocktails:
Gin Kicks Up Cool Summer Cocktails
The cool kick of gin is the quintessential summer refresher in a selection of cocktails beyond the ol' Gin & Tonic
Margarita Recipe Roundup
Celebrate with the ever-popular classic formula and delicious twists
Hungry for More?
Try Jimmy Buffett's Perfect Margarita and variations plus a recipe for guacamole
Steakhouse Blue Cheese Burgers with Pickled Red Onions Recipe + Burger Roundup
Celebrate National Cheeseburger Day with these burgers that would be at home on a fancy steakhouse menu but are easy enough for a casual cookout—plus more burger recipes.