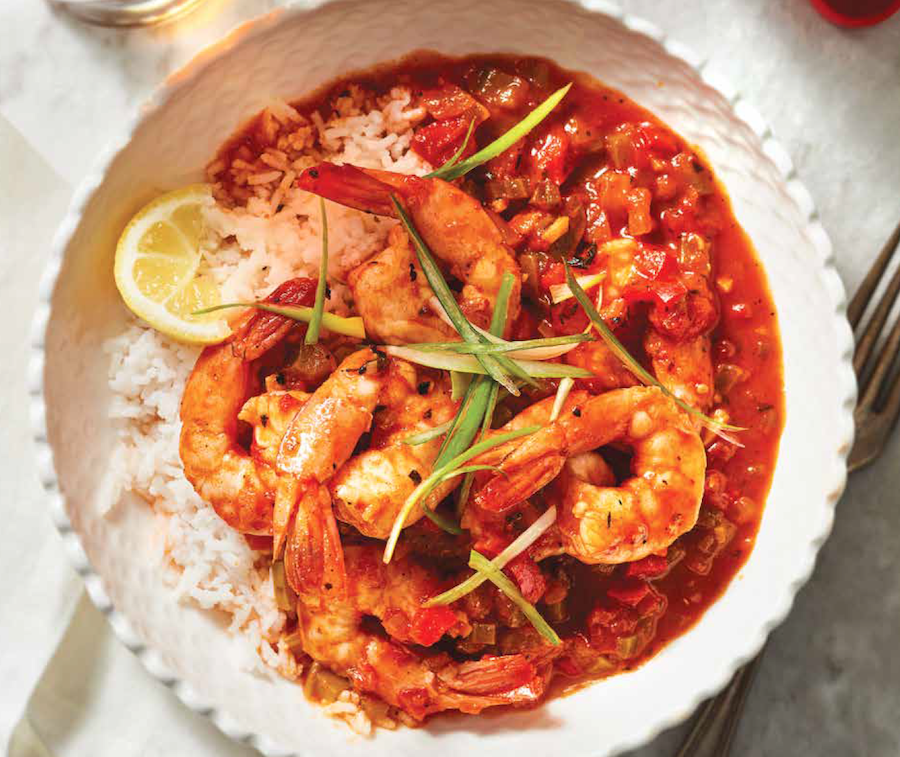 Food, as the saying goes, may be the way to a loved one's heart. A homecooked dinner can be a welcome display of affection, whether you're in a new relationship, long-term relationship, married, or hanging out with friends. Valentine's Day is coming up, but any cold, wintry night is perfect for a nice dinner or a date night at home. Whether you prefer shrimp, chicken, or pasta, we've got something to tempt your taste buds—and those of the one you love.
There is a recipe for Marry Me Chicken all over the internet. This tender chicken breast with sun-dried tomatoes, herbs, and a cream sauce is often served over pasta, mashed potatoes, or sometimes creamy polenta. Legend has it, according to The Modern Proper, which features the recipe, that a few magazine food editors were testing this dish, when one expressed they would literally marry it, if they could—it was THAT delicious! From then on, Marry Me Chicken went viral and many variations were developed, from Little Sunny Kitchen's version, to a twist on Food Network. Now, perhaps, the hope is the dish might just elicit such sentiments for the chef who prepares it.
You can also elevate chicken dinner for date night or any night with a recipe you won't find all over the internet but on our site: Roast Chicken with Maroon Olive Butter Recipe by chef Serena Bass, which she created for Real Food. If you've never had crisp roast chicken with the unexpected tang of buttery Kalamata olives, fresh parsley, and lemon, you're in for a treat.
Other tales of the power of food have come via Rachael Ray, who has a recipe called Rachael's Engagement Chicken and a potentially "powerful" pasta, Fettuccine alla Vodka. The pasta was the first meal Ray made on "Oprah" and features what is now referred to as the "You Won't Be Single for Long Vodka Sauce" since requests for the recipe jammed up the "Oprah" show's site for a bit and the sauce is allegedly credited with producing a number of proposals.
And though tales of any potential "magical" powers are unknown to date, below is a Shrimp Creole recipe that can certainly spice up a cold night.
For more ideas, make sure to poke around our searchable option on this site under "Food" for hundreds of recipes.
Do you have a favorite date-night recipe? Let us know!
Shrimp Creole
Makes 4 Servings | Recipe by Molly Stevens for Real Food
Plump, tender shrimp bathed in a piquant tomato-based sauce makes a memorable meal to enjoy with a little Zydeco music floating through the air. The velvety sauce gets its characteristic flavor from a base of gently sautéed onion, celery, and bell peppers—a combination known in the Delta as the "holy trinity."
4 tablespoons unsalted butter
1 cup diced yellow onion
1 cup diced celery
1 cup diced red bell pepper
1 cup diced green bell pepper
3 to 4 garlic cloves, minced
1 small jalapeño pepper, seeded and minced
1½ teaspoons chopped fresh thyme leaves (or ½ teaspoon dried)
½ teaspoon smoked paprika, hot or sweet
2 tablespoons tomato paste
salt and pepper, to taste
1 (14.5-ounce) can diced or crushed tomatoes, with their liquid
1 cup chicken or shrimp broth (see Cook's Notes)
1 bay leaf
½ teaspoon Louisiana-style hot sauce, or to taste
1½ pounds jumbo or extra-large fresh or frozen, thawed, peeled shrimp, deveined and tails removed
Cooked rice, for serving
¼ cup chopped scallion
Heat the butter in a large, heavy skillet or saucepan over medium heat. Add the onion, celery, red and green pepper, and sauté, stirring frequently, until softened, about 8 minutes. Stir in the garlic, jalapeño, thyme, paprika, tomato paste and season with salt and pepper. Cook until fragrant, 1 to 2 minutes. Add the tomatoes, broth, bay leaf and hot sauce. Bring to a boil. Reduce heat to low, cover, and simmer gently for 30 minutes, stirring occasionally. (The sauce may be made ahead up to this point. Cool, cover and refrigerate for up to 1 day.)
Increase the heat to medium and add the shrimp. Simmer, uncovered, until shrimp are cooked through, 4 to 8 minutes, depending on their size (the larger the shrimp, the longer they take to cook). Taste for salt, pepper, and hot sauce, and adjust to taste.
Spoon shrimp and sauce over cooked rice. Garnish with scallions and serve hot. Pass hot sauce at the table.
Cook's Notes:
• Extra-large or jumbo shrimp make this fancy enough for a dinner party, but the recipe also works beautifully with medium size; just adjust the cooking time accordingly. Jumbo or extra-large shrimp will take about 8 minutes to cook through, while medium will take closer to 4 minutes.
• For an even more flavorful sauce, buy shell-on shrimp and use the shells to make a quick shrimp broth. Heat 1 tablespoon olive oil in a small pot over medium-high heat. Add ¼ cup thinly sliced shallot or onion and sauté, stirring until starting to soften, about 2 minutes. Add the shrimp shells and cook, stirring, until they turn pink, another 1 to 2 minutes. Add 2 cups water and 1 small bay leaf. Simmer gently for 30 minutes. Strain. Refrigerate for up to 3 days or freeze for 3 months.
Nutrition info (per serving) Shrimp Creole (without rice): Calories 300; Fat 14g (Sat. 8g); Chol 245mg; Sodium 1350mg; Carb 18g; Fiber 5g; Sugar 8g; Protein 26g
Facebook Comments