I have wanted to go to Chimborazo for a year, but for some reason, I worried that I couldn't bring my kids. This weekend, grandma and grandpa took the boys, and Alyssa and I drove from Maple Grove to Northeast Minneapolis and were rewarded with one of the best brunches I've had in some time.
Chimborazo is an Ecuadorian restaurant, but Spanish is owner Marcos Pinguil's second language. Marcos greated us Sunday morning. His smile and enthusiasm for his menu has to be why the place has been open for more than a year, despite the fact that there were never more than six people in the place during our lingering breakfast.
He told us he's from a small Indian village along Ecuador's tropical coast. So that native Indian language is his primary, followed by Spanish, followed by English. But great cooking knows no language, and Marcos can cook.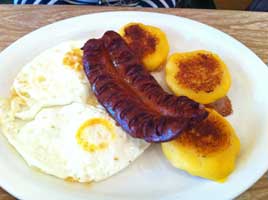 I had an incredible tortilla de puerco and a three-egg omelet with the most perfectly prepared roast pork. It was crispy, and juicy, and wonderful. Inside the omelet were onions, peppers, tomato, and plantains. It was fantastic. Look at this thing: It was just $7.
Alyssa had the llapingachos—potato pancakes filled with cheese and onion. They were light, soft, and delicious. They came with two fried eggs, and two nice links of chorizo. All for $6.50. Seriously.
The llapingachos are available as an appetizer during the rest of the day, and you should try them. We were served a cilantro sauce (moderately spicy) which was intended for my omelet, and a peanut sauce (think watered-down peanut butter) for Alyssa's llapingachos. Both were really exceptional sauces.
Chimborazo is the kind of place I wish I had in my neighborhood. I can't make the 3200 mile drive to Ecuador, but we all can (and should) make the drive to Central Avenue in Northeast.
Chimborazo
2851 Central Avenue NE
Minneapolis, MN 55418
612-788-1328
chimborazorestaurant.com