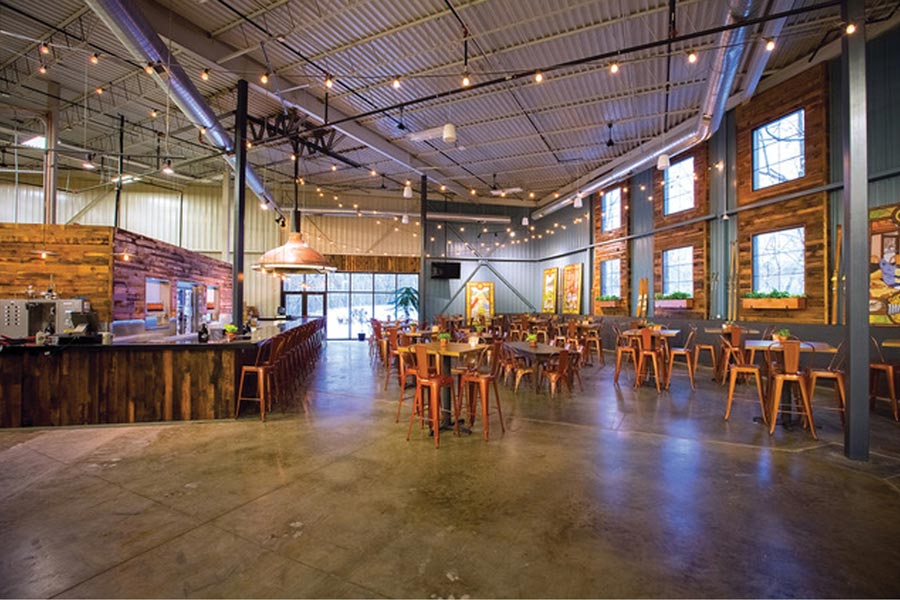 Taproom at Utepils Brewing
photo by brian shekleton
---
The number-one ingredient in beer is water, and breweries dipping into the city of Minneapolis' supply have to adjust mineral levels for taste and dechlorinate it. But Utepils Brewing (pronounced OOH-ta-pilz and meaning "outdoors lager" in Norwegian) opened in Bryn Mar this winter with its own personal well. It brews in the former Glenwood Inglewood water-bottling warehouse, where a spring feeds directly into the building.
After removing minerals, the brewing team uses the spring's chlorine-free water to craft five European beers served on tap. "We want to bring classics back to the market," says Kelsey Bomgaars, the taproom's manager—including a Belgian IPA, a Bavarian hefeweizen, and three lagers.
Lagers are unforgiving to brewers. Pilsner and Kölsch, both made by Utepils, ferment at colder temperatures than ales, take longer, and could sour in inexperienced hands.
For its time-intensive brewing, Utepils employs energy-saving technology: North America's first Vario Boil system. A vacuum lowers the pressure inside a tank, reducing the liquid's boiling point. Utepils can make 60,000 barrels a year—already half of Surly Brewing's 100,000. 
Facebook Comments