A century ago, Minnesota was the whiskey capital of the United States.
Prohibition was law, and farmers in Stearns County had rebounded from plummeting crop prices by distilling corn into moonshine whiskey called Minnesota 13. It was so good that it was coveted across the nation—and as far abreast as Hong Kong. But when Prohibition was repealed in 1933, the price of corn rebounded, and Minnesota whiskey disappeared.
It took 90 years, but the American whiskey market is rollicking again. This time, it's legal, and last year, the spirit accounted for $17 billion in sales. Collectors have seized on the market, making super-premium whiskeys like Blanton's and Buffalo Trace nearly impossible to procure and opening up a black market for craft spirits. And after a near-century of dormancy, Minnesota is ready to become a major player again.
Minnesota 13 is lost to the history books, but a new generation of local distillers is rising to meet this ravenous demand. Each has its own definition of what makes a whiskey truly Minnesotan.
Kindred Spirits
The Keeper's Heart cocktail room sits beneath three copper sentinels. These massive distillation pots would be common in any Irish distillery, but here in Minneapolis, their gleaming reddish sides are a rare sight.
What's rarer is that the 20,000 liters of American-style whiskey inside are intended to be blended with its family from the Emerald Isle. This chimeric whiskey is the creation of fourth-generation Irish Americans Patrick and Michael O'Shaughnessy, who founded O'Shaughnessy Distilling Company in 2020. The cousins recruited Cork-born master distiller Brian Nation—a 26-year vet formerly of Jameson—to help them formulate Keeper's Heart.
"If they had pitched the idea of just creating another American bourbon or another American rye, I don't think I would have been that enthusiastic about moving," Nation says. "But being able to bring that Irish element into it is what really piqued my interest."
The result of their transatlantic partnership is the Keeper's Heart line of "Irish-plus" whiskeys. The jewel is the Irish + American, a spicy rye that is met with the dark fruits of Irish whiskey. Naturally, they expanded to an Irish + Bourbon mix, which subs in the Kentucky-borne whiskey for rye and finishes with a long, tempered burn.
Keeper's Heart has been a flagbearer for Minnesota spirits, becoming the most awarded whiskey of 2022. It's now available in 19 states. But it isn't the liquid itself that best represents Minnesota. The whiskey actually distilled in O'Shaughnessy's glorious copper is still aging, and for the time being, the American and Irish components of Keeper's Heart are sourced from other distilleries and brought to Minneapolis to be blended. While the liquid might not be Minnesotan (yet), the ingenuity entirely is.
"We're forever promoting that we're a Minnesota-based distillery," Nation says. "It's all about trying to put Minnesota and Minneapolis on the world whiskey map, because, I tell you, this is something that we want to go global."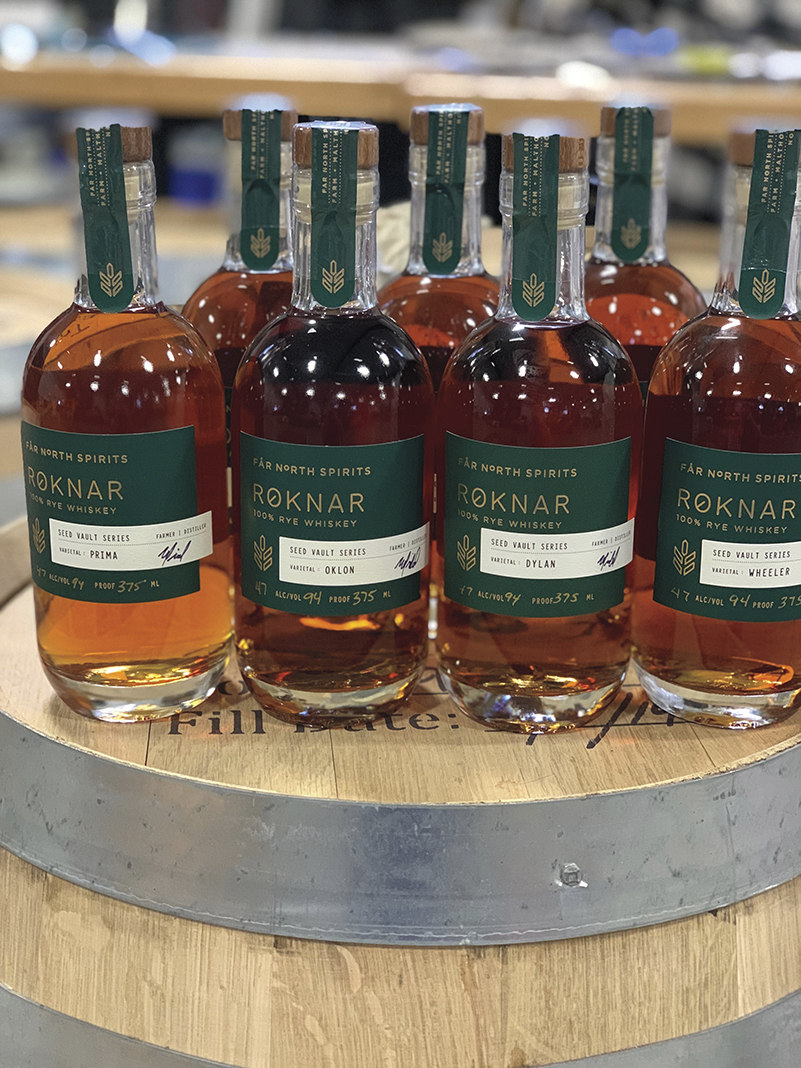 The Spice of the North
Up in Minnesota's northwest corner, in the tangle of the Red River, the prairie is flat and dry, and the weather is cool. When husband and wife Mike Swanson and Cheri Reese surveyed this landscape, they saw a perfect cradle for growing heritage rye. And they wondered: Why isn't Minnesota taking advantage of these ideal whiskey conditions?
"In Minnesota, we're known for creating things authentically," Swanson says. "We're a more agrarian than manufacturing economy, in a lot of places. We thought those things went hand in hand with a place that makes exceptional whiskey."
The pair built Far North Spirits on a 100-year-old family farm in 2013. At the time, the only other distillery making whiskey in Minnesota was Panther Distillery in Osakis. Swanson decided to stake a claim that Minnesota's distilling heritage should be in rye distilled from heirloom grains.
In 2015, Swanson collaborated with the Minnesota Department of Agriculture to determine how the origin of a rye affects the distilled product. The study they produced showed a wide divergence in the quality of drink based on the grain used. The experience helped Swanson perfect Roknar Rye, Far North's smooth-but-robust entry into the Minnesota whiskey tradition.
"Historically, rye has been more of a northern crop," Swanson says. "Bourbon is essentially Southern-made, and I think rye can be its Northern counterpart."
While Far North also makes a bourbon, Swanson is less enthused about the style. Rye is more artistic. It was once a Pennsylvania specialty, but post-Prohibition, the field is wide open. According to Wine Enthusiast, the United States is in its "latest—and most dynamic—chapter for rye," with distillers like New York's Empire Rye using their agricultural gifts to make uniquely regionalized spirits.
But because each rye variety emerges uniquely, Roknar is mostly an expression of northwest Minnesota. Swanson says he isn't sure that there is such a thing as a quintessentially "Minnesotan" whiskey. Their rye conjures a very specific region, a very specific terroir. And there's a lot of other land to express.
"It'll be interesting to see, over the next 10 years, how this develops—whether it's a distinctive Minnesota style or a distinctive Minnesota ethos," Swanson says. "If it all tastes the same, we failed. It should be radically different. Minnesota is radically different from one end to the other."
Between Bootleggers and Bog Farmers
William Trettel answered to a higher authority than the federal government. The central Minnesota blacksmith and Benedictine monk spent Prohibition building copper stills for farmers, earning the name Brother Justus in the process.
When Phil Steger started Brother Justus Whiskey Company in the basement of Northeast's Norseman Distillery, he named his company for the rogue monk who worked in equally shadowy devotion. Its portfolio is a tribute to his devotion to the Minnesota way of life; its whiskeys are made from Minnesota-malted barley and Minneapolis city water and aged in barrels made from Minnesota-grown white oak.
The Silver Whiskey is a lightly fruity, unaged spirit that serves as an homage to the clear whiskeys Justus' farmers would've made in the 1920s. Its American Whiskey is a caramel-tinged dram that is aged for only nine months (Steger claims this is an optimal period for bringing out the Minnesota white oak characteristics). Both are single-malt whiskeys, which Steger says is key to defining a niche.
"Minnesota is never going to be the bourbon state, it's never going to be the rye state—but we could be the single-malt state," he says. "No one has that claim yet."
Brother Justus' claim to the most definitive Minnesota whiskey introduces a new ingredient to the whiskey world: cold peat. While many Scotches burn peat to smoke malt, the peat itself has never been used as an ingredient. Brother Justus' Cold-Peated Whiskey takes cuts of ancient peat from Minnesota's boreal forests and uses them as a filter for distillate—a method Steger calls the Aiken County Process.
"I never set out to be an inventor. I was literally just saying, 'I want to know what a peat bog tastes like,'" Steger says. "It tastes like a place, and that's the most elusive thing."
It's a bigger innovation than a Benedictine monk could've managed 100 years ago, but Trettel and Steger had the same impetus for making whiskey. They wanted to keep Minnesota alive on the tongues of the world.
"The land leans towards whiskey," Steger says. "The land holds forward all the gifts you need to make whiskey, and I just couldn't let go of that."­
Facebook Comments