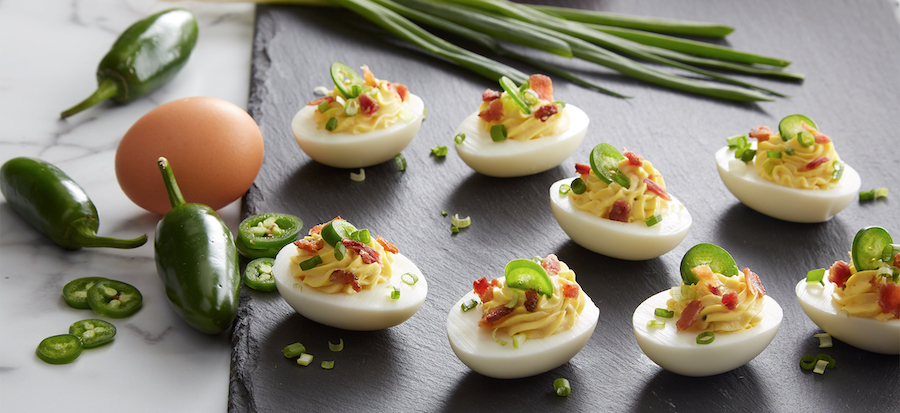 Whether you celebrate Easter or want some tasty ideas for a leisurely weekend brunch anytime, these egg-centric tips and recipes will help you make the most of this versatile and nutritious staple.
Hard-boiled eggs are a must for many Easter celebrations. Here are tips for making them successfully, a recipe to use those Easter eggs, and a few brunch recipe ideas, all courtesy of the American Egg Board.
Plus, scroll down to the "Hungry for More?" section for tips on coloring them using natural dyes as well as more recipes and brunch ideas.
Easy 12-Minute Method for Hard-Boiled Eggs
Place eggs in a saucepan large enough to hold them in a single layer. Add cold water to cover the eggs by 1 inch. Heat over high heat just to boiling. Remove from the burner. Cover pan. Let eggs stand in hot water for about 12 minutes for large eggs (9 minutes for medium eggs; 15 minutes for extra large eggs). Drain. Shock the eggs in a bowl of ice water to cool them immediately. Hard-boiled eggs are easiest to peel right after cooling.
Tip: Banish the greenish ring. This harmless but unsightly discoloration that sometimes forms around hard-boiled yolks results from a reaction between sulfur in the egg white and iron in the yolk. It occurs when eggs have been cooked for too long or at too high a temperature. This method—cooking eggs in hot, not boiling, water, then cooling immediately—minimizes this.
Storage time: In the shell, hard-boiled eggs can be refrigerated safely up to one week. Refrigerate in their original carton to prevent odor absorption. Once peeled, eggs should be eaten that day.
Very fresh eggs can be difficult to peel. To ensure easily peeled eggs, buy and refrigerate them a week to 10 days in advance of cooking. This brief "breather" allows the eggs time to take in air, which helps separate the membranes from the shell.
Creamy Jalapeño Deviled Eggs
Makes 8
4 large eggs
2 tablespoons mayonnaise
2 tablespoons cream cheese, softened
2 teaspoons yellow mustard
½ teaspoon white vinegar
⅛ teaspoon salt
2 small jalapeños, divided
1 tablespoon cooked bacon pieces
¼ teaspoon ground nutmeg
2 teaspoons sliced green onions
Place eggs in a large saucepan and cover with cool water. Bring to a boil, then remove from heat and cover with a lid. Allow eggs to sit in pan for 12 minutes, then transfer eggs to an ice bath using a slotted spoon. Once eggs are cool, peel eggs and slice in half lengthwise.
Place egg yolks in a bowl. Add mayonnaise, cream cheese, mustard, white vinegar and salt. Finely dice one of the jalapeños, then add to the bowl. Stir until smooth, then place in a piping bag fitted with a small piping tip.
Pipe filling into the whites of each egg. Slice the remaining jalapeno into thin rounds and place on each egg. Sprinkle each egg with bacon and green onions. Serve and refrigerate leftovers up to 3 days.
Ham, Asparagus and Tomato Strata
Makes 10 Servings
10 large eggs
1 tablespoon butter
2 cups asparagus pieces (1-inch)
½ cup chopped onion
1 cup grape tomato halves
1 cup (5 ounces) diced cooked ham (1/2-inch)
10 cups French OR Italian bread pieces (3/4-inch)
2 cups (8 ounces) shredded Italian cheese blend
2½ cups half-and-half
½ teaspoon salt
¼ teaspoon pepper
Heat butter in large nonstick skillet over medium heat until hot. Add asparagus and onion; cook 3 to 4 minutes, stirring occasionally. Remove from heat. Stir in tomatoes and ham.
Place half of the bread in greased 13×9-inch baking dish. Top evenly with layers of half of the asparagus mixture and cheese. Repeat layers with remaining bread, asparagus mixture and cheese.
Beat eggs, half-and-half, salt and pepper in large bowl until blended. Pour over layers in baking dish. Refrigerate, covered, 1 hour or overnight.
Heat oven to 350°F. Bake, uncovered, in center of 350°F oven 45 to 50 minutes or until puffed, golden and knife inserted near center comes out clean.
Tip: Make ahead and bake in the morning for a delicious weekend brunch.
Veggie and Cheddar Crustless Quiche
Makes 6 Servings
8 large eggs
¾ cup milk
¼ teaspoon salt
¼ teaspoon pepper
½ cup shredded aged cheddar cheese
1 cup chopped broccoli florets
½ cup finely chopped red onion
½ cup chopped red pepper
Heat oven to 350°F.
Whisk together eggs, milk, salt and pepper. Stir in cheese, broccoli, onion and red pepper.
Spoon mixture evenly into greased 6-cup jumbo muffin pan.
Bake for 35 to 40 minutes or until tops are puffed and knife inserted in center of quiche comes out clean. Run knife around edges of muffin cups; carefully remove quiches.
Tip: Mix-in variations: Triple pepper (roasted red pepper, green pepper and jalapeño pepper); mushroom and Gruyère cheese; or add 1 cup crumbled cooked bacon or breakfast sausage for a meat lovers' version.
Hungry for More?
Check out additional egg-centric ideas and more I have posted here:
Coloring and Using Hard-Boiled Eggs
To naturally dye eggs, turn to ingredients in your kitchen—plus enjoy those hard-boiled eggs for days to come on their own, in egg salad, and more.
5 Deviled Egg Recipes with Flair
Make the most of your Easter eggs or whip up a batch of hard-boiled eggs for a different take on this ever-popular snack.
Spring Brunch Menu
Satisfy cravings for a fresh taste of spring and comfort fare in one menu from asparagus salad and an herb-packed egg bake to cheesy cauliflower casserole and sweet baked ham—not to mention tender, buttery scones.
Pairing Ham and Wine
Savor the flavor of ham even more with a delicious wine partner. Karen Page and Andrew Dornenburg, coauthors of What to Drink with What You Eat share suggestions.
Facebook Comments