As harbingers of spring, Minnesotans revel in the flavor and season of morel mushrooms. But fall's mushrooms make a brilliant contribution to seasonal cuisine as well, and definitely deserve a Twin Cities Taste spotlight. Minneapolis local Mike Kempenich agrees; he's the chief "fun guy" and owner of The Mikeology Store, a Minneapolis-based cultivator of exotic edible mushrooms, and he says "now is the perfect time" to savor the flavor of seasonal mushrooms. 
As one of 52 exotic mushroom cultivators in the U.S., Kempenich is kept busy cultivating about 2,000 pounds per week of exotic mushrooms such as oyster, king oyster, maitake, and chicken of the woods. Kempenich is a savvy forager, always hunting for the perfect specimen. He harvests ideal wild specimens at the peak of their season, and then brings them into the lab so that he can clone and cultivate them in a somewhat surprising environment—a 3,000 square-foot warehouse in Brooklyn Park.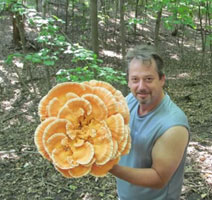 Mike with chicken of the woods
"You have to maintain an environment that the mushroom is used to in the wild," said Kempenich. "You can imagine that it's complicated and challenging."
Chicken of the woods (or sulfur shelf mushrooms) are attention-grabbing with their bright orange and yellow shelves. Mild in flavor, meaty in texture, chicken of the woods are as versatile as their namesake, so they're flawless in pasta sauces and soup. As a case in point, Kempenich says one of the best bowls of mushroom soup he ever ate was a chicken of the woods mushroom soup at Café Levain.
 
Mike with hen of the woods
Maitake (or hen of the woods mushrooms) are also popping up on market shelves and menus. Maitakes have a fairly pronounced umami flavor and a texture that pairs well with beef. Valued for heartiness and rich in vitamins B1, B2, D, as well as vegetable fiber, Kempenich says hen of the woods mushrooms are great on the grill (or roasted with a bit of olive oil and garlic over a bonfire).
As for his location in Brooklyn Park, Kempenich says he wants to be as close to the market as possible to ensure the best quality and freshness. Mikeology mushrooms markets include Seward Co-op, Mississippi Market, Eastside co-op, and The Wedge, and you'll see them popping up on seasonal menus at more than two-dozen local restaurants like Piccolo, Saffron, Sea Change, Vincent, Café Levain, the Sample Room, and Travail.
If you can't get enough of this mushroom stuff, check out this charming video Kempenich produced last fall about foraging for hen of the woods and chicken of the woods mushrooms in the early autumn.
 
Pictured: These dangling logs of pressed wood shavings are used to grow cloned oyster mushrooms in the fruiting chamber at the Mikeology mushroom farm in Brooklyn Park. Photo by Mike Kempenich.
 
Facebook Comments