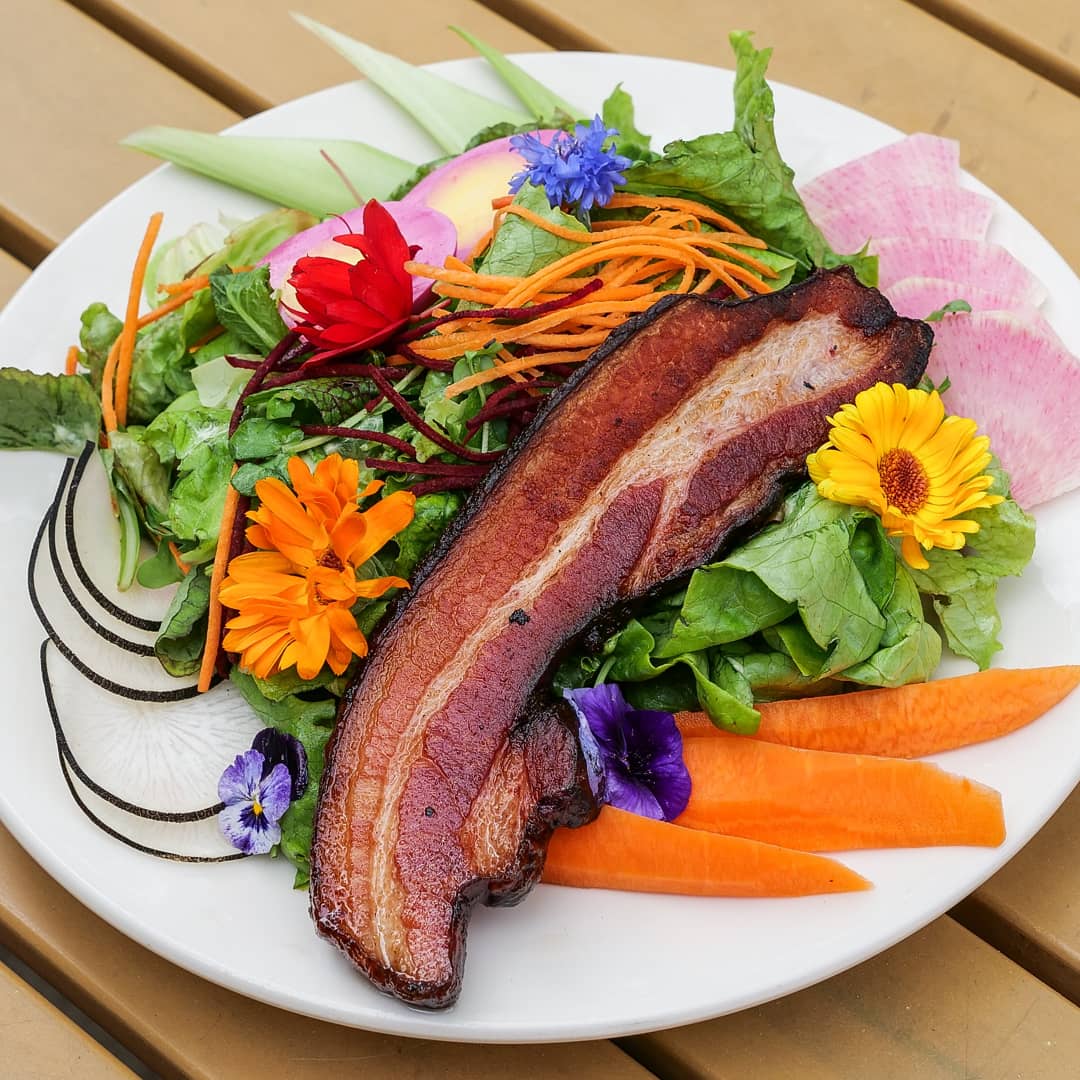 Amid the highly debated food crazes of the decade (the ketogenic diet, CBD oil-infused dishes, going gluten-free without the gluten intolerance), sustainable eating might also be our most practical trend. Specifically, farm-to-table practices, unlike many Instagrammable food trends of the 21st century, seem to be sticking around as more Twin Cities restaurants use the metro's surrounding farmlands.
No, farm-to-table does not mean pulling over on the road to buy locally grown corn. Instead, farm-to-table restaurants offer food that's fresh and locally produced. The movement sits atop the surmounting push Americans have made for understanding what's in their food and for environmental friendliness.
Dining at a farm-to-table restaurant helps the environment, too. Since the food travels small distances, less fuel is consumed and fewer emissions are released. The food is also often more nutritious, where food shipped long distances runs the risk of aging. (Imported produce often gets picked earlier to prevent aging, which causes the food to lack nutrition since it is not allowed proper time to naturally ripen.) Purchasing locally grown food has the potential to boost the economy, too, since the money remains within the community.
The following are some of the best farm-to-table restaurants in and around the Twin Cities:
Wise Acre Eatery
5401 Nicollet Ave. S., Minneapolis
While putting nature first, Wise Acre Eatery offers delicious and carefully prepared brunch cuisine. The restaurant serves 80-90% of their food from Tangletown Gardens' 100-acre farm in Plato, Minnesota. The entire staff crafts the food from the ground to your plate, taking ownership in every step of the process. Enjoy the unique tastes from the vast array of vegetable breeds and heritage fruit (you can order a salad with greens picked on the same day). Furry friends are welcome on the patio.
 

View this post on Instagram

 
Tiny Diner
1024 East 38th St., Minneapolis
In addition to cooking organic eggs your way and offering diverse hamburger options, Tiny Diner educates its south Minneapolis community about bio-intensive farming methods. With one on-site and one off-site garden, Tiny Diner seeks to increase urban soil fertility and healthy urban wildlife through their courses open to the public. Partnered with the Minneapolis-based Permaculture Research Institute, the on-site garden offers classes on rainwater harvesting techniques, the holistic maintenance, and design of agriculturally productive ecosystems, and more about sustainable farming. Twin Cities restauranteur Kim Bartmann—who owns Bryant Lake Bowl, Bread & Pickle, and other restaurants—has put sustainability first with a building that includes a 22-kilowatt solar array on the roof.
Tutti Fruitti
38914 Co. Rd. 186, Sauk Centre
Take a trip to Tutti Fruitti, a family-based restaurant in central Minnesota, where customers of any age can pick fresh berries, purchase a homemade pie, and relax in the casual sit-down restaurant. The farm is located in rural Sauk Centre, where mismatched tables and wood-planked walls make it feel like you're at your ancestor's farm or your grandmother's house. Indulge yourself with homemade cooking, with signature dishes including the Hee-Haw Breakfast Sandwich, the Tator Tot Hotdish, and the Hoe-Down Skillet.
Two Pony Gardens
1700 Deer Hill Rd., Long Lake
Pizza farms have become a staple in the farm-to-table world. With fresh ingredients (heirloom tomatoes and dahlias, to name a couple), Two Pony Gardens, in Long Lake, holds summertime pizza nights that cater to the farmer in all of us, complete with a wood-fired oven next to the horse paddock. Gather friends and a picnic blanket to eat fresh pizza underneath the stars. In addition to meals, Two Pony Gardens hosts a Youth Environmental Literacy and Law Project (Y.E.L.L.), where children from Southside Family School learn about bio-diversity, GMOs, and sustainable agricultural practices.
 

View this post on Instagram

 
The Bachelor Farmer
50 North Second Ave., Minneapolis
Biodynamic wine production. Pasture-raised chickens. Fresh produce. Operated on 100% Minnesotan wind energy. Checking off all of these, the Bachelor Farmer is a fiercely dedicated advocate for environmentally conscious farming techniques. Since its birth in 2011, the northern cafe-chic restaurant attracts regulars and those from out of town. Savor the wild rice as an entrée and swing by the Marvel Bar after for one of its signature cocktails.
Facebook Comments