The hottest new ingredients in haute cuisine actually reaches back to our roots. Quite literally, as chefs take to the woods armed with trowels and small knives to harvest the bounty found in nature. Some go no further than their backyard (Heidi Skoog of Serious Jam is working on a lilac and spirit preserve that I can't wait to buy).
Few do it better, or make what is essentially weed hunting look more enticing than Chef Justin Davis. (Just check out his drool-inducing Instagram feed @ChefJustinD.)
If you find Davis looks a bit familiar, it might be that he's no stranger to television after competing as a contestant on the Next Food Network Star. These days he spends much of his time strolling through the woods hunting for ramps, morels, and other edible delicacies. I spoke with him about what those of us who aren't as well-versed in mycology can do to find wild, but edible treasures.
Davis fosters a love affair with hunting mushroom that he uses in part for private dinners he prepares for clients. Mushrooms can be a tricky place to start. "I love chanterelles, but they do look similar to another kind of mushroom that can make you sick. Not kill you, but…sick," he said. If you would like to get into mushroom hunting, the best tip is to find a buddy who is knowledgeable and take to the woods.
"Foraging combines two of my favorite things," he told me. "Hiking and cooking."
There are plenty of easy ways to spot edibles that could be just outside your back door. "My neighbor collects elderberry flowers and infuses vodka with them." Simply harvest the blossoms and place in a sterilized jar. Pour vodka over them, screw on the lid and store in a dark, cool place for a few weeks. Strain the blossoms out, and serve.
"Right now, spruce trees are beginning to bud," he continued. The little green nubs at the end of the branches are edible. Pluck them off and you can steep them in hot water for tea. Davis prefers to use them in salads. "They have a refreshing, piney almost grapefruit-y flavor."
Throughout the summer it's also possible to find wild asparagus. "It isn't available for long, but it's easy to spot. It looks exactly like asparagus, but a little purpler than what you would find in the grocery store."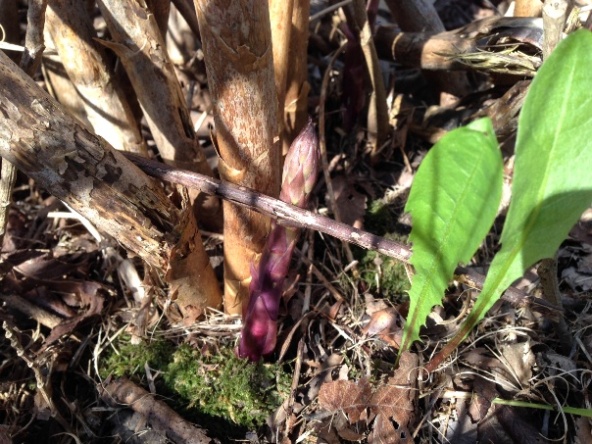 Wild asparagus, photo by Justin Davis
Sumac is another thing that's easily identifiable and readily available all over Minnesota. The berries can be harvested, dried, and used as a spice. It's common in Middle Eastern cuisine and beautiful simply sprinkled atop fried eggs.
The best part about foraging is that there is a bounty available in the greenery all around us. It's a stunning and delicious way to enjoy our state. Plus, free food and nature does all the hard work!
To get started, these are some of the books that Justin Davis turns to most:
Edible Wild Plants by Lee Allen Peterson
Mushrooms Demystified and/or All That Rain Promises and More by David Arora
For more information about Chef Justin Davis, or to have him prepare one of those exclusive meals for you and some friends. Find him at chefjustind.com
This post is presented by Wüsthof 
Facebook Comments