Halloween is over, the candy is (hopefully) gone… Yep, it's time to talk turkey. Finally! Thanksgiving is my favorite holiday—planning the menu, making the meal, setting out pretty dishes, hanging with my family—I love it all. I've hosted dinners for four and 34 (roasting two turkeys), and I'll just say straight out that I'm a big fan of brining. Big. I've messed around with several different turkey recipes over the years and to me, this is The One. It achieves the rare Thanksgiving Trifecta: Beautifully browned, crisp skin. Juicy, deeply flavorful meat. And rich, smooth gravy. Every time. If that's what you're after too, with the bonus of being able to work ahead a few days, then read on.
To start, find a good turkey. Look for an organic or natural (not self-basted) bird, fresh or thawed, that includes the giblets. If your bird is frozen, plan to have it thawed by Tuesday evening—for a 14-16 lb. turkey, that means moving it from freezer to fridge at least 3-4 days ahead of time (plan 24 hours in the fridge for each 4-5 lbs. of frozen bird). For this recipe, I move it the Friday before Thanksgiving.
Keep in mind that brining a turkey (advantage: deep flavor and moist, tender meat) means not stuffing it with dressing. To me the trade-off is well worth it, since I love crispy-on-the top stuffing anyhow. Oh do I love it. Whoa.
This recipe has a slightly unconventional—although incredibly easy—step, which is to air-dry the turkey overnight (in the fridge, of course), after brining it. This step ensures the beautifully browned, crisp skin. The privilege of sneaking bites of that glorious skin goes to the carver, so maybe it's time to nudge your dad aside.
 
Herb-Roasted Turkey and Gravy
Serves 8-10
Note: This recipe provides a generous amount of gravy—leftovers!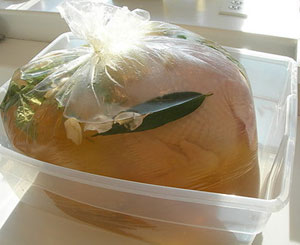 Photo by Stephanie Meyer
Brine:
1 14-16 lb. organic or natural turkey (not self-basted), fresh or thawed, giblets removed and reserved, rinsed
2 gallons cold water
2 c. kosher salt
1 c. (packed) brown sugar
bunch of fresh herbs (a couple of sprigs each of thyme, sage, parsley, and/or rosemary)
1/2 head garlic, cloves smashed (no need to peel)
1 small onion, quartered
Turkey:
bunch of fresh herbs (a couple of sprigs each of thyme, sage, parsley, and/or rosemary)
1/2 head garlic, cloves smashed (no need to peel)
1 small onion, quartered
1-2 cans chicken broth
Photo by Stephanie Meyer
Gravy:
reserved turkey neck and giblets (from above)
4 cans (14 oz. each) low-sodium chicken broth
1 onion, quartered
2 bay leaves
1/2 c. butter
1/2 c. flour
salt and freshly ground pepper
Herb Butter Baste:
1 stick butter
4 Tbsp. minced herbs (snipped from the herbs you've used above)
1 cloves garlic, minced
Tuesday Evening: Brine the Turkey
Line a large bowl, stockpot, or other container with enough capacity to hold the turkey and brine (and fit in the refrigerator!) with an XXL Ziploc bag or oven-roasting bag, also large enough to the hold the turkey and brine. Add salt, sugar, herbs, garlic, and onion to the bag. Slowly pour in the cold water. Stir to dissolve the salt and sugar. Lower the turkey into the brine and seal the bag with a twist-tie. Transfer the container to the refrigerator and set a skillet or heavy plate on top of the turkey to keep it submerged in the brine. Turn the turkey a few times over the next 24 hours so that it soaks evenly.
Wednesday Evening: Dry the Turkey
Cover a large baking sheet with cookie racks, so that turkey won't sit in moisture. Remove turkey from brine; discard brine. Rinse turkey thoroughly inside and out; pat thoroughly dry with paper towels. Place turkey on racks on baking sheet and refrigerate overnight, uncovered. The goal is to dry the skin so that when roasted, the turkey will achieve a deeply golden and crispy skin.
Wednesday Evening or Thursday Morning: Start the Gravy
Combine turkey neck and giblets, broth, quartered onions, and bay leaves in a large saucepan. Simmer uncovered until reduced to 6 cups, skimming occasionally, about 1 hour. Strain into a large bowl and reserve; discard solids.
Melt butter in the same large saucepan over medium-high heat. Add flour; stir for 2 minutes. Gradually whisk in reserved turkey stock. Boil until gravy thickens, stirring often, about 3 minutes. Set gravy base aside; bring to a simmer when turkey is done. (If prepared one day ahead, cool to room temperature, then cover and chill. Reheat in a large saucepan before continuing.)
Thursday: Roast the Turkey
Preheat oven to 325 degrees F. Place turkey on rack in roasting pan. Pour 1 cup of chicken broth in the bottom of the pan. Stuff turkey with herbs, garlic, and onion. Melt butter in saucepan. Mix in minced herbs and garlic. (Herb butter can be made one day ahead. Cover and chill. Re-melt before continuing.) Brush butter over turkey. Tuck wing tips under turkey; tie legs together to hold shape. Cover breast loosely with foil. Roast turkey 1 hour. Baste with remaining herb butter. If there are not a lot of juices in the bottom of the pan, add more chicken broth, 1/2 cup at a time, so that drippings don't burn. Roast another 2 hours, remove foil from breast (unless breast is browning nicely under the foil; if so, keep foil in place, the shield it provides keeps the breast meat moist). Continue roasting turkey until thermometer inserted into thickest part of the thigh registers 170-175 degrees, for a total of about 3 – 4 hours, basting every 30 minutes or so with herb butter (not the pan juices, which will just make the skin wet).
Finishing the Turkey and Gravy
Transfer turkey to a cutting board. Tent loosely with foil. Pour juices from pan into large glass measuring cup and let sit for a few minutes so fat floats to the top; spoon off the fat.
Set roasting pan over medium heat and whisk in defatted pan juices, stirring up any browned bits. Pour juices into the gravy base and simmer for a few minutes. Season to taste with salt and pepper. Carve turkey last, setting slices on a warm platter. Happy Thanksgiving!