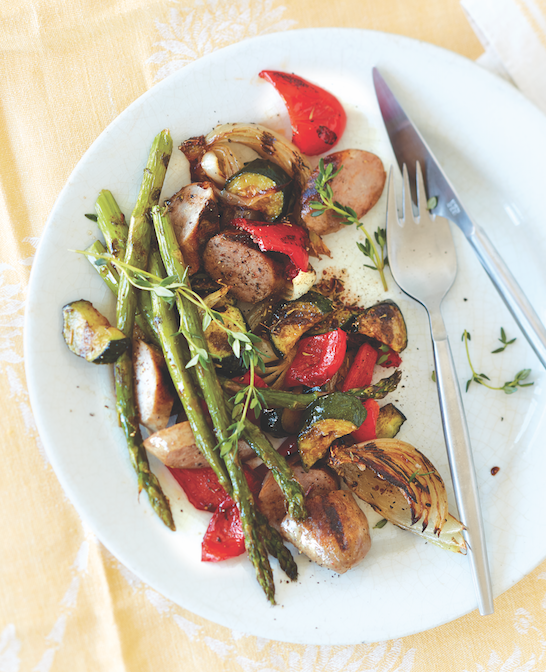 Does a grilled, juicy brat sound tasty? What about ramping up veggies by grilling those, too? If you like both grilled brats and a salad this time of year, you can "think outside the bun" and enjoy these summer favorites together. Grilled veggies provide a burst of color and texture with barely a carbohydrate in sight, says Twin Cities chef and cookbook author Robin Asbell, who created this recipe for Real Food. That's another good reason to fire up the grill!
Grilled Vegetable and Bratwurst Salad
Makes 4 Servings
1 medium zucchini
1 medium red bell pepper
1 small onion
1 tablespoon canola oil, divided
1 bunch asparagus
4 bratwurst (1 pound)
1 tablespoon balsamic vinegar
2 tablespoons extra virgin olive oil
1 clove garlic, pressed
1 teaspoon dried thyme
½ teaspoon salt
½ teaspoon black pepper
1. Preheat the grill. Prepare skewers or a grill wok for the vegetables—if you are using a wok, you can slice the vegetables in smaller pieces. To skewer, slice the zucchini in ½-inch-thick slices and place in a large bowl. Slice the pepper in half and remove the membranes and seeds, cut in 1-inch squares, and add to the bowl. Cut the onion in ½-inch wedges. Drizzle 2 teaspoons of the canola oil over the vegetables in the bowl and toss to coat, then skewer each kind of vegetable on its own skewers (so they will cook evenly.) Slice the tough bottoms from the asparagus, place in the bowl, and toss with the remaining oil to coat.
2. On the grill, place the vegetable skewers or put them in a wok over medium heat and turn often. Arrange the asparagus spears on the grate so they won't fall through. Turn every minute or so until browned. Transfer each vegetable to the bowl as it is grill-marked and tender.
3. While grilling the vegetables, grill the brats for about 12 minutes, turning every 4 minutes. Transfer to the bowl and let cool.
4. When the brats are cool enough to handle, slice each on a diagonal into bite-sized pieces. Remove the skewers from the cooked vegetables, put them in the bowl, and add the sliced brats.
5. In a cup, stir the balsamic vinegar, olive oil, garlic, thyme, salt, and pepper. Drizzle over the vegetable mixture and toss to coat. Serve at room temperature, or refrigerate, covered, for up to 3 days.
Nutrition info Grilled Vegetable & Bratwurst Salad (per serving): CALORIES 484 (376 from fat); FAT 42g (sat. 13g); CHOL 68mg; SODIUM 1358mg; CARB 13g; FIBER 3g; PROTEIN 15g