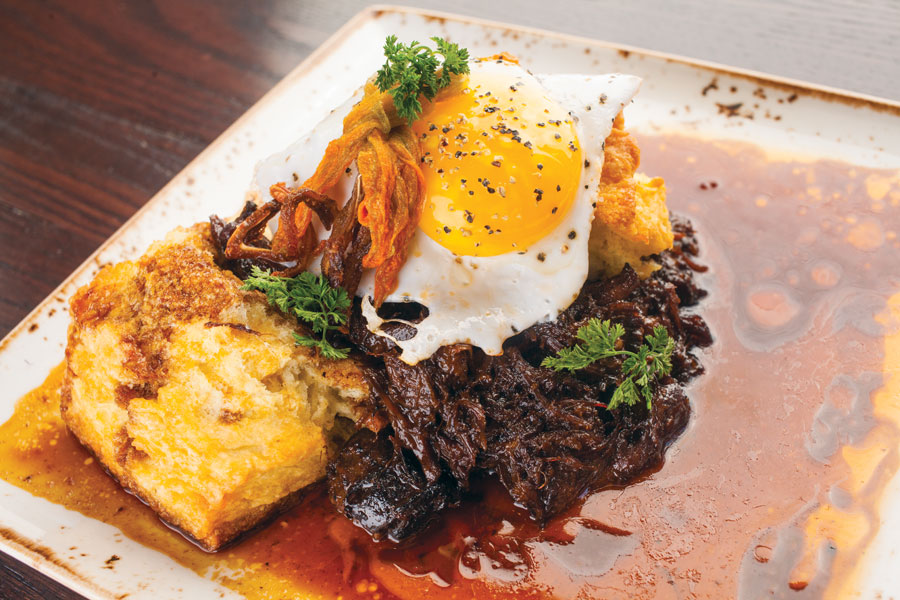 The Farm at handsome Hog. Photos by TJ Turner.
Each month, in our restaurant rumble conversation, MnMo food critics Jason DeRusha and Joy Summers review two restaurants and pick a winner.
---
Jason: Have we heard this story before? A tiny restaurant with a great chef serves Southern-inspired specialties.
Joy: And bourbon! So, the team behind Handsome Hog also operates the nearby Public Kitchen & Bar. Hog's executive chef, Justin Sutherland, was the sous chef at Brasserie Zentral and worked at Meritage before coming on board.
Jason: They don't take reservations, so be prepared to wait. On a Saturday night at 6 p.m., getting a table for four took nearly an hour and a half.
Joy: At 5:05 p.m. on a Tuesday we snagged the last two seats at the bar, but if we'd arrived around 7:30, we could have walked right in. 
Jason: Lots of promise here, but lots of unevenness, too. We loved The Farm—braised oxtail with a beautiful sunny side up duck egg, served on a buttermilk biscuit—great textures and flavors. Chicken and waffles is a $16 bargain: The fried chicken is topped with honey cayenne butter: Wow!

Chicken and Waffles
Joy: I'm swooning thinking about that dish. I started prison-eating it—elbows up just to prevent sharing. The poutine is also deeply satisfying: Potato wedges are topped with fresh cheese curds and sausage gravy.
Jason: Don't miss the whole roasted cauliflower: Yes, it's an entire head served in one piece! It's worth the $14 price tag from the smoked sea salt and bourbon gastrique that provides sweet and spicy caramelization. On the other hand, though the menu warns you that when the brisket is gone, it's gone, you should let it go. For a 24-hour smoke, it lacked… smoke. And flavor. For $20, you could do much better.
Joy: Boy, you are mad at some meat. I thought it over-promised, but with a little bit of the accompanying barbecue sauce it was fine. I had a hard time with the pig tails, though—just fatty fat and a tiny bit of meat and tough skin with almost no flavor.
Jason: It was very busy on our visit too, and there were some service mistakes. For example, a salad we ordered never arrived.
Joy: Oh no! Our server put in the effort, but it was clear some of the staff was pretty green. I don't mind a fine glistening of the meat sweats every once in awhile so I'd go back, but I won't be bringing any of my vegetarian friends.

Sausage Gravy Poutine
---
Handsome Hog Quick Tips
Vegetarians: Pickings are slim
Can't Miss Dish: The fried chicken and waffles
Parking: Street meters and valet Wed.–Sat.
---
July's restaurant rumble pitted the nostalgia-driven Hi-Lo Diner against the Southern-inspired Handsome Hog. Find out which restaurant Jason and Joy chose as the winner in the July issue of MnMo.
Handsome Hog, 203 E. Sixth St., St. Paul, 651-340-7710, handsomehog.com

The Bar at Handsome HoG
Facebook Comments