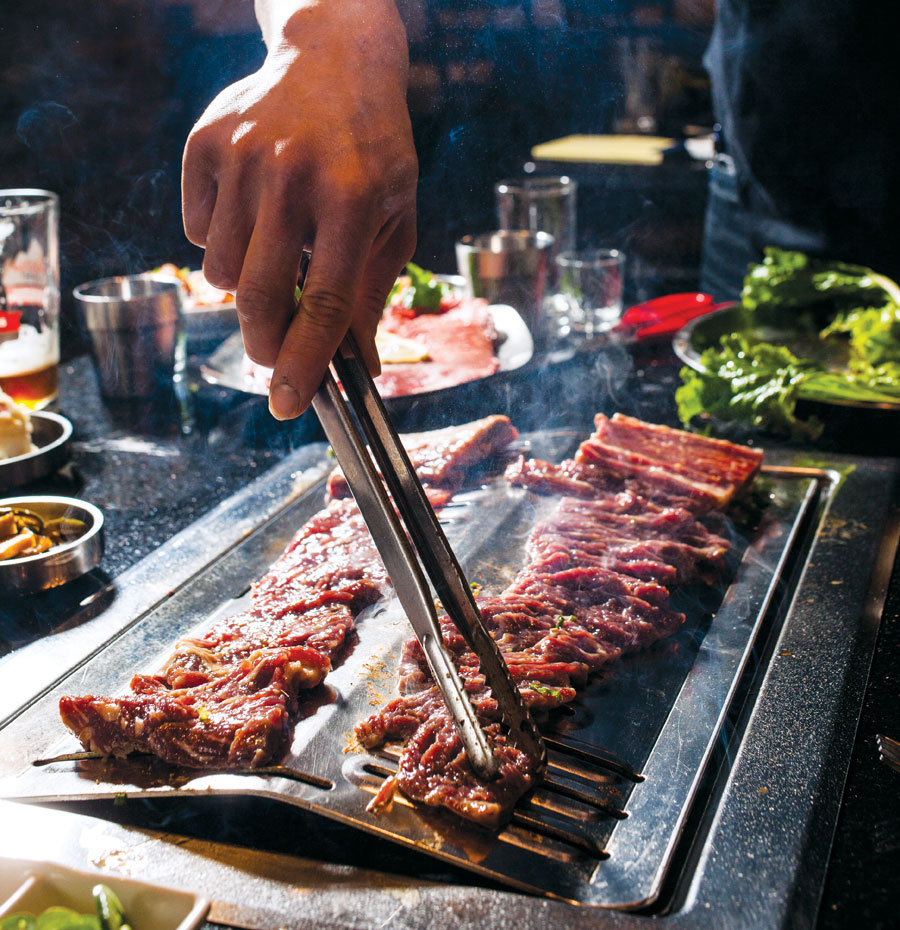 Wang Galbi at Hoban BBQ
photo by TJ Turner
---
Each month, in our restaurant rumble conversation, MnMo food critics Jason DeRusha and Joy Summers review two restaurants and pick a winner.
---
Jason: Let's start with what I loved about Hoban Korean's new barbecue spot in Uptown Minneapolis: It's interactive, really fun, and overall the food is quite good.
Joy: Each table setting has a gas grill that is cleared and lit when you order. But before you start grilling, you should get an order of the beef mandu—crispy, juicy little dumplings that are a steal at $5. If you want to skip the whole grill-your-own deal, you can sit at the bar in the front of the restaurant. It was there when I noticed the first of several…let's say "opportunities for improvement." Like, there is no drink list.
Jason: The service is so bad I'm not eager to return. When we sat down, we learned they have plenty of drinks, but no drink menu. Beer? The server could barely remember what was on tap. Wine list? She told us "the cheapest is Malbec." I asked for the "not cheapest" before finally getting permission to go behind the bar and just look at the choices myself. The poor bartender was helpful, but this is no way to start a meal.
Joy: Especially since they have laminated, spiral-bound food menus. You know where you can get that done? Kinko's. Where's there a Kinko's? Five steps away.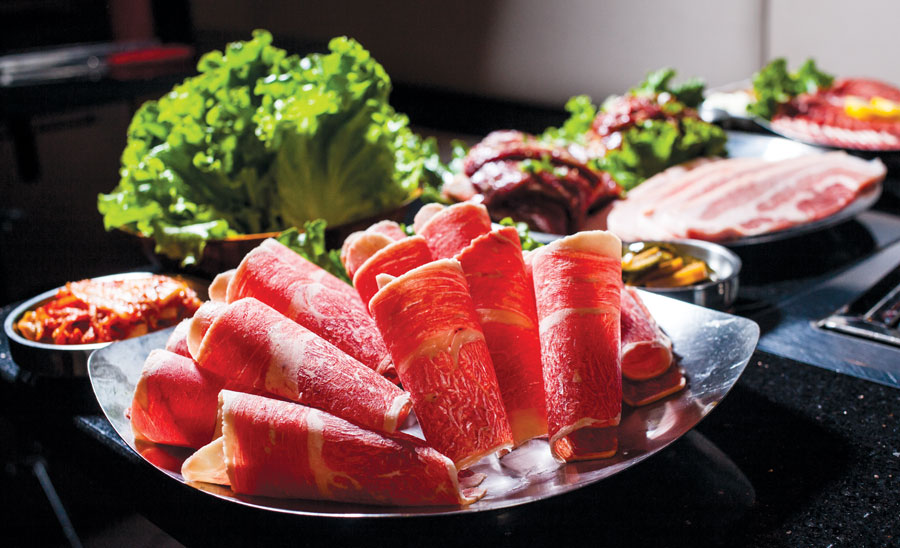 Bulgogi
Photo by TJ Turner
---
Jason: Is it weird that the servers drop off platters of raw meat and don't suggest any cooking times? About a dozen little side bowls—the banchan—come with the entrées you grill, but no one told us what any of it was.
Joy: We asked for instructions! They sent a different server to take over our table who robotically started to lay meat down on the grill and then looked at us and asked if we wanted her to put the vegetables on. My friend who isn't culinarily inclined was freaked out she'd give herself trichinosis! As the mom at the table, I started cooking and cutting up everyone's food for them. This should have been fun! Why did it feel like a chore?
Jason: The bulgogi, thin-sliced marinated beef, is great. So is the haemul pajeon, a very flavorful Korean pancake with scallops and shrimp and other seafood in it. The sweet potato tempura was really cool, too: crispy fried-batter exterior, creamy potato inside. But the dolsot bibimbap, a rice-based dish served in a hot stone bowl, tasted flat.
Joy: We also ordered the bibimbap and the rice on the bottom never really got crispy and the beef and greens were the flavor equivalent of a nap. We liked the grilled meats, but the prices were steep! By the time we tried to pay the check, the service—and whole experience—started to take on a comedic feeling. Ultimately, we did have fun and left full, but based on the owners' success with their Hoban restaurant in Eagan, I think they can do better.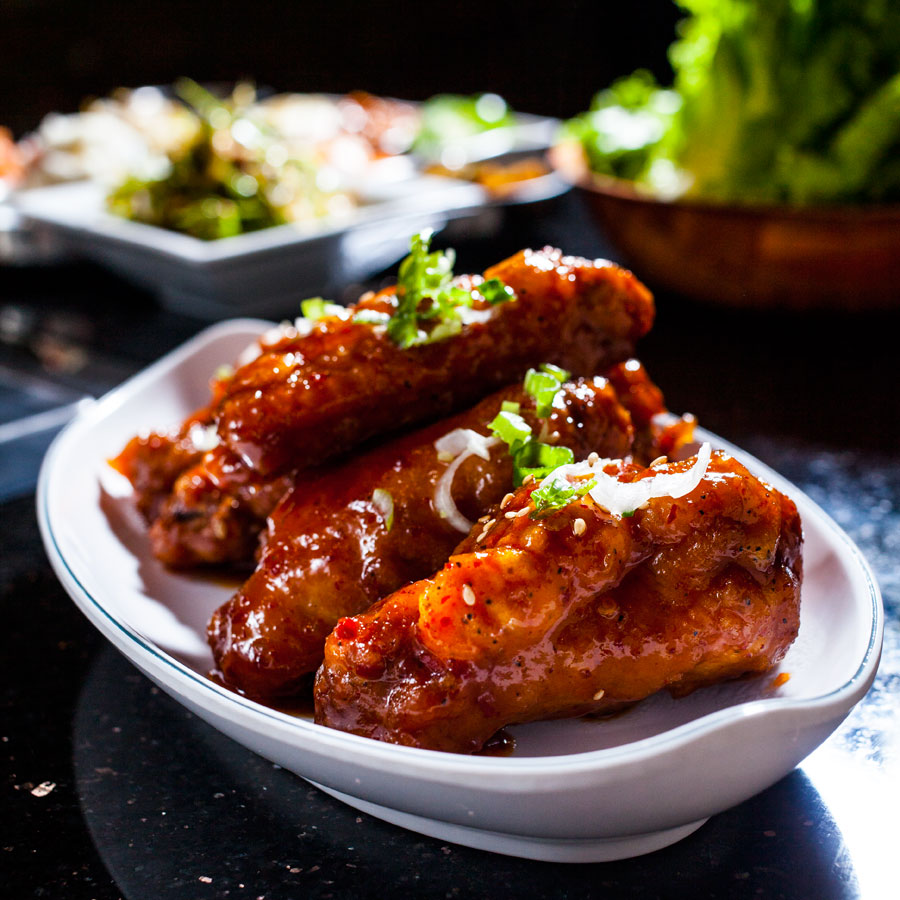 Chicken Wings
Photo by TJ Turner
---
Hoban Korean BBQ Quick Tips
Parking: Basically, none. Carpool/bike/hop a bus or head for the Calhoun ramp.
Cocktails: No drink list, but there is a full bar. Know what you want to order, and don't expect a specialty drink.
Can't-Miss Dish: The bargain-priced beef mandu.
---
August's restaurant rumble pitted Q Fanatic's classic 'cue against Hoban BBQ's Korean variation. Find out which restaurant Jason and Joy chose as the winner in the August issue of MnMo.
Hoban Korean BBQ Uptown, 2939 Hennepin Ave. S., Minneapolis, 612-345-7214