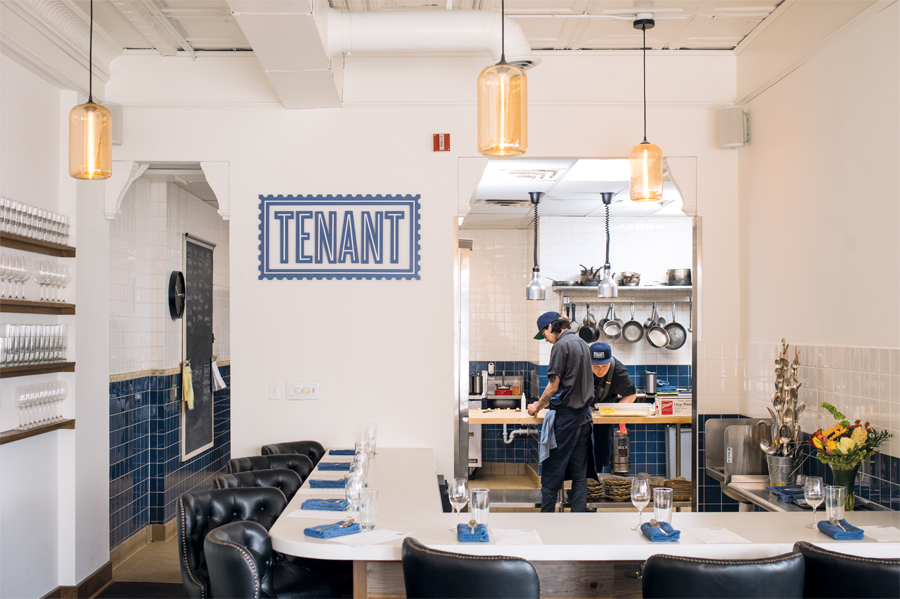 Tenant, in Minneapolis, was already chugging along quite nicely as a super-fun, super-small, super-delicious tasting menu restaurant. Lots of sell-outs, tough to get a reservation—until COVID-19 threw the business model up in the air. They could have just closed entirely, but they decided to try becoming a soup kitchen, selling quarts of soup and a side of bread for $15 a quart, plus tax, with the suggestion to pay whatever you can. They take payments via Venmo @tenantmpls, and we've seen chicken thigh vegetable, broccoli beer cheese, pork and cabbage, cream of mushroom, chicken teriyaki vegetable, and carrot ginger. Text 612-827-8111 to order and follow their progress on Instagram @TenantMpls
Here, I got to talk with owner and chef de cuisine Cameron Cecchini about making the change:
Why pivot and not just close?
"We wanted to keep the staff on and cooking," Cecchini says. The challenge: operating efficiently and safely, to contribute to guests in a safe and healthy way.
What systems or processes did you have to change to make this work?
"Pickup times are scheduled and confirmed to avoid customer crossover, the door is propped open, everything is sanitized regularly, gloves are worn during prep, and we keep a close eye on everything," Cecchini tells me. "In terms of equipment and execution, there was a bit of a learning curve to get set up for a volume concept.
"We've all worked around kitchens before Tenant, so, in a lot of ways, it's fun to exercise those muscles again. But our knives get dull a lot faster these days." Lots of chopping to get all those vegetables into the soups! They got some equipment from Alex Roberts and Restaurant Alma to help make the chopping more efficient."
What's the economic result? How much are you losing? Making?
"Obviously, the financial side of things is far less than ideal, but we get to keep busy and cook food for people that appreciate it. $15 for a quart of soup and bread may sound pricey at first, but it's all scratch, and our diners are responding really well," he says.
They're making around 100 to 150 quarts of soup a day, serving a lot more diners than the typical 150 tasting menus per week.  My math: If they sell out, at 100 a day from Tuesday through Saturday, that's $7,500. "We're still fully staffed up at this point and trying to make that work for everybody," Cecchini says. "Revenue isn't the main goal. We just want to do our best to pay our people and make rent."
Facebook Comments