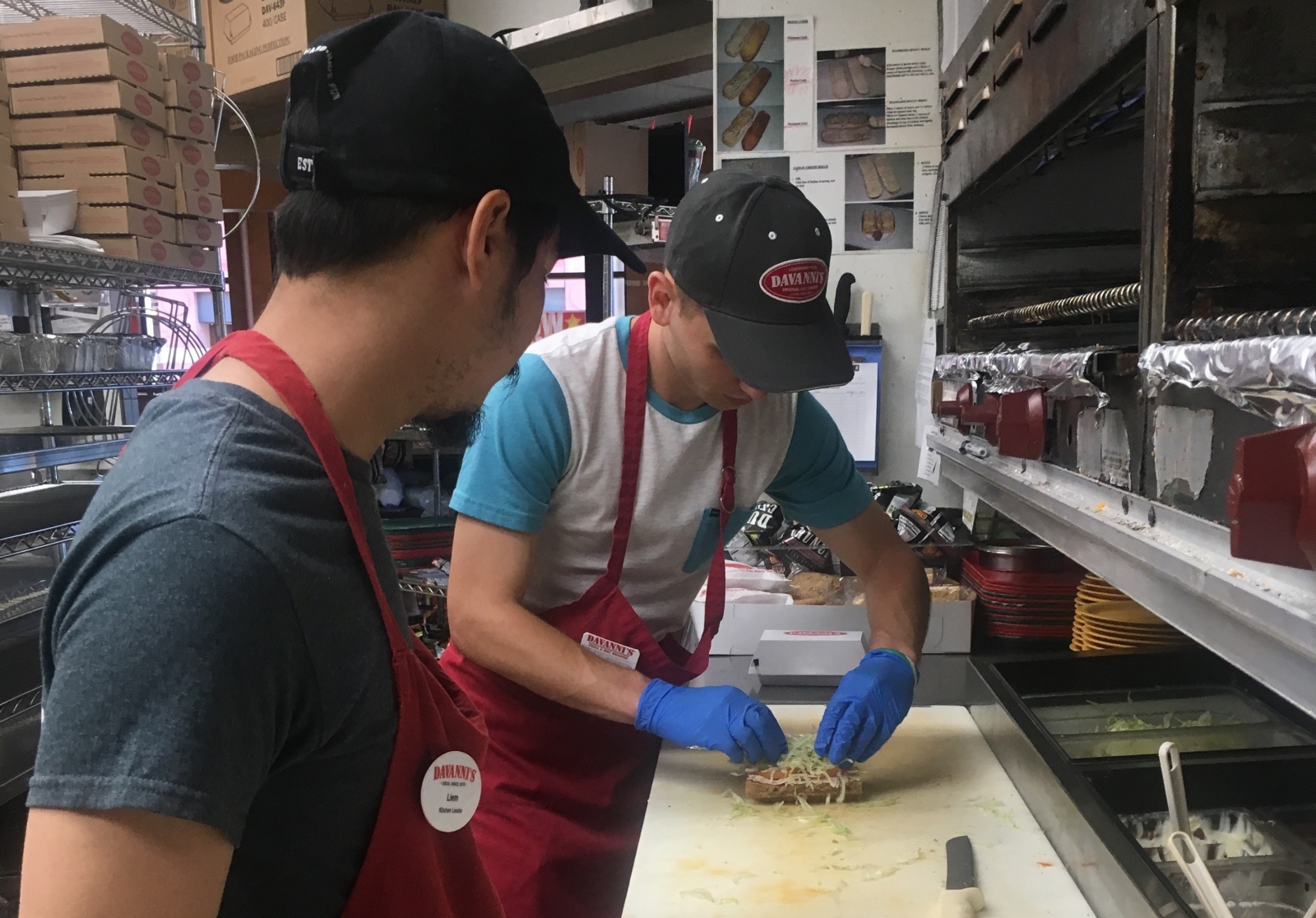 Making a Davanni's turkey bacon chipotle hoagie
Hoagies: you may know them as subs, torpedoes, bombers, or grinders. By definition, a hoagie is a long roll of bread sliced lengthwise and filled with meats, cheese, vegetables, seasonings, sauces, and whatever else you desire.
The term "hoagie" can be traced back to a U.S. Navy Yard anchored to Hog Island on the Delaware River in the early 1900s. Italian immigrant wives and mothers would prepare mammoth-sized sandwiches for their husbands, first referred to as "hoggies" after Hog Island, later transforming into "hoagies" thanks to east coast accents.
September 14 is National Eat a Hoagie Day, so I figured what better way to honor the beloved sandwich than by stopping at many Minnesotan's go-to hoagie joint—Davanni's. I got in the kitchen, donning the hat and apron, and learned how to prepare the popular turkey bacon chipotle hoagie, with guidance from Liem, the kitchen manager.
Step one
First, we covered the top half of the bread in a smooth blanket of their garlic butter using a spatula and Liem's technique of one forward motion followed by scraping off the excess butter on the backstroke. Then, we placed it in the "low" oven, which melts the butter without over-toasting the bread.
Step two
While the top half produced its toasty crunch, my second exercise was meat preparation. I weighed out the generous 6 ounces of shredded turkey—which doesn't seem like much, but trust me, it is—and made sure the bottom half of the bread was cloaked in an even layer. A coating of cheddar cheese was next, followed by strips of bacon and a trip to the "high" oven where it would be heated to a bubbling mass of cheese and crackling bacon. Liem then told me to check on the buttered half in the low oven. As I took it out, Liem observed, "See that golden-brown rim all the way around? That's the Davanni's way."
Step three
Next up was a lesson in vegetables. As I reached for the tomatoes, Liem chimed, "we source most of our vegetables locally, it's something we really take pride in." In fact, more than 90 percent of their ingredient sources can be found sprinkled across Minnesota, Wisconsin, and Iowa. "And all our bread is all baked at our bakery in St. Paul, it's about as fresh as it can get," adds Liem.
When I asked if there was a certain number of each vegetable that needed to be used, Liem responded with, "our motto is 'all in one bite.' This means we want every bite to contain every ingredient in the hoagie." They ensure this by meticulously preparing each one, spreading out every ingredient with even coverage right down to the last piece of onion. I carefully layered on tomatoes, a handful of shredded lettuce, a dollop of chipotle sauce, and a layer of onions.
Step four
Once the vegetable bed was finished, all that was left to do was splash on some Davanni's house oil from one end to the other, and enjoy. Along with my hoagie, I was given a cookie and one of their famous brownies with "frosting spread by hand."
Including the turkey bacon chipotle, Davanni's serves up 18 hot hoagies for your taste bud's enjoyment, as well as pizzas, calzones, pastas, and salads. And be sure to mention/use the coupon code "HoagieDay" for $2 off one whole hoagie in your order today (September 14).