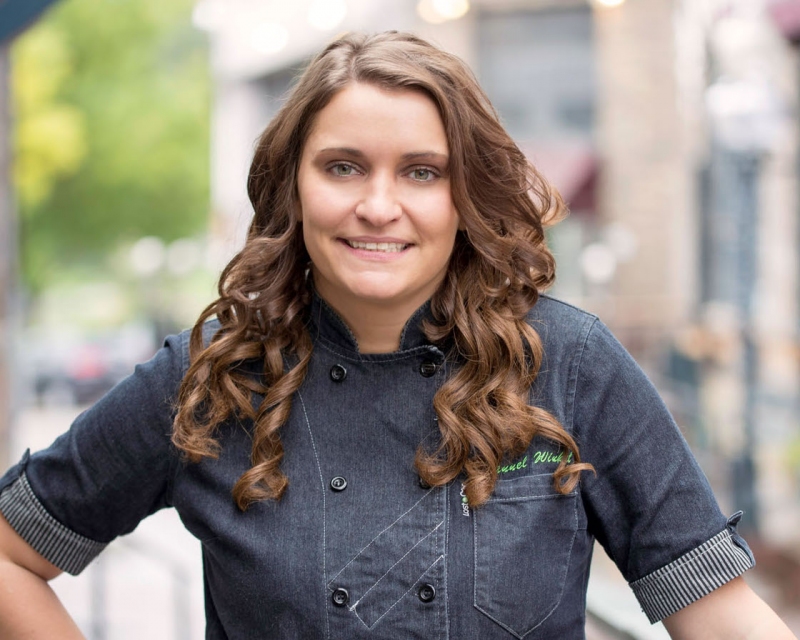 The bartmann group
Shannel Winkel took her time to find her niche in the food business, but has made an impact at every stop on her journey. She began working in restaurants in Iowa while completing a degree in food nutrition, and then decided to head to culinary school at Le Cordon Bleu in Minneapolis. Stints at the Bachelor Farmer, Red Cow, and the Edina Public Schools followed, and now Winkel is the general manager, chef, and event planner at The Bird in Loring Park. "I've done a decent job of balancing all three hats here," she says of her role within Kim Bartmann's massive Twin Cities restaurant network. Along with Hyacinth's Rikki Giambruno (interview here) and Lat14's Joshua Walbolt (interview here), Winkel has received a Rising Star award nomination (chefs must be under 30 to be eligible) at this year's Twin Cities Charlie Awards, coming up January 27. (See all nominees here.)
Minnesota Monthly spoke to Winkel about balancing her passions for both nutrition and Cool Ranch Doritos, and got her to tease out her big idea for a new food truck venture.
How old are you, and how many restaurants have you worked in?
I'm 26 and I've worked in eight or nine thus far.
How have your travels inspired your cooking?
I lived in Colorado for two summers and was down in Miami. I love the South Florida region. I think it's great to broaden your spectrum beyond the Midwest culture. In Miami, it's a melting pot of people. It's really beautiful to see all the different flavors and spices: Jamaican, Caribbean, a little Cuban. It's amazing that you can create your own hybrid of food down there, and it's starting to happen here.
Can you name some dishes you've created that you're particularly proud of?
My Sriracha Cauliflower Soup was an accident, but a beautiful one. It was a feature and now we have guests coming in asking for it. It's just a cream-based soup with some extra spice, sriracha, and some peppers. Another one was inspired by this Flamin' Hot Cheeto pop-up that happened in L.A. My favorite junk food is Cool Ranch Doritos. If I'm traveling or driving I grab a bag of those and go. I made a Cool Ranch Doritos breading for a fried-chicken sandwich. I have a degree in nutrition, so people wonder, but I believe everything comes in moderation and proper portion sizes. So it's okay to have the fatty, greasy food from time to time.
You used that nutrition degree at the Edina Public Schools, correct?
I tried to channel my nutrition background to see how I could impact the elementary schools. They were reworking their hot lunch program because over half the kids were bringing their lunches to school. They weren't eating the provided lunch, and the school wanted to figure out why. So we put in a veggie bar and a fruit bar and they had three hot food options. After six months, more kids were eating lunch there. It helped the school system and the whole community. The options were far better than what I got growing up. It was a good learning experience, but ultimately I realized how much I missed being in the restaurants.
You've taken part in events highlighting food waste. How did you become an advocate for the cause?
I grew up with three older brothers in a small-town farm family. We didn't waste food growing up. Clean up your plate, and don't let your eyes be bigger than your stomach. Portion sizes have kinda gotten out of hand compared to what they were 20-30 years ago. In the Bartmann Group, Kim is passionate about food waste, and wants people in the company to pay closer attention to what's going in the garbage, where that garbage goes, and how long it's going to be sitting. We focus a lot on compostable. We all leave a mark, and how big is your carbon footprint going to be?
Speaking of the Bartmann Group, how does it feel to be part of a woman-owned group?
It's amazing. Kim cares about giving young women opportunities in this business. I've worked a lot of kitchens where I'm the only woman in the kitchen. It's not a nice, great environment for women most of the time. It's nice coming to a company that makes sure that women are treated equally and put in higher positions than the manager levels. She's president of the Women Chefs & Restaurateurs organization, which is how I met her officially last spring when they had a conference here. So many female chefs and restaurateurs from all over the country and Canada come to the Twin Cities. It's a great rollercoaster, so I'd like to keep riding it as long as I can.
Since Rising Star is all about the future, what are you hoping to do next?
I would love to have my own food truck, to be more mobile and reach more people. Also, Kim just sold Bryant Lake Bowl and she's always looking for the next restaurant. I know she really wants to do a fine-dining restaurant, and I would love to move more into fine dining.
How about combining the two into a fine dining food truck? How would that work?
It would have to be a really limited menu, I think. I've seen that down in Florida. I would love to do a '50s-style food truck and do boozy milkshakes. There's an awesome taco truck in Florida that does margaritas. That's the ideal. Go to Lake Harriet, post up for the weekend, and serve cocktails and food out of the truck.
The 2019 Charlie Awards are Sunday, January 27, at the Pantages Theatre in Minneapolis. Tickets and more info here.
Facebook Comments